Nikola Vučević Has Been Trapped in Orlando for Too Long
Ask the average NBA fan to name some of the best centers today, and they'll likely say names like Joel Embiid, Nikola Jokic, and Andre Drummond. Few people think to mention Orlando Magic center Nikola Vučević. Yet this athlete is a virtual double-double machine, with one of the smoothest scoring games of any NBA center.
Unfortunately, Vučević's team has been underperforming for basically his entire career. As a result, his talents are easy for the average fan to overlook. Let's look at Vučević's career to date, as well as his best options moving forward.
Nikola Vučević's road to Orlando
Vučević grew up in the Eastern European country of Montenegro, where he formed a passion for basketball from a young age. He moved to the U.S. for college and spent three years playing basketball at the University of Southern California's Trojan team.
In the 2011 draft, the Philadelphia 76ers took Vučević with the 16th overall pick. Like many big men, Vučević didn't do much during his rookie season.
Then, in August 2012, the 76ers included Vučević as part of a huge four-team trade. Other players involved in that trade included Andrew Bynum, Dwight Howard, Arron Afflalo, and Andre Iguodala. Vučević landed with the Magic, where he's played ever since.
Vučević's career with the Magic
Vučević rapidly improved in Orlando, quickly becoming the Magic's go-to scorer. While putting up points was never a problem, he suffered on the defensive end for years. However, Vučević shored up his D, easily averaging over a block a game for the last six years. He also improved his passing skills, with over 3.4 assists a game since 2017.
Fans and coaches finally rewarded Vučević for his excellence in 2019, when he was voted into the All-Star Game. Aside from that, Vučević hasn't racked up many honors — another reason he remains an overlooked player. He also has little playoff experience. Until 2019, Vučević had only played three minutes in the postseason (during his rookie year).
Last season, the Magic made it to the playoffs for the first time during Vučević's tenure. As the seventh seed, they played a first-round series against the Raptors. The Magic managed to steal the first game, only to lose the next four. Vučević struggled somewhat in the series, ultimately averaging 11.2 points, 6.2 rebounds, and three assists per game.
The best move for Vučević
To put it mildly, the Orlando Magic have not been a competitive team since Vučević's first season in 2012-13. To put it a little more strongly, the Magic have consistently stunk. Last year was Orlando's first brush with success. Ironically, that first-round playoff exit may make it even harder to compete moving forward.
The Magic suddenly felt compelled to retain key veterans like Terrence Ross and even Vučević. Meanwhile, they tried to shore up their roster by picking up free agents like Al-Farouq Aminu.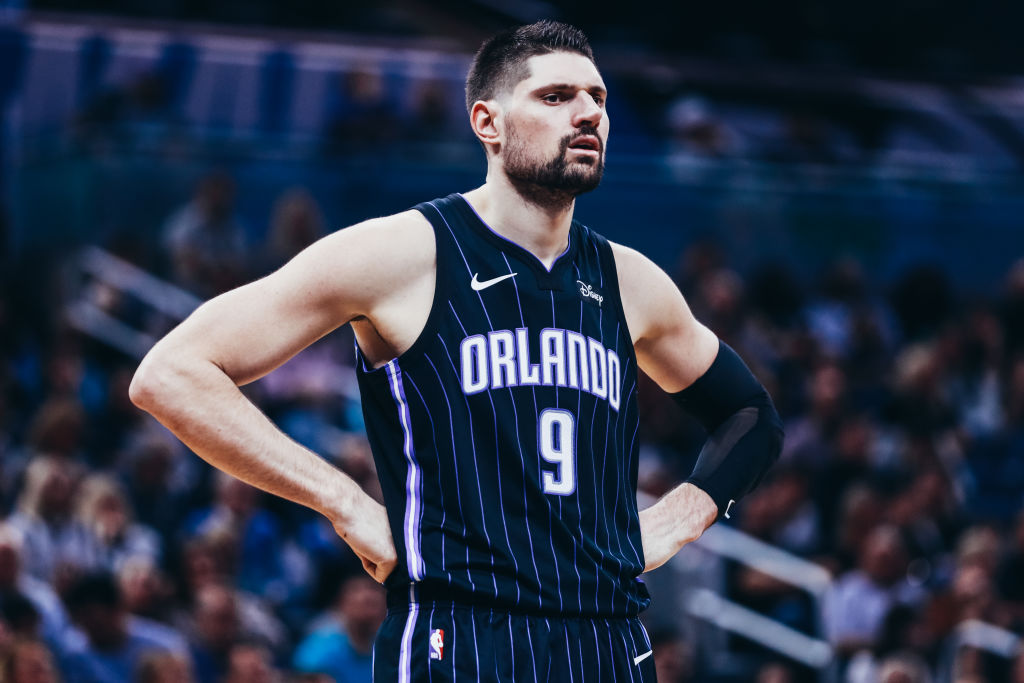 In the process, the Magic lost sight of a more important goal: continuing to develop their young talent, including Aaron Gordon, Markelle Fultz, and particularly Mo Bamba. As currently constructed, the Magic are a wing-heavy team with few ball-handlers or players capable of generating their own shot.
For a player like Vučević, now firmly in his prime, Orlando simply isn't a great place to be. Not only will he have a hard time competing for a championship, but his presence also hurts the development of Magic's young big men. Vučević is simply too talented to waste away in Orlando forever.
Follow more updates from Sportscasting on our Facebook page.