Nneka Ogwumike Learned Some Valuable Lessons in the WNBA Bubble
Nneka Ogwumike is one of the busiest players in the WNBA. She's involved in many key organizations within the association and has helped the league grow considerably. The former MVP is a franchise cornerstone for the Los Angeles Sparks, along with her duties off the court.
The nine-year forward was among the many players in the bubble, or "wubble" in Bradenton, Florida, last year. She revealed the valuable lessons she learned there, from work/life balance to finding her voice as an activist.
Nneka Ogwumike has made considerable contributions to the WNBA
RELATED: WNBA Star Renee Montgomery Makes a Life-Changing Career Decision That Is Way Bigger Than Basketball
Nneka Ogwumike's efforts behind the scenes were a big reason why the 2020 WNBA season was a success. As President of the Women's National Basketball Players Association, she played a massive role in setting up the "wubble." Ogwumike also led negotiations for the league's new collective bargaining agreement, which gives players higher pay and a 50-50 revenue split with the league, according to NBC News.
Ogwumike spearheaded the league's support of the Black Lives Matter movement last season. She also supported Georgia's two Senate elections, helping the Democrats gain two more seats in the Senate. The LA Spark used her voice more than ever over the past year, something she had to grow into after being scared of "saying the wrong thing," according to NBC News.
"I haven't always been this comfortable speaking about my personal thoughts and convictions. But as time has gone on, I've realized that speaking up is way, way, way better than not saying anything," said Ogwumike per NBC News.
On the court, Nneka Ogwumike played like her usual superstar self. In 18 games, she averaged 13.3 points, 4.8 rebounds, 1.7 assists, and 1.1 steals per game in 2020. She shot lights out from the field, shooting 50% or better from the field and 3-point range. She's always been a superstar on the court, but Ogumike is starting to shine off the court as well.
The WNBA bubble helped Nneka Ogwumike off the court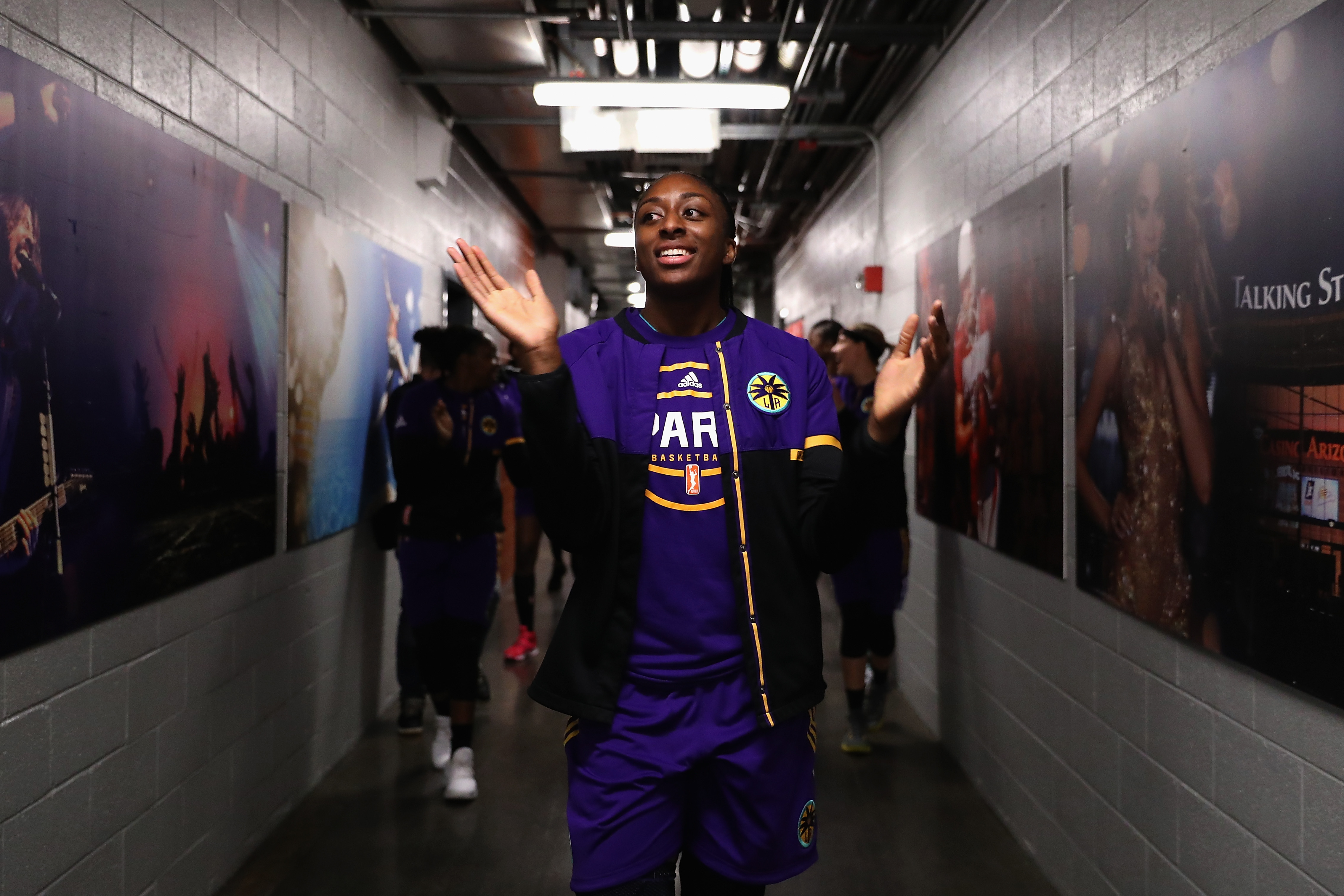 RELATED: Asia Durr's Battle With COVID-19 Could Jeopardize Her WNBA Career
Being in the WNBA bubble was quite the experience for Nneka Ogwumike. She had to focus on her game along with her duties as president of the WNBPA. She credits the "wubble" for making her prioritize her work/life balance. The former No. 1 overall pick in the WNBA Draft admitted that she "set some strict boundaries" regarding her work schedule after her time in the bubble, per NBC News.
Ogwumike says she tries to avoid anything work-related between 5 p.m. and 11 a.m. She does this so she can focus on her personal life, friends, and family. The former Stanford Cardinal is trying to tap into her creative side too.
"I'm lowkey a creative. As an athlete, people don't look at us as creatives. But we are in our own way because we use our bodies to express ourselves," Ogwumike said.
Journaling and meditation have become a part of Ogwumike's morning routine since the bubble. She loves to read books in her spare time and has explored various kinds of art and music. The lessons the star forward took from the bubble will be important as she continues to fight for equality for all people.
Nneka Ogwumike on the WNBA's social justice efforts: 'We don't do it for the clout'
RELATED: Raiders Owner Mark Davis Is Using His $700 Million Net Worth to Make an Immediate Impact on His New WNBA Team
The WNBA has always taken a stand against inequality toward minorities and people of color. They promoted the Black Lives Matter movement during the 2020 season, even after Kelly Loeffler, former co-owner of the Atlanta Dream, spoke out against the league's support of BLM. Nneka Ogwumike wants to continue her efforts and blaze trails for generations behind her.
"A lot of what we've done in the past couple of years as WNBA players has been directly related to changes that we may never experience. … That's what legacy is. And that's what people talk about when you break up glass ceilings," said Ogwumike per NBC News.
The basketball star also said that she can't let her frustrations stop her from achieving her goals. Using her platform to bring attention to the racism plaguing people of color is something Ogwumike feels strongly about.
"We don't do it for the clout. What we're experiencing now, this is the movement. This is what we do," said Ogwumike.
Nneka Ogwumike has done it all for the WNBA the past year. She is one of the league's best players and most vocal leaders. Her experience in the bubble has helped her change her life and embrace her role as an activist. As she prepares for her tenth season, the president of the WNBPA is ready for what's next on and off the court.
"The thing that will be next is us being prepared and us mobilizing and organizing. And us asking people, are you with us or not? Because we've been about this," Ogwumike said.
Stats courtesy of WNBA.com