No. 5 Notre Dame at No. 2 Florida State: What to Watch For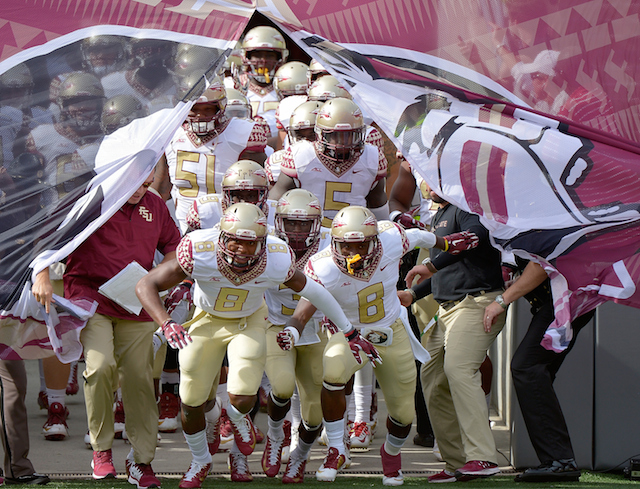 One of the most highly anticipated matchups of the 2014 college football season takes place in prime time Saturday night, as undefeated No. 5 Notre Dame visits undefeated No. 2 Florida State. The defending national champions will face a stiff test when the Fighting Irish come to town: Neither program has lost a game since November of 2013.
Here are the story lines we'll be watching and the questions we'll be looking for answers to when the Irish and Seminoles kick off Saturday in Tallahassee.
Will Jameis Winston play?
The biggest story of Saturday's top five showdown is the status of one No. 5. Heisman Trophy winner Jameis Winston is expected to get the start for Florida State at quarterback, but has made more than his share of off-the-field headlines in the past month. Winston was suspended for the Noles' overtime win over Clemson in September for shouting an obscene phrase on campus, is facing a possible disciplinary student conduct hearing related to a 2012 assault allegation, and is now facing questions of whether he signed autographs for money. (Remember back when the biggest issue facing Winston was the embarrassment of a citation for shoplifting crab legs? That was a simpler time, wasn't it?)
The latest news, in the wake of Georgia star Todd Gurley's suspension, was enough for some Las Vegas sports books to take Florida State-Notre Dame off the board until Winston's status and eligibility is more clearly settled. With no proof that Winston was compensated for his signature, we'd be shocked if he isn't under center for the 'Noles Saturday night, but a lot can change in 48 hours.
Will Jameis Winston play well?
If Florida State's best player is, in fact, an active participant Saturday night as expected, will Winston be able to concentrate on football and play to his typically high standards? The sophomore has never lost a game in his college career, and could become the first FBS quarterback ever to win each of his first 20 starts, breaking ex-Alabama QB Greg McElroy in the record books. Winston has completed 70% of his passes so far this season — an improvement on the percentage from his Heisman season — and is averaging 321 passing yards a game. He leads all current FBS quarterbacks in career-passing efficiency, and will be a handful for Notre Dame to contain — assuming his head's in the game from the opening snap despite the distractions of the past few weeks.
Could Everett Golson be the best player on the field?
The duel of star quarterbacks is one of the reasons Notre Dame-Florida State is so tantalizing, and Fighting Irish QB Everett Golson will have a massive stage to show off his skills Saturday night on ABC. Golson has the single best winning percentage of any starting quarterback (.941) in the long and storied history of Notre Dame football, with 16 wins in his first 17 starts, and, if he plays well in a road win over the defending champs, could vault himself into Heisman favorite status. Golson needs to start by improving his ball security after coughing the ball up three times in Notre Dame's most recent game against North Carolina: The senior threw an interception and lost two fumbles in ND's narrow 50-43 escape.
Is Notre Dame's defense good enough to snap 'The Streak?'
Mighty Florida State enters Saturday night's tilt riding a 22-game winning streak, best in the country and the longest in school history. Is Notre Dame — and specifically, Notre Dame's defense — up to the challenge of slowing down the high-flying 'Noles? It will have to be if the Irish have any chance to pull a road upset. Florida State scores 39 points a game and is nearly automatic in the red zone, scoring on 28 of 29 trips, but the visitors have a stout defense, ranking eighth in the country at 17.2 points per game allowed. The worry for Fighting Irish fans? That defense looked vulnerable last time out, when the Tar Heels hung 43 points on Notre Dame. Was that a blip because the Irish were looking ahead to this week? Or is Notre Dame due to get really exposed when they face an even better ACC offense Saturday under the lights?
Will this be the greatest Irish-'Noles game ever?
While 2014 Florida State-Notre Dame is a matchup that has college football fans salivating, it's not even close to the most-hyped game between these two programs. That would be 1993's 'Game of the Century,' a battle between No. 2 Notre Dame and No. 1 Florida State in South Bend. That edition of ND-FSU was such a big deal that a little ESPN show called College GameDay broadcast from on location for the first time ever. (Of course, that's now a weekly tradition, and GameDay will naturally be on site in Tallahassee this Saturday as well.) Best of all, the 1993 game lived up to the massive pregame hype, with the Irish edging FSU 31-24, even though the 'Noles would go on to claim the national championship. Might Notre Dame-Florida State 2014 go down as the greatest game in the history of this series? We can only hope.