No, Brett Favre, Austin Davis Is Not the Next Tom Brady or Kurt Warner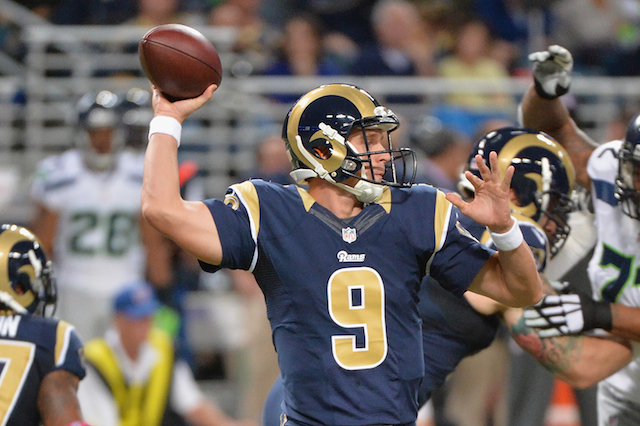 Brett Favre is in the news again. That was to be expected, we suppose, as Peyton Manning closed in on and then broke Favre's touchdown record this weekend. But, Favre has stayed in the media spotlight for days beyond Manning's 509th career scoring pass, and what he's been saying has the chance to keep him there a while longer.
Most recently, Favre told ESPN reporter Ed Werder that St. Louis Rams quarterback Austin Davis "can be the next Tom Brady or Kurt Warner." Remember the old "I'm not a doctor, but I play one on TV" commercials? That's what we've got going on here with Favre, who's not a football analyst, but seems to be playing one in a series of interviews over the last week. (Or else he stayed in a Holiday Inn Express to qualify him for the armchair quarterback position?) Favre apparently has an opinion on everything (Manning versus Brady? Why not?), and has gotten in the habit of voicing it while he has the platform to do so.
While Favre prefaced the Austin Davis comparison with "Not to sound off my rocker," we still find ourselves in the position of having to explain — though it may seem obvious — why he shouldn't be comparing a first-year starter to two of the greatest signal-callers ever to play the game. So, just in case you're tempted to believe Brett Favre, here are three reasons why Austin Davis, Kurt Warner, and Tom Brady should not have been uttered in the same sentence in 2014. Unless that sentence was something along the lines of: "Wow, Austin Davis has a long way to go before he should be mentioned in the same breath as Kurt Warner or Tom Brady." You get the idea.
1. It's too early
Tom Brady has played in 200 NFL regular-season games and counting. Twelve-year veteran Kurt Warner appeared in 125. Austin Davis? Six games. He's started five. Even if Favre were right to think that Davis could become the next Warner or Brady, shouldn't he let the guy at least finish a season first? Davis is still so new at his job that the security people at the Rams facility ask him for ID. (We're not making that up.) His 1,517 career passing yards look laughably small next to Warner's 32,000+ or Brady's more than 50K. It doesn't matter if we're talking about an undrafted player. It doesn't matter if we're talking about a talented player. Six games is not enough sample size to decide if a pro athlete is going to be a star. Just ask Jeremy Lin.
2. It looks like Brett's playing favorites
Even if Davis was putting up the kind of numbers to draw early comparisons to some of the NFL's greats, Favre would be better served to let someone else — anyone else — point it out. (Let's be honest: While Davis has done a nice job for a mediocre team, he's still not setting the world on fire; 2-3 as a starter and 152 passing yards last week? Those aren't exactly Canton numbers yet.)
Since Austin Davis played for Southern Miss, Favre's alma mater, the comparison has to be taken with a gigantic grain of salt whether or not Davis has come close to justifying it. The headline might as well say: 'Surprise! Golden Eagle says fellow Golden Eagle could become superstar,' because that's how people will read it. Let Phil Simms compliment Davis. Let Mike Mayock sing his praises. Let Troy Aikman talk about Davis's solid start to his first year playing quarterback in the NFL. Coming from "Not to sound off my rocker" Brett, we can't take this seriously.
3. It won't happen
The odds are overwhelming that Austin Davis won't become the next Kurt Warner or Tom Brady. Just like the odds are overwhelming that Brian Hoyer (who Favre actually lumped in with Davis) won't either. For that matter, the odds of any NFL quarterback becoming the next Brady or Warner are slim to none. So why talk about it now? Brady is a two-time NFL MVP. Warner is, too. Since 1995, only three players not named Peyton Manning have won multiple MVP awards: Brady, Warner, and Favre. Shouldn't Davis have to throw for 400 yards in a game once, put up four passing touchdowns in one afternoon, lead his team on a few comebacks, win some playoff games, or even make it to the playoffs before we get too far ahead of ourselves? Austin Davis may very well have a nice career. But is he going to be a Super Bowl MVP? We're guessing Dan Marino — and plenty of other quarterbacks that never won football's biggest prize — think it's not as easy as legends like Warner and Brady made it look.