No Giannis, No Problem: Jrue Holiday is Proving the Milwaukee Bucks Are Still the Front-Runners to Win a Second Consecutive NBA Championship
Giannis Antetokounmpo is again in the running for the NBA's Most Valuable Player Award. Khris Middleton showed during last year's championship run that he's indispensable to the Milwaukee Bucks. But it's the third member of the team's Big Three — Jrue Holiday — who's proving to be the key to unlocking another title.
Giannis is currently in the league's health and safety protocols and could be out through the Bucks' Christmas Day game against the Boston Celtics. Khash has been in and out of the lineup with different ailments.
Minus a handful of other Milwaukee rotation players to boot, it was Holiday who led the team to a win over the Indiana Pacers, and it's been Holiday who's been the constant for the Bucks since the beginning of November.
It's also Holiday who will prove to be the crucial piece in a Milwaukee repeat.
Jrue Holiday has been the Bucks' leader since November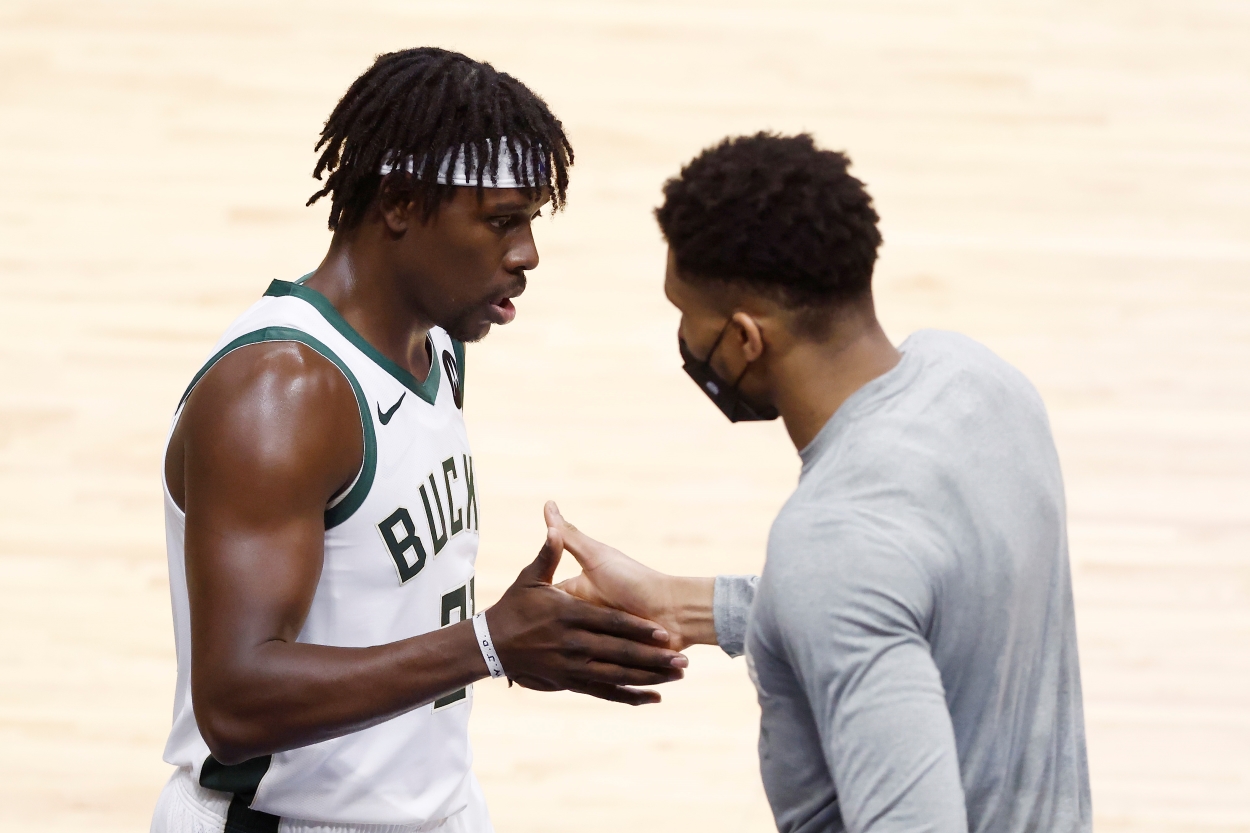 The former New Orleans Pelicans guard missed six of Milwaukee's first eight games. He returned for the Nov. 5 game against the New York Knicks and hasn't missed one since.
Holiday has averaged 16.6 points, 4.6 rebounds, 6.8 assists, and 1.5 steals per night since re-entering the lineup. He's a plus-7.6 in those 22 games.
The Bucks have gone 15-7 since then (including an eight-game win streak) and have gone from 4-4 through their first eight games to second place in the East at 19-11.
Antetokounmpo has missed four of those games and Middleton seven. But Jrue has held the fort.
Milwaukee's point guard showed his value in a win over Indiana Dec. 15
Giannis and Khris were both out for Dec. 15's contest against the Pacers. The Bucks had 10 total players available. But it didn't matter because Holiday took over and carried Milwaukee.
Jrue finished the night with 26 points, four rebounds, and a whopping 14 assists.
"The ball (was) in his hands a ton tonight, the decisions, the scoring, the finishing, really just everything," Bucks coach Mike Budenholzer said via Bucks.com. "It was a special night by Jrue.
"He's just got a way about him, he just takes what the game gives him, he's got incredible poise, confidence. I think (Indiana) started loading and sending some extra bodies at him, we try and put a lot of shooting around our guys on the court, he's going to make the right read and the right play very often."
Holiday's offense should never overshadow his defense, though, and he took over the game on that end of the floor as well.
Jrue bounced back and forth between defending Caris LeVert and Malcolm Brogdon. LeVert had 14 points in the first quarter and two over the final three. Brogdon finished with 12.
And then there's the leadership aspect prevalent in Holiday's game, too, according to Budenholzer.
"He's still just getting more and more comfortable, more confident, and I think his leadership, regardless of who's here, is pretty significant," Bud said. "But I think it goes to another level on a night like tonight. His connection with the players, their belief in him, all those things it takes to be a great leader, he has it."
His all-around dominant performance against the Pacers showed that Holiday isn't just the Bucks' third wheel.
Holiday is proving invaluable to another championship run
Sure, it was one game. And Indiana is having a down season.
But the Pacers still had LeVert, Brogdon, Myles Turner, and Domantas Sabonis — their four best players. Milwaukee was missing its top two and only had 10 players who suited up.
So Holiday went out and scored a game-high 26 and dished out 14 assists to the likes of Jordan Nwora, Pat Connaughton, Grayson Allen, and Bobby Portis. The Bucks ran out Thanasis Antetokounmpo for 21 minutes, Rodney Hood for 20, Sandro Mamukelashvili for 16, and two-way guard Javonte Smart for 13.
Barring a Milwaukee armageddon, that won't be the team's postseason lineup.
But Holiday took care of business anyway. He's already proven his value to Milwaukee — but the rest of the NBA should be worried if a Bucks' lineup without Giannis or Middleton (and 16 minutes from Mamu) can bury a team by 15 points because of their so-called "third-best player."
All statistics courtesy of NBA.com.