It's No Laughing Matter in Cleveland: The Browns Need Nick Chubb to Save Them on Saturday
The Twitter world had all sorts of fun with Cleveland Browns quarterback Case Keenum on Wednesday. Pressed into starting duty this Saturday against the Las Vegas Raiders because regular starter Baker Mayfield is among a slew of Browns leaders having tested positive for Covid-19, Keenum was trying to praise running back Nick Chubb.
Keenum had not had Chubb on the field with him the last two times Keenum had made a spot start for Mayfield, in Weeks 7 and 10.
But knowing how short-handed the Browns were likely to be in this Saturday game, Keenum wanted everyone to know how important it was to have No. 24 in the lineup.
"Yeah," Keenum said. "Having a full Chubb back there is going to be really good."
Right on cue, Twitter lit up with the kind of eighth-grade humor that it can't resist, and many took the opportunity to have fun with Keenum's awkward choice of phrasing.
But perhaps lost in the guffaws and snickers was the central point: The Browns need Chubb to have a big game against the Raiders, or their NFL Playoff hopes are going to take a hit.
And then on Thursday afternoon, that point was reinforced with a stunning announcement, and no one was laughing at Case Keenum anymore.
Keenum's positive Covid test puts even more pressure on Chubb to save Cleveland's season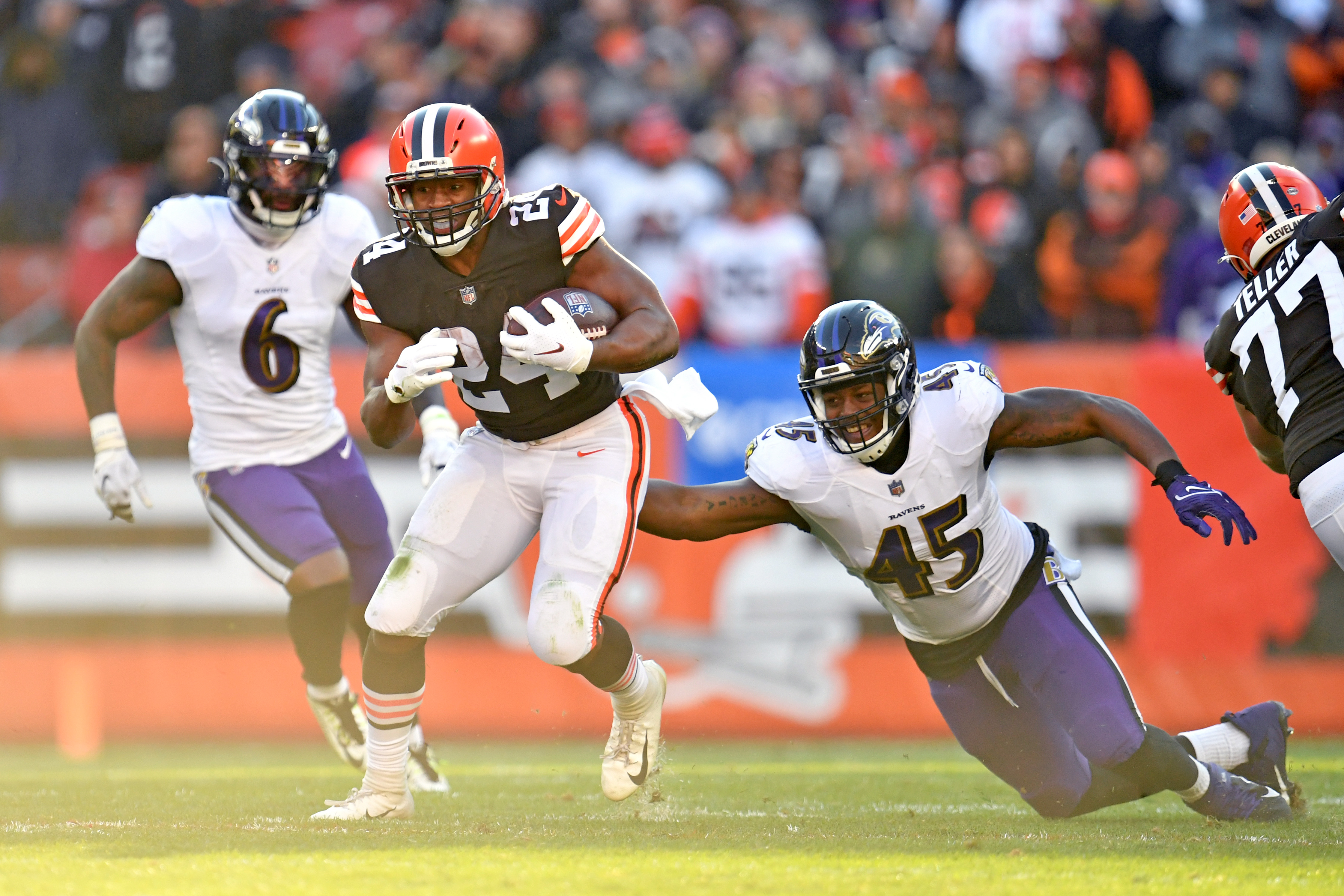 The NFL is experiencing a league-wide Covid wave like nothing since the pre-vaccination days of the 2020 season. And one of the teams hit the hardest this week has been the Browns.
Cleveland has already put more than a dozen players on the Covid-19/reserve list, including Mayfield, wide receiver Jarvis Landry and tight end Austin Hooper. Also on the list are head coach Kevin Stefanski and running backs coach Ryan Cordell. This, on top of the regular injuries that befall a team over the course of a season.
And now, on Thursday, it was announced that Keenum has also tested positive and will not get to hand the ball off to Chubb for the first time this season, after all. It's now on third-string quarterback Nick Mullens to lead the Browns against the Raiders.
But it won't be Mullens that has the ball in his hands the most on Sunday. It's Nick Chubb time, like never before.
Chubb is no stranger to putting the Browns on his back and leading them to victory
Ironically, Chubb missed the Browns' Week 10 loss to the New England Patriots because he had been played on the Covid-19 list and was inactive. Chubb had earlier missed two games because of injury. But in the six games he played around those absences, Chubb was a dominant force.
In Week 4, Chubb hit 100 yards for the first time this season in a victory over the Vikings, then exploded for 161 yards the next week against the Chargers.
After missing two games, Chubb returned in Week 8 and dominated the Bengals in Week 9, rushing for 137 yards and two touchdowns in a rout in Cincinnati. Then after his one-game absence in Week 10, Chubb put up 130 yards against the Detroit Lions.
He was a little less active last week against the Ravens, with 59 yards on 17 carries, but he can expect to get around 30 touches in this game, with Kareem Hunt still out with an injury and a third-string quarterback playing without his top wide receiver and tight end.
A victory over the Raiders would have all sorts of implications in the AFC playoff race
The timing could not be worse for the Browns (7-6), who trail the Baltimore Ravens (8-5) by one game in the AFC North. Because the game against the Raiders is being played on Saturday, the Browns lose a crucial extra day that could have allowed some of the players, like Mayfield, who tested positive earlier in the week to receive the necessary second negative test that would have cleared them to play.
The Browns did get something of a break on Thursday, as the Raiders have ruled out their star tight end Darren Waller from Saturday's game. But unless Chubb comes through as Keenum suggested, no one in Cleveland is going to laughing come Sunday morning.
Stats courtesy of Pro Football Reference