No, LeBron James Isn't the Best of All Time, and He's Not Even Close
There are plenty of reasons to debate who is the greatest basketball player of all time. Some might lean toward the dominating Wilt Chamberlain, while others go with the more common and conventional Michael Jordan. The newer NBA fan might say that LeBron James is the greatest of all time, and they might even make a strong case.
The King has made seven consecutive trips to the NBA Finals and has three championship rings. Plenty of statistical facts put him in rare air. But LeBron, simply put, is not the greatest basketball player of all time — not yet, anyway.
Win shares are an advanced stat that attributes the appropriate portion of a team's wins to each player. We considered the players with the most win shares of all time. Let's look at James and the six players at the top.
7. LeBron James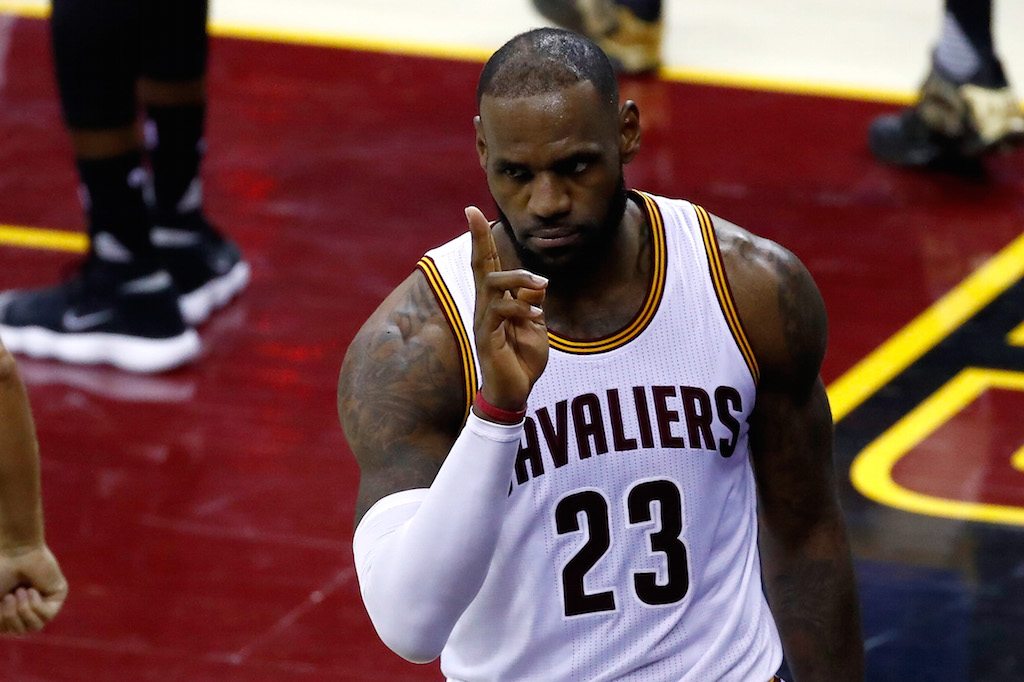 Part of the knock on LeBron throughout his career is that he's not the scorer who Jordan was. To be the greatest, you need to score like the greatest. But here's the thing: James can score with the best of them.
At the tender age of 21, LeBron averaged 31.4 points per game on 48% shooting from the field. Two years later, he actually led the NBA in scoring average at 30 points per game. In his career, LeBron has earned three championship rings — two with the Miami Heat and one with the Cleveland Cavaliers — and has totaled 205.4 win shares in 14 NBA seasons.
James led the NBA in this category five consecutive years, from 2008–09 to 2012–13, and topped out at 20.3 win shares as his career-high. At his recent pace, it would take LeBron six more seasons to reach the top of the list — assuming no major decline.
6. Tim Duncan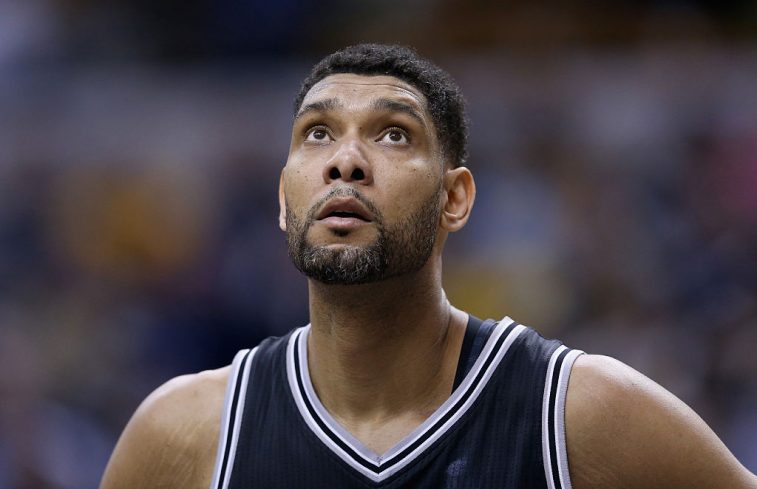 The Big Fundamental played 19 NBA seasons, averaging 19 points, 10.8 rebounds, and 2.2 blocks per game for the San Antonio Spurs. During his long career, Tim Duncan was a Rookie of the Year, a 15-time All-Star, a 15-time All-Defensive Teamer, a two-time NBA MVP winner, a three-time NBA Finals MVP, and a five-time champion. In short, there were few things that Duncan didn't accomplish on an NBA court.
In terms of win shares, Duncan comes in just ahead of James at 206.4. Realistically, LeBron should pass The Big Fundamental at some point in the early portion of the 2017–18 season. Duncan led the NBA in win shares in 2001–02 and 2002–03, setting his career-high in 2002 with 17.8.
Playing for a storied franchise like the Spurs certainly helped his cause, but Duncan was the best player on the team for the majority of his career.
5. John Stockton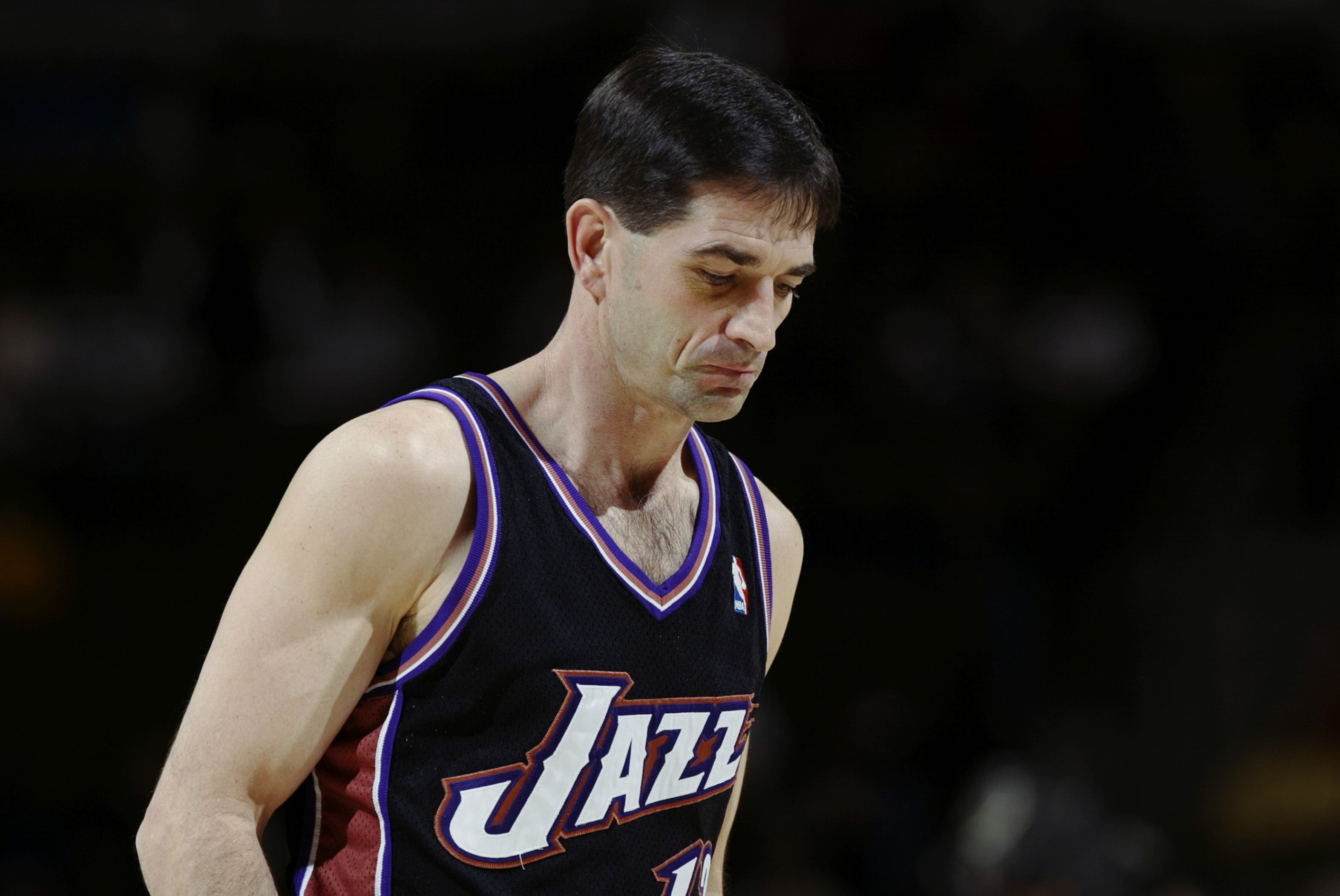 Point guard John Stockton played his entire career for the Utah Jazz, making it to two NBA Finals but coming up short both times to Jordan's Chicago Bulls. Not only was Stockton great, and one of the best point guards in the history of the game, but he also was incredibly consistent.
In his 19-year career, Stockton played every regular-season game 17 times — he missed four games in 1989–90 and missed the first 18 games of the 1997–98 season. For his career, Stockton averaged 13.1 points, 10.5 assists, and 2.2 steals per game while shooting 51.5% from the field. In the win shares category, Stockton is also just barely ahead of James at 207.7.
The Cavs forward should pass Stockton this season without any problem. Stockton never led the NBA in win shares, topping out at 15.6 in the 1988–89 season. But he did lead the league in assists per game for a record nine consecutive seasons. He also led the league in steals per game twice. Stockton was an incredibly efficient shooter for a man of his size, averaging nearly 60% on two-point shots in 1989.
4. Michael Jordan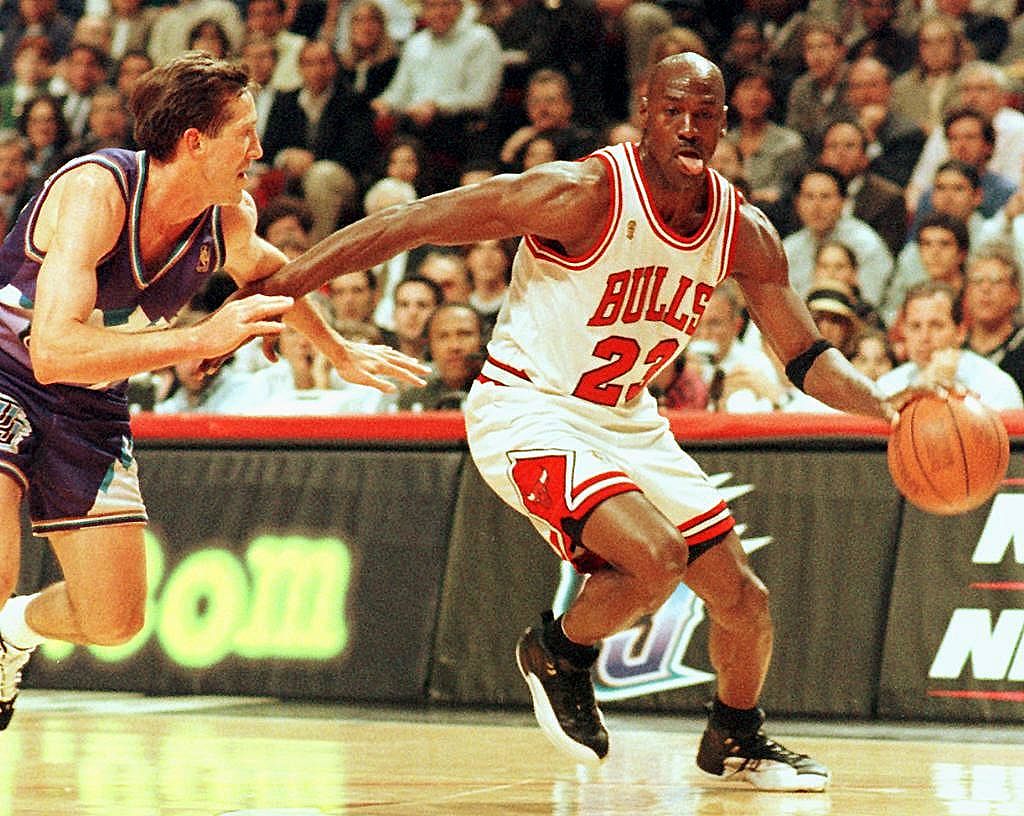 What can be said about Michael Jordan that hasn't already been said? He finished his 15-year NBA career with averages of 30.1 points, 6.2 rebounds, 5.3 assists, and 2.3 steals per game. Jordan made 14 All-Star teams, was the scoring champion 10 times, was an NBA champion six times, won six NBA Finals MVP awards, and won five NBA MVP awards. He was also the Defensive Player of the Year once, in 1987–88.
Those privileged enough to see Jordan in his prime would never question his greatness. In win shares, Jordan was great, too. He led the NBA in that category in nine of his 15 seasons. The only seasons that stood out include his rookie year; his second NBA season (he had a broken foot and only played 18 games); his partial season when he returned from playing baseball; the 1997-98 season before he retired from the Bulls; and his two seasons with the Washington Wizards.
According to James' pace from the last few years, he should be able to sneak by Jordan in the win shares column by the end of the upcoming season.
3. Karl Malone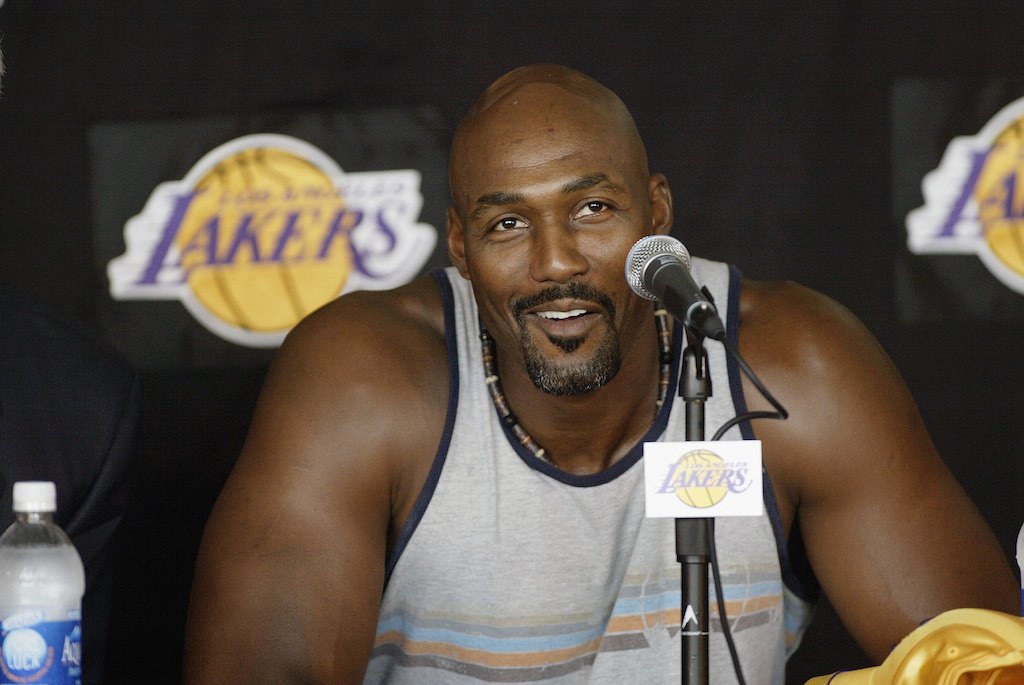 Power forward Karl Malone played with Stockton on the Jazz, becoming one of the most iconic duos in the history of the sport. Malone averaged 25 points, 10.1 rebounds, and 3.6 assists per game in his career, made three unsuccessful trips to the NBA Finals, and won the NBA MVP award in 1996–97 and 1998–99.
Like Stockton, Malone was a picture of consistency, missing just 10 total regular-season games over the first 18 years of his career. Thanks to Jordan's presence, it wasn't until 1997–98 that Malone finally led the league in win shares at 16.4. He led again the following season, but not again after that.
Malone was incredibly good, even at an advanced age, posting double-digit numbers in win shares even at the age of 39. At 234.6 win shares for his career, it would probably take at least three more seasons at LeBron's current pace for him to pass The Mailman.
2. Wilt Chamberlain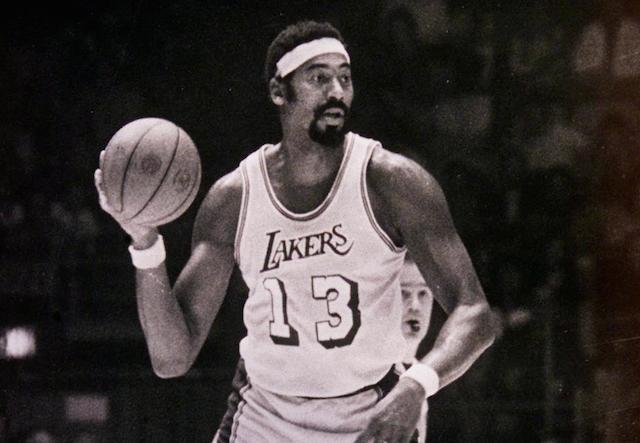 For a player who's so accomplished, Wilt Chamberlain played only 14 seasons in the NBA — the same number that James has played to date. The numbers that Chamberlain put up in his career in the '60s look more like a video game than real NBA stats: 50.4 points per game in 1961–62 to go along with 25.7 rebounds per game. If blocks were kept as an official stat at that time, we're sure those numbers would be insane, too.
Chamberlain finished his career with averages of 30.1 points and 22.9 rebounds to go along with four MVP awards and two championship rings. As far as win shares are concerned, Chamberlain had that on lockdown for most of his career, as well. He led the NBA in that category in eight of his first nine seasons, including an NBA-record 25 win shares in 1963–64.
His 247.3 win shares in just 14 seasons are second-best in NBA history, and his win shares per season played is No. 1 with a bullet. For James to pass Chamberlain, he probably needs to play four more years at his current level.
1. Kareem Abdul-Jabbar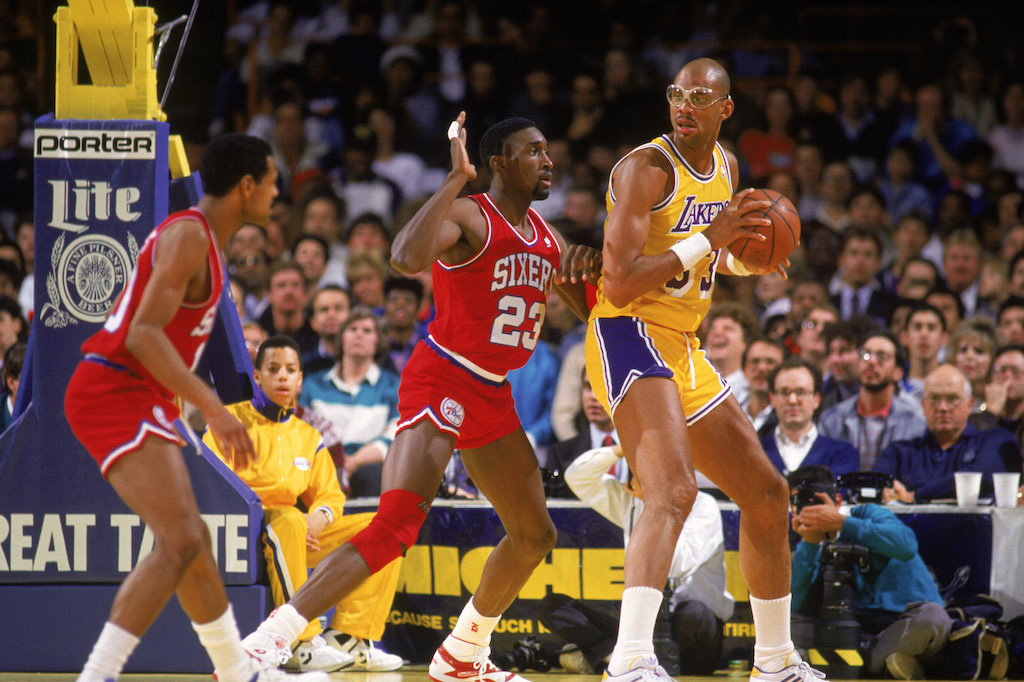 The No. 1 player on the all-time list is former Milwaukee Bucks and Los Angeles Lakers center Kareem Abdul-Jabbar. The six-time NBA MVP and NBA champion, famous for his sky-hook, played 20 seasons in the league. He finished his career with averages of 24.6 points, 11.2 rebounds, and 2.6 blocks per game, but his numbers in the early years were even better.
Abdul-Jabbar averaged 34.8 points and 16.6 rebounds for the Bucks in 1971–72, winning his second MVP award. He compiled 273.4 win shares in his career, meaning he averaged an absurd 13.4 win shares per year over 20 seasons. He led the league in that category nine times in his first 12 years. Abdul-Jabbar was still racking up win shares in the double-digits even beyond his prime thanks to the quality of the mid-1980s Lakers teams.
For LeBron to surpass Abdul-Jabbar on this list, and again we assume that he continues racking up around 12 win shares per season, James would need to play another six seasons.
Next: LeBron overshadows these five current stars. 
5. Kevin Durant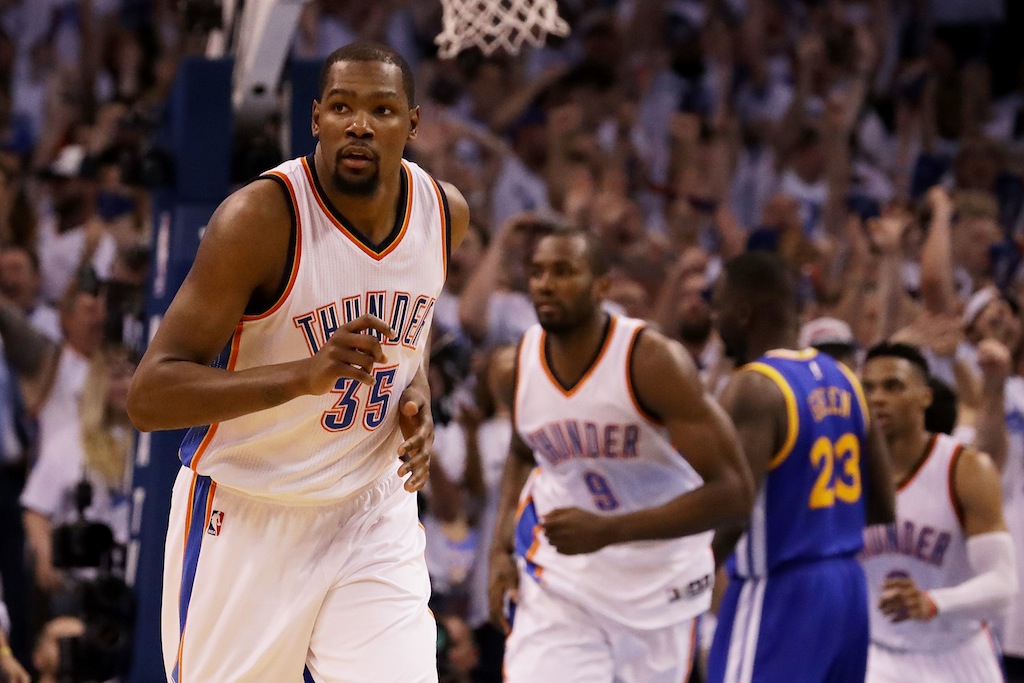 Kevin Durant is the first NBA star who comes to mind. The 27-year-old, who signed with the Golden State Warriors last summer, is one of the most talented players in the game. With his tall, thin frame and long arms — earning him the nickname "Durantula" — the sleek forward can get to the basket with the best of them and shoot from the outside with remarkable proficiency for a man of his height. Durant has led the NBA in scoring averages four separate times and led his team to the NBA finals once.
However, back in the 2011–12 NBA Finals, James and the Miami Heat awaited him. Durant averaged 30.6 points on 54.8% shooting from the field in the five-game series, but it wasn't enough to overcome James. Injuries to both Durant and Russell Westbrook, as well as the Warriors' rise, put a damper on the Oklahoma City Thunder's title hopes the last few years. It's no wonder Durant joined forces with Stephen Curry.
4. Dwyane Wade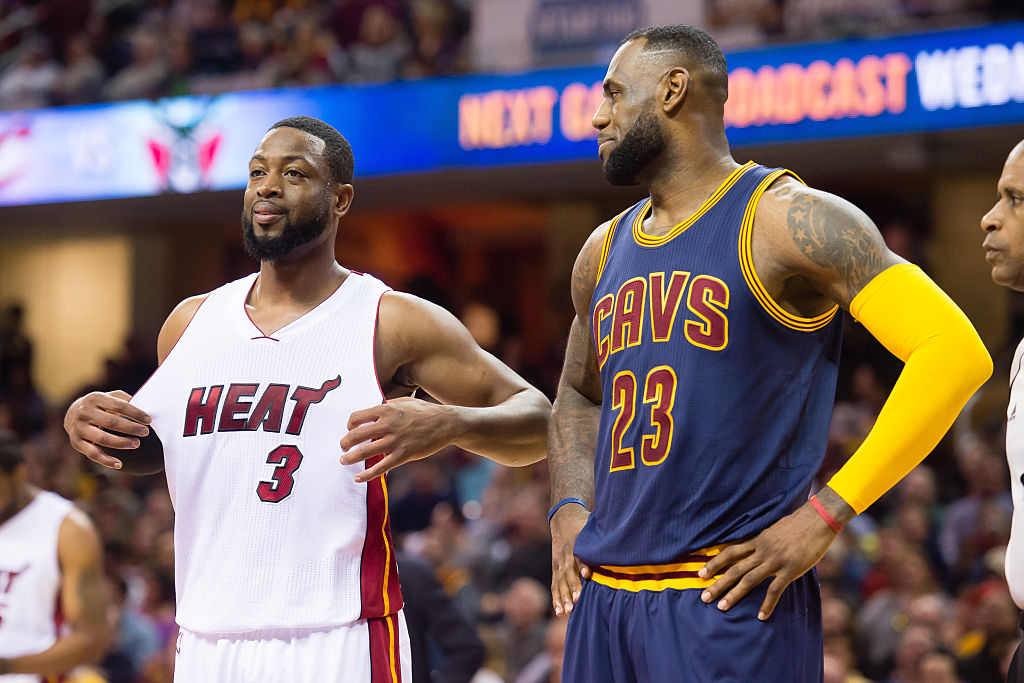 People are more likely to remember the somewhat broken down Dwyane Wade of the last five or six years; the one who has succumbed to knee injuries. But he's still a high-quality player, and he was once a truly great player before LeBron even arrived in Miami. At the time James decided to take his talent to South Beach, Wade had a championship, an NBA Finals MVP award, and a scoring title — all things James couldn't claim at the time.
Once the super-team formed in Miami, Wade agreed to take a back seat to bring in James, Chris Bosh, and two more championships. Now 35 years old and with the Chicago Bulls, Wade's legacy is mostly as the second banana to James. But make no mistake, Wade was a great player in his own right before LeBron left Cleveland to chase championships in Florida.
3. Carmelo Anthony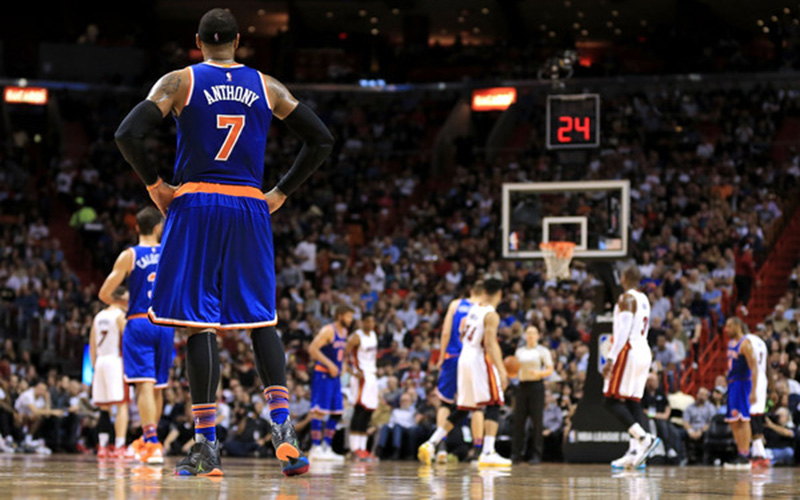 Much like Wade, Carmelo Anthony suffers from being drafted in the same 2003 class as LeBron. Many considered Anthony to be the second-best player in the draft. The Denver Nuggets took him third overall, and he immediately transformed into a big-time star. At 19 years old, Anthony averaged more points per game in his rookie year and led the Nuggets to the postseason for the first time since 1995–96, but he still managed to lose the Rookie of the Year award to James.
Even though Anthony has been a prolific scorer throughout his NBA career — leading the league once and averaging 24.9 points over 15 years — his lack of playoff success (which we can't completely attribute to him) and status as a "consolation prize" in the 2003 draft is sufficient in showing how James overshadows him throughout their professional careers. Had LeBron left Cleveland to join forces with Anthony instead of Wade and Bosh, perhaps many would view 'Melo a bit differently.
2. Paul George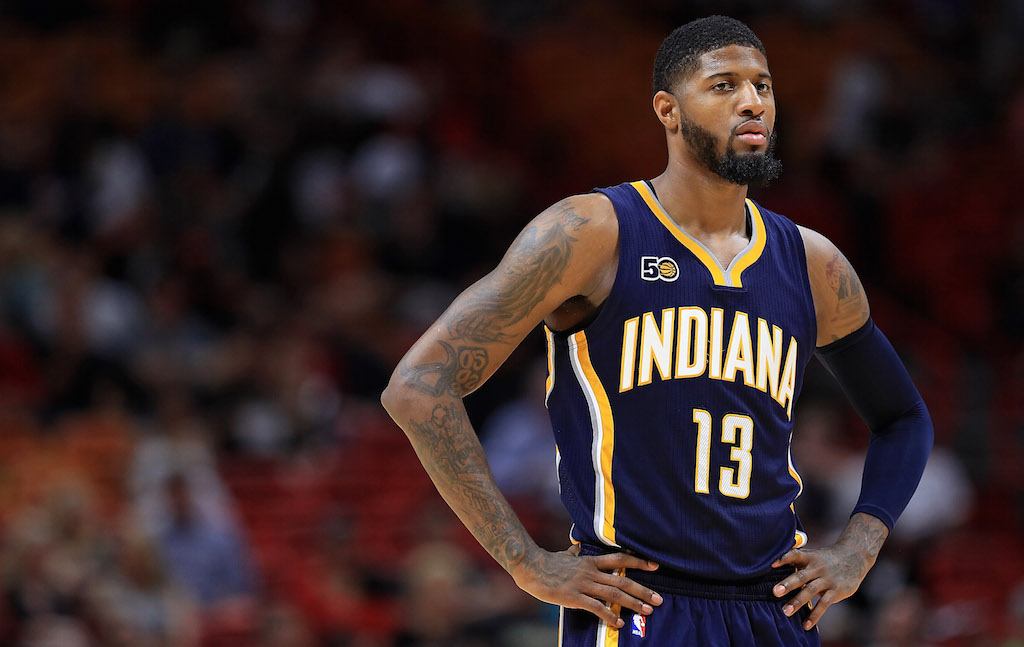 Everyone knows that Paul George is one of the premier small forwards in the game today. Now in his seventh NBA season, PG-13's resume includes three All-Star Game appearances, three All-NBA selections, and three All-Defensive Team honors. He also holds career averages of 17.4 points, 6.2 rebounds, and 3.1 assists per game.
And yet, regardless of statistics or individual accolades, the simple fact remains that until James hangs up his Nike's, George will never be more than the second-best small forward in the Eastern Conference. For proof of this, just look at how each fares in the postseason. While James has led his teams to six straight NBA Finals appearances, George can't even lead the Indiana Pacers past any team with James on the roster. We rest our case.
1. Chris Paul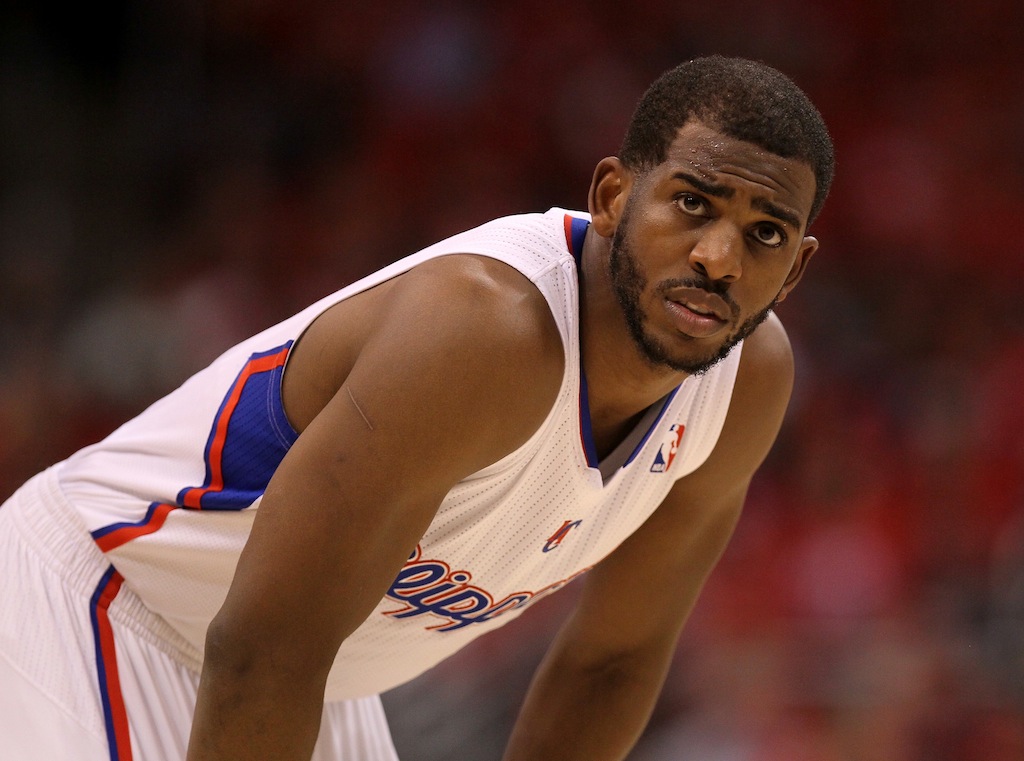 Chris Paul is an absolute superstar. He's a nine-time All-Star, an eight-time All-NBA selection, and ranks in the top 10 in the NBA in career assists. No matter how his career plays out, CP3 is already one of the greatest point guards ever. If only those figures translated to postseason success…
Unlike James, Paul has not vanquished his playoff demons. Whereas LeBron has won three titles and been to six straight Finals, Paul has never even played in a conference finals. Considering these two are the best of friends, this can't be easy on the future Hall of Fame point guard.
Statistics courtesy of ESPN and Basketball-Reference.