No-Name Austin Cindric Treats NASCAR Team to Fast Food After Daytona 500 Win
For the past 64 years, hundreds of NASCAR drivers have dreamt of what they would do the night of capturing the iconic Daytona 500.
"I would do …"
"The first thing I …"
So how did rookie Austin Cindric and his teammates celebrate their history-making accomplishment?
They stepped out for fast food.
Austin 'Cindrec' makes a name for himself at 64th Daytona 500
There was nothing fancy for Team Penske's No. 2 Ford team, but they had a cool table ornament at the Daytona Beach, Florida, establishment, the Daytona 500 championship trophy.
It's certain by the time Cindric departed the restaurant; all the employees knew his name.
Cindric's week didn't start that way. To certain Daytona International Speedway personnel, he was not a known commodity.
When the rookie arrived with his Team Penske crew before Speedweeks kicked off Feb. 15, Cindric pulled into his assigned garage area. A nameplate was stationed prominently for all his peers to see and joke about:
"Austin Cindrec." 
As the newly crowned Daytona 500 champion, Cindric on Feb. 20 made light of the moment during his wide-ranging, nearly 45-minute press conference. 
"They didn't know how to spell my name," Cindric said, reported by the Orlando Sentinel. "It was spelled wrong on my garage when I showed up here. Not throwing any shade, but hopefully, we can get that right next year." 
Here's hoping Daytona officials did a better job editing Austin Cindric's name on the 2022 Harley J. Earl Trophy.
Cindric blocks teammate, beats Bubba Wallace to finish by 0.036 seconds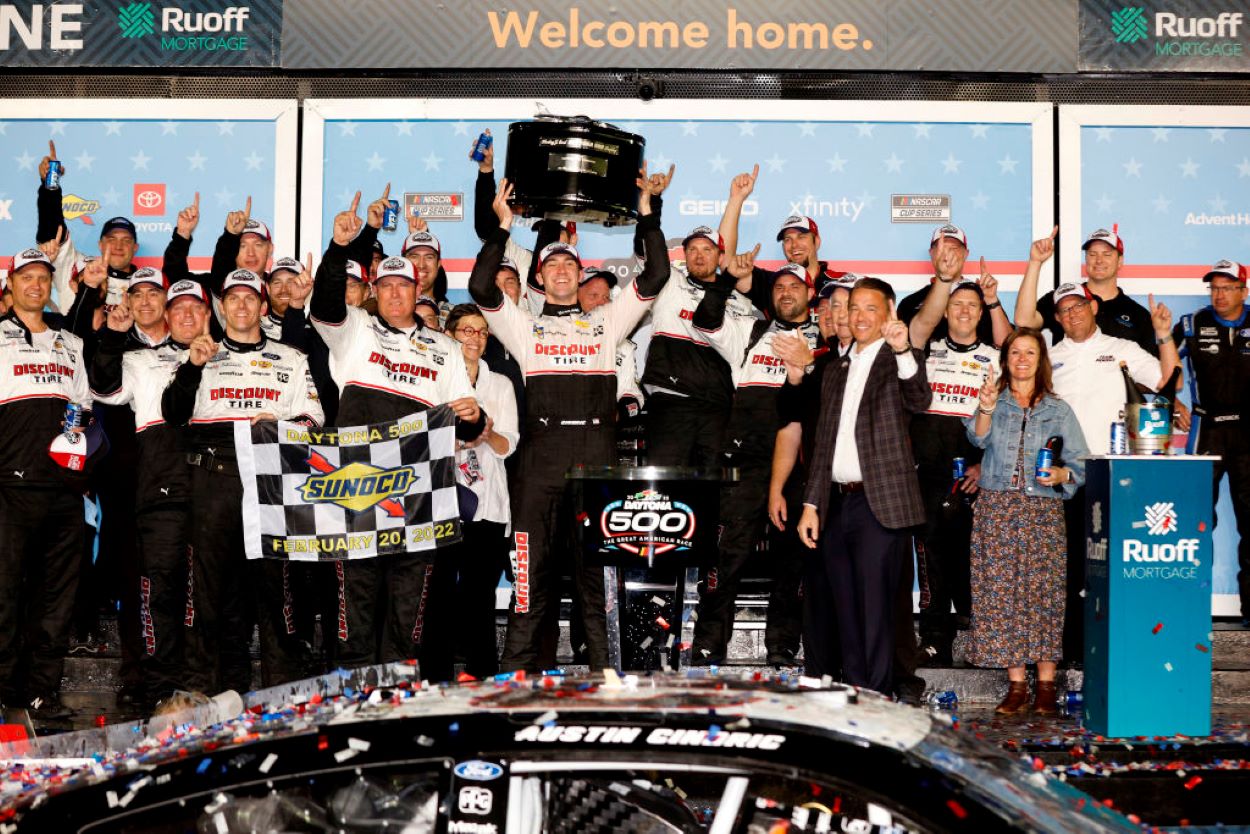 In his eighth career Cup start, Cindric established himself as the first rookie to capture "The Great American Race." At 23 years old, he is the second-youngest driver to win the season-opening showcase event. 2011 champion Trevor Bayne was 20 years old, but the Xfinity Series regular did not qualify as a Cup rookie. 
Cindric nearly captured back-to-back Xfinity drivers' titles but lost last season to Daniel Hemric on a photo finish at Phoenix Raceway. In 133 Xfinity starts, Cindric collected 13 wins. Even with his father, Tim, serving as president of Team Penske since 1999, the young pilot's popularity obviously hasn't reached Chase Elliott's status. Not yet. 
In overtime, Cindric raced like a future NASCAR Hall of Famer. Leading the field after twice getting held by Tyler Reddick, Cindric maintained focus on his right and left. First swinging up to the high side to block Team Penske, teammate Ryan Blaney, Cindric quickly recovered and beat Bubba Wallace to the checkered flag by 0.036 seconds.
Fans at the sold-out venue generated energy long lost at recent NASCAR events.
Cindric: 'Oh, my gosh. I'm surrounded by great people' 
The victory may have been sur-real to Cindric and his crew, but he took time to address part of his motivation.
"Oh, my God. Do you know what makes it all better? A packed house," Cindric said, reported by NBC Sports. "A packed house at the Daytona 500. I've got so many people to thank. First and foremost, Roger Penske, happy birthday.
"Oh, my gosh. I'm surrounded by great people. That's all there is to it."
With so many "great people" around him and in the mood to kick up his heels after qualifying for the NASCAR playoffs during the season's maiden event, there was only one place to go.
A local fast-food joint, of course.
Like Sportscasting on Facebook. Follow us on Twitter @sportscasting19.
RELATED: Fueled by Rookies Austin Cindric and Harrison Burton, Ford's Future is Quickly Approaching