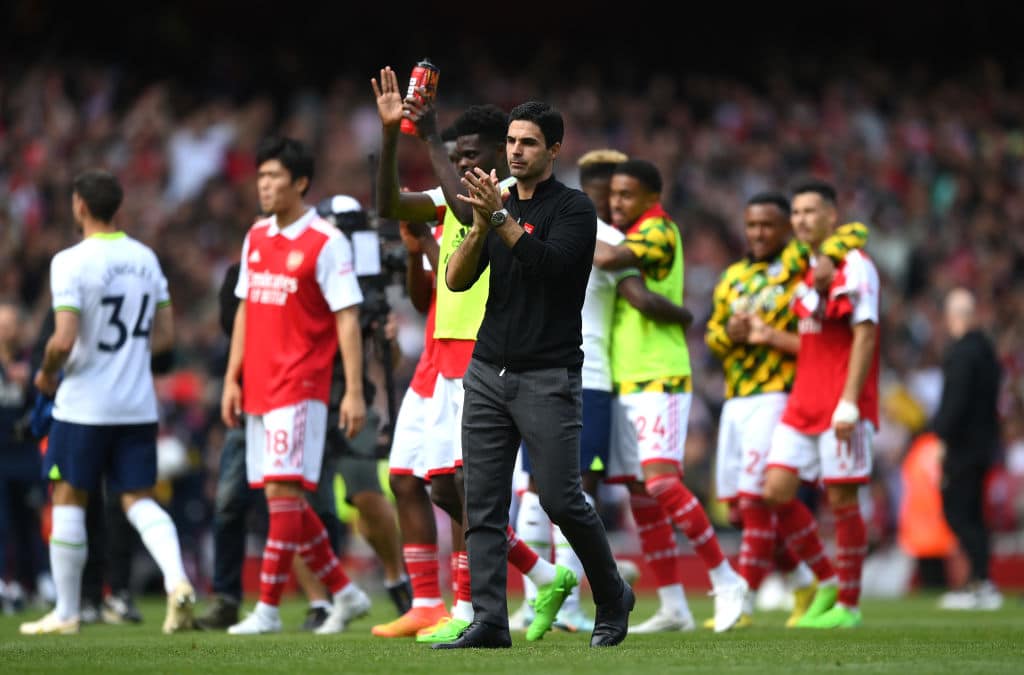 North London Derby: Mikel Arteta's Postmatch Comments Show Just How Far Arsenal Have Come
Even if you didn't watch the North London Derby, Mikel Artea's TV interview perfectly highlighted where Arsenal have improved.
When Arsenal faced Manchester United earlier this season, they stumbled. Saturday's North London Derby, however, was a different story. The Gunners rose to the challenge and, barring a first-half penalty, played a clean game of soccer to dispatch Tottenham 3-1.
While the scoreline and the on-pitch performances speak for themselves, manager Mikel Arteta also made some telling comments after the final whistle. When we consider what Arsenal looked like during the Spaniard's early days in charge, his words underscore just how much things have improved.
Mikel Arteta discussed Arsenal's 'way of playing' after a big North London Derby victory
As any sports fan can tell you, postgame media availability rarely reveals any groundbreaking insights. After Arsenal's triumphant North London Derby, though, Arteta did make some telling comments on BT Sport.
"It is [impressive]," the manager explained after being told that 22 passes preceded Thomas Partey's opening goal (h/t Arseblog News). "It's our way of playing. We can attack in different ways but obviously, this is part of the way we want to play, especially against this team who is so dangerous on the breaks. You need to be able to control the match."
That wasn't Arteta's only comment about his team's performance, though. He also was full of praise for Arsenal's collective willingness to play their game, despite Tottenham's threat on the counter.
"It was [frustrating to be tied at halftime], but they don't need much in any action," he added. "Any time they are around the box, you have the feeling they can create anything out of it. You have to live with that. I really like that we didn't play with that in our minds, we were free, we were courageous, we were brave and we went for it. This is what we demand the players to do."
Upon first reading (or listening), those seem like some ordinary postmatch quotes. Within the larger Arsenal context, though, they do seem telling.
Arsenal's increased confidence and quality highlight their growth
At this point, let's pause for a second and consider the different versions of Arsenal we've seen under Mikel Arteta.
First, there were the three-at-the-back Gunners who won the FA Cup. The system was successful, but it was clear that the manager didn't really want his team to be a counter-attacking side. That was simply the easiest way for him to stop the bleeding and make use of the players at his disposal.
Then there was an intermediate stage. Arsenal transitioned into a 4-3-3 or 4-2-3-1 formation and, thanks to an increasing amount of attacking creativity via Emile Smith Rowe and Martin Odegaard, played some better football. Things still weren't perfect, though, and Arteta would try to lock things down by bringing on Rob Holding and shifting to a back five when necessary.
Now, there's the current Arsenal. In possession, the club is playing something of a 2-3-5. They're doing a better job at getting players forward and pushing the backline higher to pen the opposition into their own half. It now seems like Arteta has the players — Gabriel Jesus, Oleksandr Zinchenko, and William Saliba stand out — to do exactly what he wants. There's less of an inclination to shut up shop and more of a reliance on controlling the game with attacking possession.
That last stage brings us back to what the Spaniard said after claiming victory in the North London Derby. The Gunners have a way of playing and, barring minor tactical tweaks, don't change it. Things are based on possession, control, and stretching the opposition, not battening down the hatches and holding on for dear life.
Playing that way comes with risks — Spurs' limited success came on the counter, and Manchester United beat Arsenal by exploiting those same spaces — but the Gunners have the courage and bravery to play in that way. And while there's a thin line between conviction and foolishness, the best teams push right up against that border.
Will that style of play help Arsenal reclaim their seat among Europe's elite? At this point, there's no way to know. The Gunners are still lacking some crucial depth, particularly in the midfield, and haven't always been able to turn their dominance into goals.
With all of that being said, though, the progress, in terms of results, overall style of play, and collective identity seems clear. If nothing else, those certainly a positive signs that will have Gooners feeling like the club is moving in the right direction..
Like Sportscasting on Facebook. Follow us on Twitter @sportscasting19 and subscribe to our YouTube channel.