Northwestern Football Scores Big in Adding Florida Atlantic's John Raine
John Raine wanted to kill two birds with one stone, and he rightfully earned the opportunity. A fifth-year senior tight end at Florida Atlantic University, Raine both joined a Power 5 college football program and found the ideal place to earn his Master's when he officially transferred to Northwestern University.
Here's why the Northwestern Wildcats, both the school and Pat Fitzgerald's football program, will spend the next few months celebrating Raine's arrival.
John Raine had an excellent stint at Florida Atlantic
John Raine's college numbers won't immediately pop off the page. Raine caught 56 passes for 530 yards and seven touchdowns in four seasons at Florida Atlantic.
The bulk of those numbers came last year when Raine recorded 38 catches, 343 yards, and six touchdowns for the Conference USA champions.
Raine played alongside two notable FAU tight ends. Before a broken ankle ended his true freshman season prematurely, Raine was the backup tight end to Tyler Cameron, a future contestant on The Bachelorette. Raine caught two passes for 38 yards in 2016.
Cameron's younger brother, Ryan, joined FAU as a walk-on tight end last year.
John Raine spent the last two years playing alongside Harrison Bryant, a recent fourth-round pick of the Cleveland Browns. Raine excelled both as a blocker and receiver when ex-FAU head coach Lane Kiffin's used two-tight end sets late in 2018 and most of last season.
John Raine was expected to compete for FAU's starting tight end job next season. He entered the transfer portal in early-April and announced his decision on May 1.
Raine is a dangerous H-back and goal-line tight end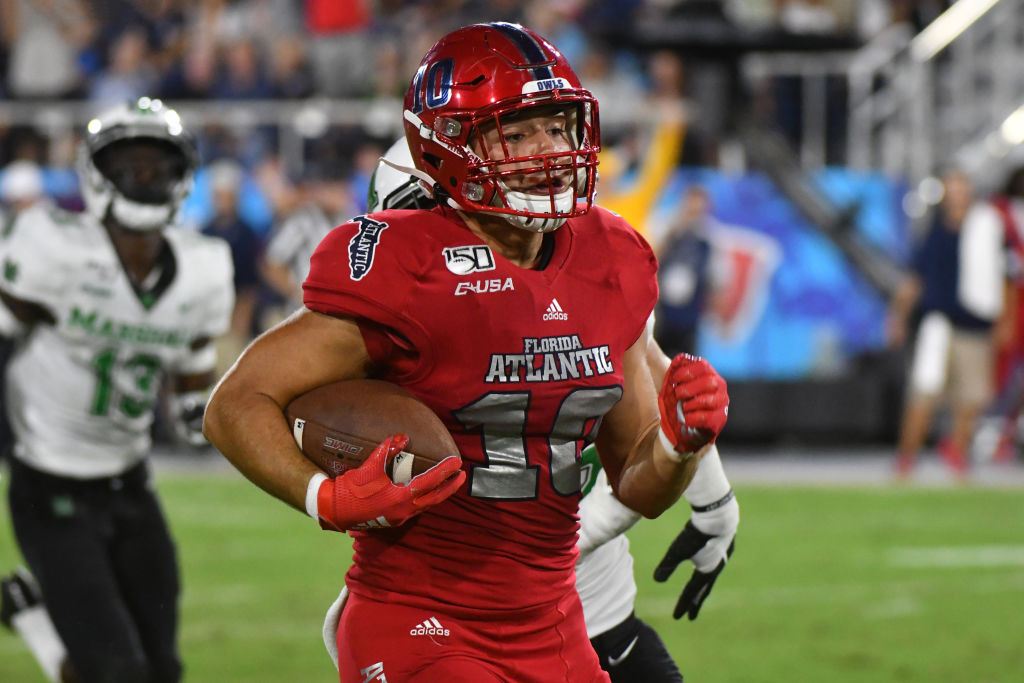 John Raine spent his first years at FAU known more for his blocking than his pass-catching skills. It wasn't that Raine was a bad receiver — far from it, in fact. But FAU didn't fully take advantage of Raine's receiving abilities until the 2019 season opened.
Kiffin and offensive coordinator Charles Weis Jr. used Raine as a goal-line target throughout the year. Raine showed off his speed with a 61-yard catch-and-run in an October loss to Marshall.
John Raine's final game at FAU was his best. Raine totaled seven catches, 73 yards, and a touchdown in FAU's Boca Raton Bowl upset of SMU. Harrison Bryant missed that game with an illness.
Raine earned all-Conference USA honorable mention honors last season.
Northwestern found a star in John Raine
Northwestern needed tight end depth and Raine wanted an opportunity to move up in the college football world. Playing football at Northwestern and earning his Master's — Raine majored in management at FAU — was the perfect combination.
247 Sports reported on April 20 that Arkansas, Florida State, and the University of South Florida all showed major interest in Raine. Raine's former FAU offensive coordinators, Charles Weis Jr. and Kendal Briles, are the respective OCs at Arkansas and USF.
Northwestern is glad to know Raine enjoyed a successful game against the Big Ten champions last year. Raine caught six passes for 29 yards and a touchdown in FAU's 45-21 loss to Ohio State on August 31.
As for FAU, redshirt freshman tight end Rahmod Smith is the presumptive favorite to replace Raine. Smith's older brother, Rashad, signed with the Chicago Bears as an undrafted rookie free agent after the NFL Draft.
New FAU coach Willie Taggart added junior college tight end and Illinois bounceback Lou Dorsey on signing day. Dorsey has not officially begun classes at FAU, though.