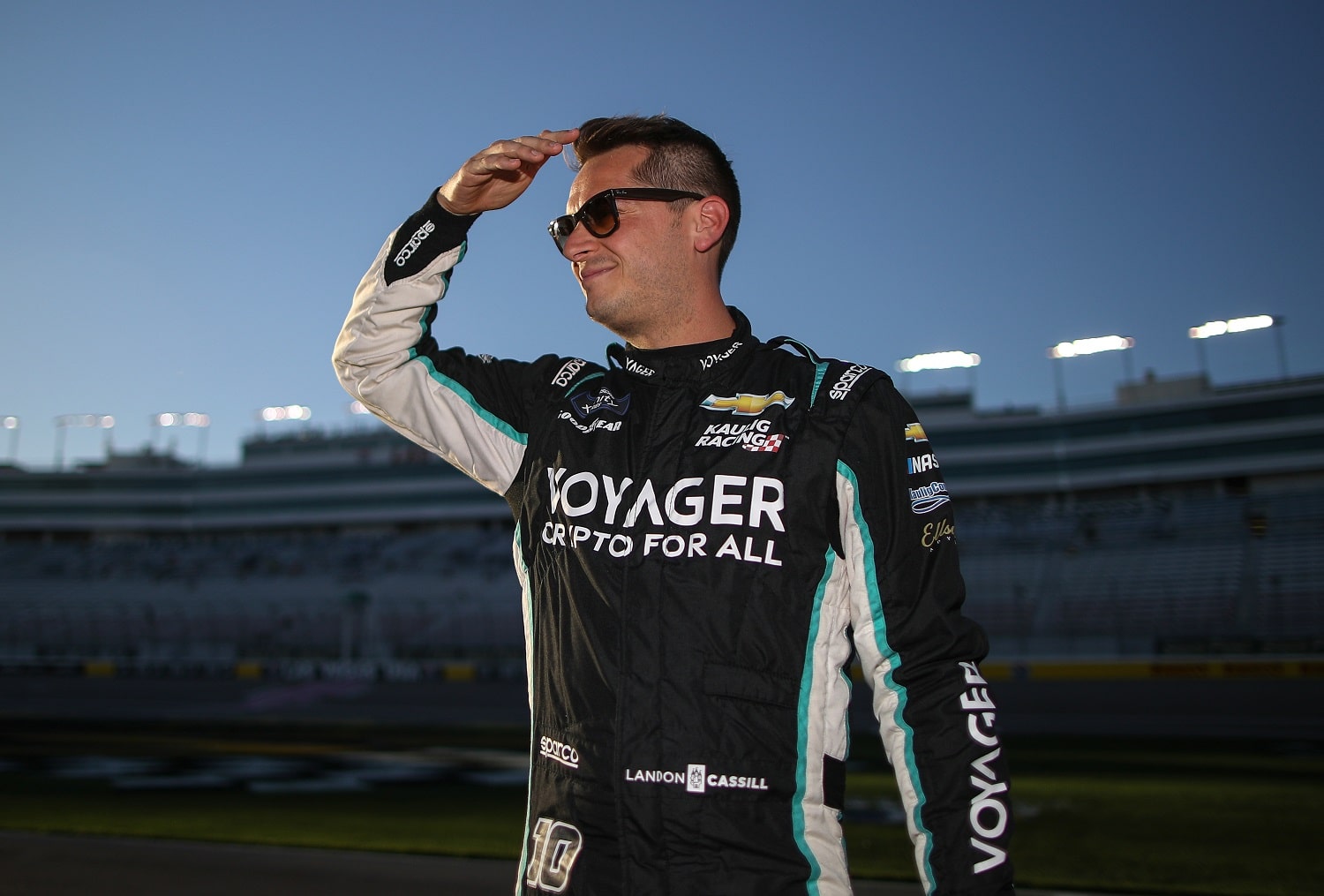 Not-so-Funny Money: Cryptocurrency Claims Another NASCAR Victim as Landon Cassill Loses a Full-Time Xfinity Series Ride
Respected NASCAR veteran Landon Cassill won't be able to run the full Xfinity Series schedule because of a funding issue.
It turns out the lifeline that was finally going to bring Landon Cassill success commensurate with his skill level had an anchor attached to it. Many people, likely including the veteran NASCAR Cup and Xfinity Series driver, saw it coming. But now it's crushed Cassill a month before the start of the new season.
It's a cautionary tale of the potential perils of cryptocurrency.
Landon Cassill no longer has a full-time ride because of sponsorship woes
Despite the recent announcement by Kaulig Racing that Landon Cassill would return to the Xfinity Series in the No. 10 Chevy, the driver revealed on Wednesday that he no longer has a full-time ride.
"Unfortunately, I won't be driving the 10 car full time this year," Cassill wrote on Twitter. "However, my quest to win in NASCAR continues. Sponsorships drive my business, and my sponsors over the last two years have been through a lot. Rebuilding will be my top priority."
Cassill was driving for JD Motorsports in the 2021 Xfinity Series when cryptocurrency firm Voyager Digital came aboard to sponsor his No. 4 Chevy for the second half of the season. After finishing the year 22nd in points, Cassill signed on to drive for the more competitive Kaulig Racing last season.
That was an easy choice for Kaulig since Cassill was bringing another half-season of Voyager money with him, and Cassill had a combined 502 Cup and Xfinity Series starts under his belt.
The driver missed the playoffs and finished 13th in points, but his 12 top-10 finishes were just two short of what he accomplished in his first 176 career starts.
Voyager went under, taking Landon Cassill's 2023 plans with them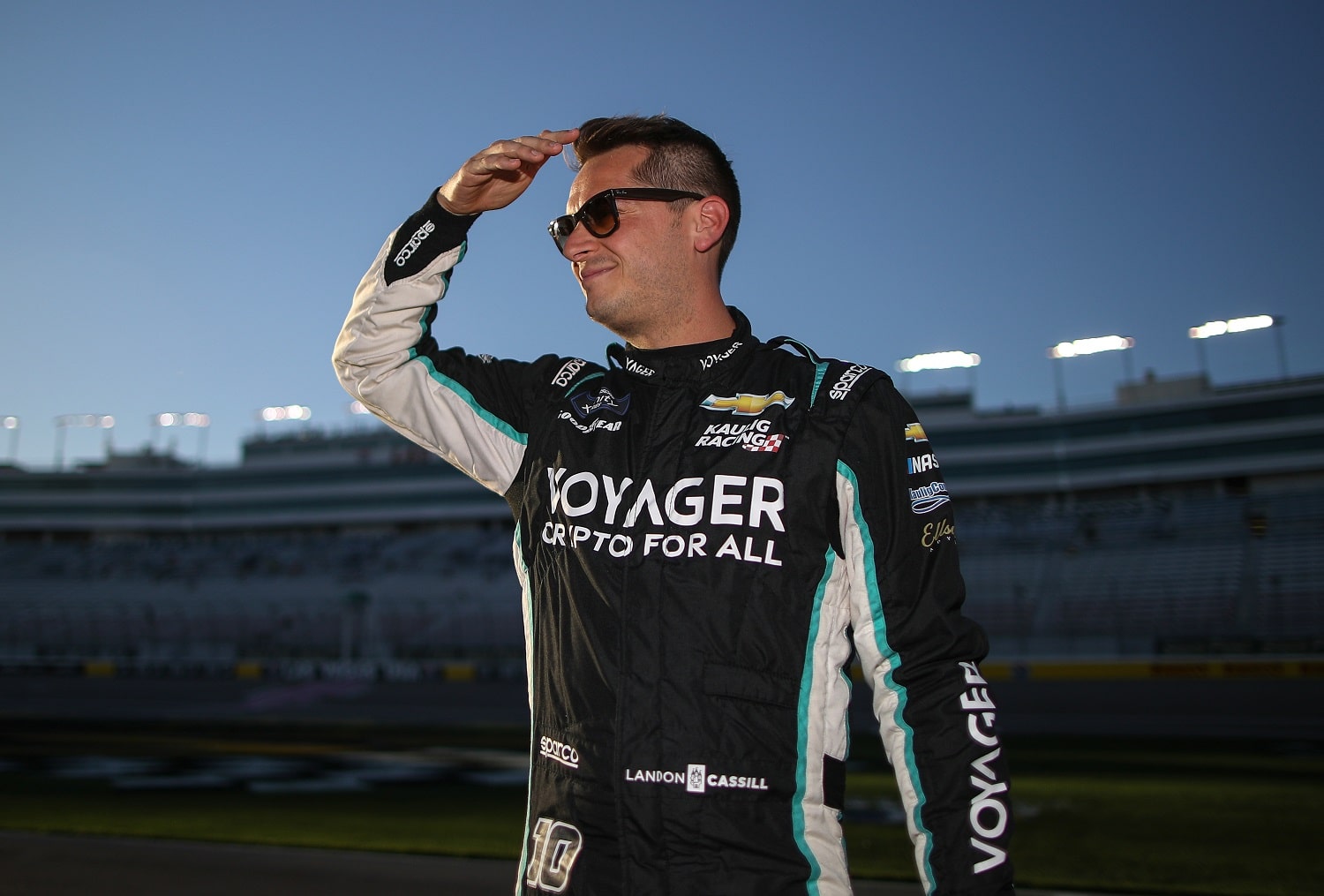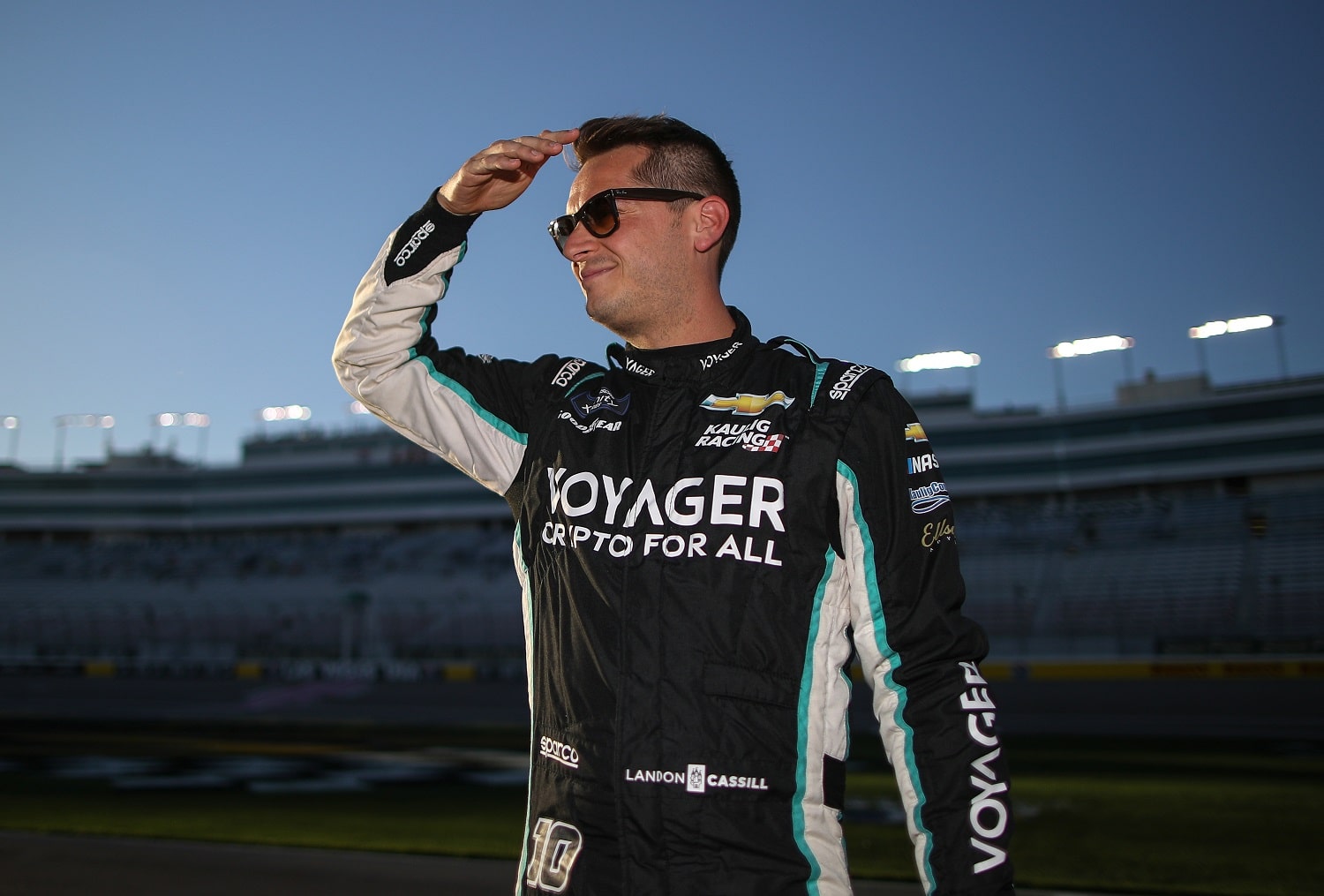 The volatility of cryptocurrencies is an ongoing story, with the latest development a bankruptcy filing on Thursday by lender Genesis Global Holdco, which the New York Times explained got hit hard by the collapse of FTX late last year.
Before FTX, the big crypto crisis of 2022 was the demise of Voyager Digital, which filed for bankruptcy midway through the NASCAR season and is being bought out for $1 billion, a sum that will largely be used to cover debt owed to clients.
It's believed Voyager had already delivered most of its sponsorship money to Landon Cassill and Kaulig Racing before the trouble hit, but the turmoil ended any chance of continued support in 2023. So, with half his funding gone, Cassill will run only a limited schedule.
Daniel Hemric and rookie Chandler Smith are unaffected by Cassill's sponsorship trouble and will run full Xfinity Series seasons. Justin Haley will pick up at least some of the openings created by Cassill's situation.
Brandon Brown also felt the pain of a cryptocurrency crisis
Brandon Brown knows only too well what Landon Cassill is going through with the clock ticking down toward the start of the NASCAR Xfinity Series season. Brown lost his ride with his family's team late season because sponsorship money dried up. He completed the season grabbing rides with lesser teams and dropped to 17th in the season standings after climbing to 13th and contending for the playoffs in mid-July.
Brown's sole Xfinity win came in late 2021 at Talladega, infamously starting the "Let's go Brandon" uproar. Brown contended the political overtones made it impossible to land conventional sponsorships for 2022, though he likely exaggerated. He pivoted to a deal with the Let's Go Brandon Coin (LGBCoin) cryptocurrency, but NASCAR rejected the sponsorship because of the political connotations.
The arrangement was reworked as an endorsement, but the value of the cryptocurrency tanked, leaving the driver high and dry. One report characterized the entire episode as "a dumpster fire."
Got a question or observation about racing? Sportscasting's John Moriello does a mailbag column each Friday. Write to him at [email protected].