With Notre Dame Buzz Swirling, Urban Meyer's Troubling Admission Proves He's Not NFL Material
Jacksonville Jaguars head coach Urban Meyer seemingly has a lot on his plate as an NFL head coach.
His Jaguars are 2-9 and coming off a 21-14 loss to an equally bad Atlanta Falcons team. They've lost three in a row and four of their last five.
His first season in the NFL has been rocky, to say the least. With big-name coaches moving and grooving in college football, one must wonder if the recent landscape change that has left Notre Dame with a head coaching vacancy may be enough to call Meyer back home to college football.
Urban Meyer admits the Jacksonville Jaguars are having issues running routes
The Jaguars were down seven with the football and under two minutes to go. Jacksonville's defense had just gotten the offense the ball back for one last chance to tie (or win) the game, and Trevor Lawrence had it on his 18-yard line. The Jags were able to secure a first down and advance the ball to the 29 when three-straight incompletions set up a 4th-and-10 with the game on the line.
Lawrence took the snap, had a clean pocket, stepped into his throw, and promptly threw the ball into the dirt five yards in front of Laviska Shenault Jr.
It wasn't a bad throw, but there was a miscommunication on the route. After the game, shockingly, Meyer admitted to the media that the Jaguars have been struggling to get receivers to run the right routes at the right depth and in the proper locations.
"We've had some depth issues and location issues," Meyer said.
Urban Meyer seems over his head as an NFL Coach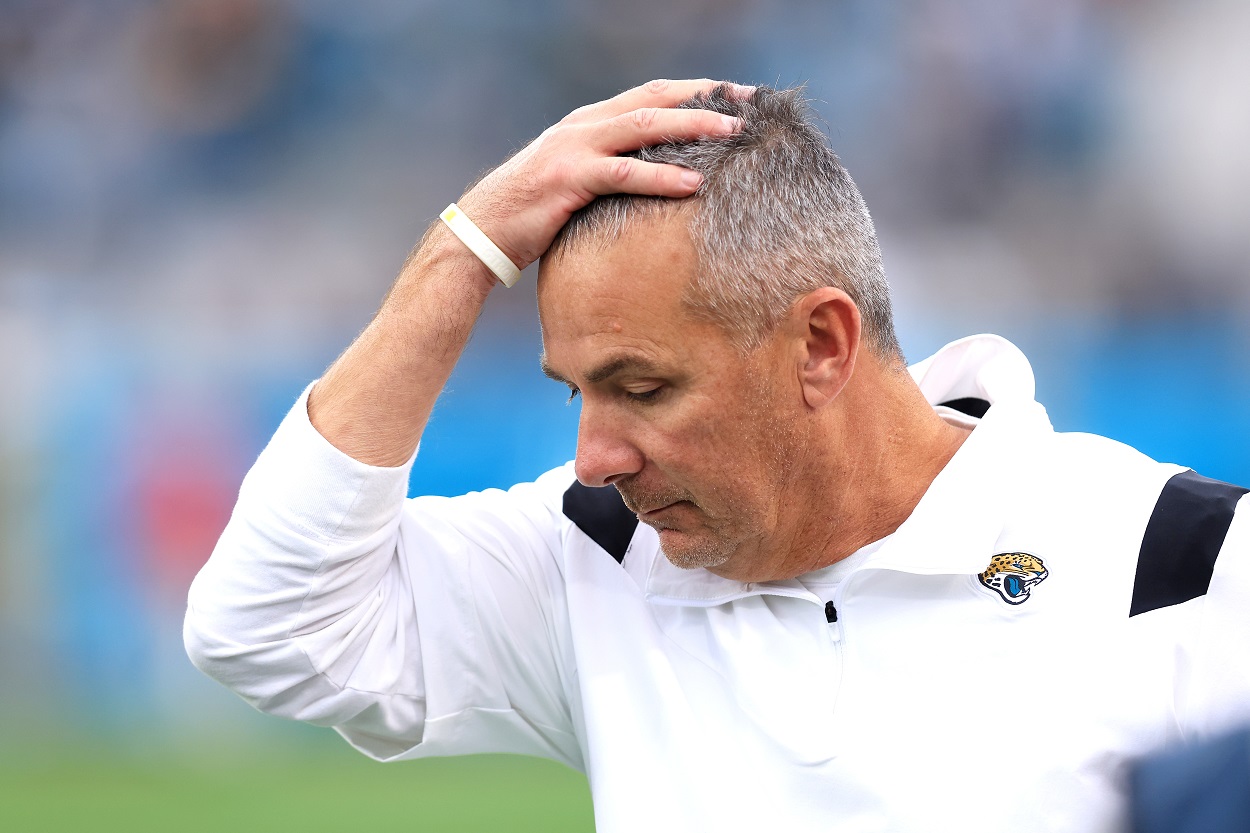 While it seems like a small admission, it's genuinely shocking to hear an NFL head coach say that in Week 12, his receivers are still having issues running the proper routes.
That's not even a training camp issue for most teams. That's something that gets sorted out in OTAs. That's a detail that an NFL head coach nips in the bud as soon as possible. The fact that we're basically in December and the Jaguars are still dealing with this issue, well, that's a massive inditement on Meyer as a head coach.
Frankly, and unfortunately for Jacksonville, that's been par for the course in Meyer's first season. The team isn't any good, which is to be expected, but Meyer has been far too big of a story.
From bringing in Tim Tebow as a preseason gimmick to not flying back with his team after a loss and subsequently becoming a huge distraction, Meyer seems to be struggling with the significant difference between coaching in college and coaching in the NFL.
In college, the head coach is the story. They're the star of the program. They're the constant. They're basically the mayor of the town, and that's normal.
College coaches are larger than life. They're there to inspire their teams and motivate them onto victory. Especially when considering the importance of the recruiting trail, the primary responsibility of being a college coach is to be the figurehead of the program. When you walk into a recruit's living room, you want them to feel a sense of awe and for their parents to feel that a little bit as well.
College football is about pageantry, and the head coach is the center of the show.
It's not so much like that in the NFL. Heck, most NFL head coaches make less money than the stars on their team.
Coaching in the NFL is about Xs and Os. It's about detail and precision. It takes an entirely different motivation style to work in the NFL. You can't lord over an organization as you can in college. You have to win over your players with intellect and football knowledge. The "rah-rah" style of coaching rarely works long-term.
Details matter in the NFL, and Meyer is clearly not a detail guy.
Maybe Notre Dame makes more sense for Meyer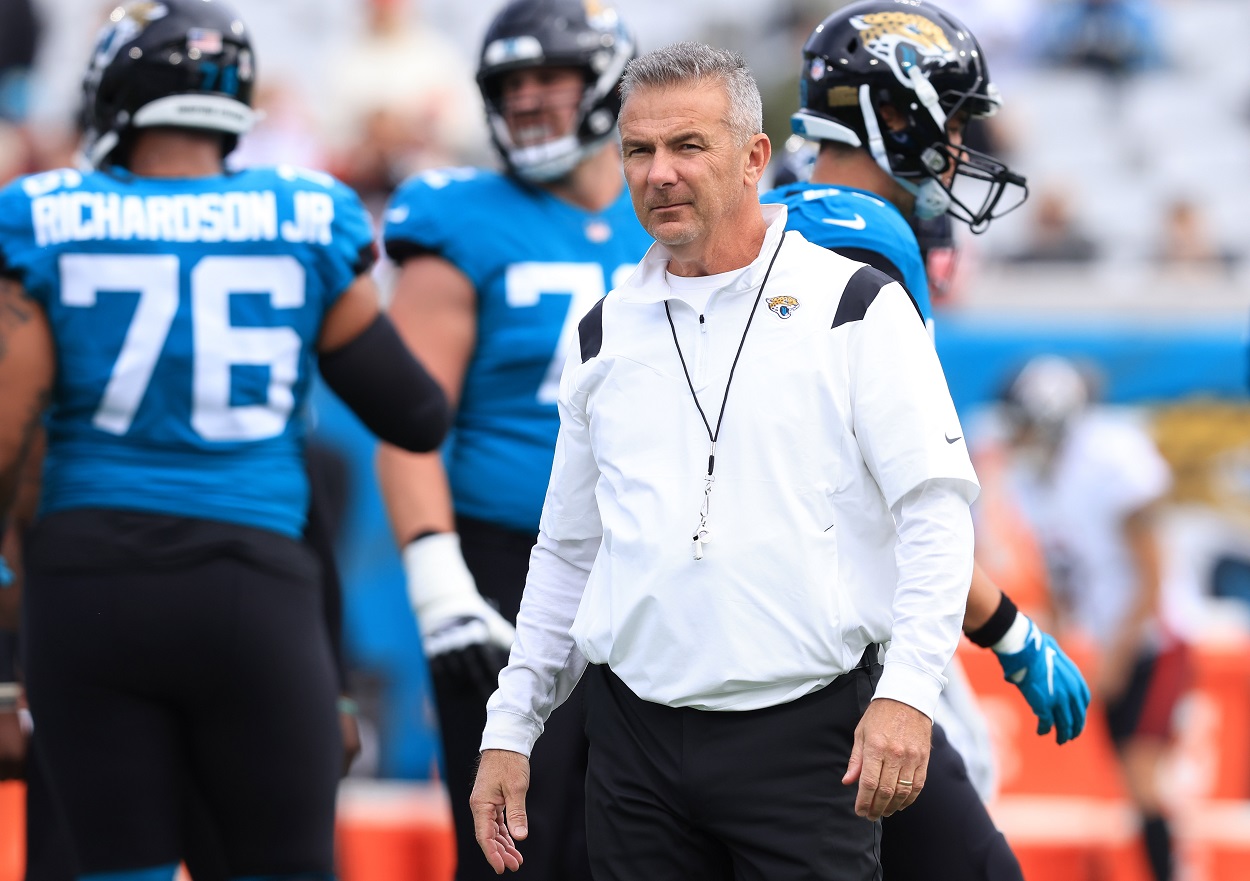 The college football landscape has dramatically shifted over the past week or two. Lincoln Riley shocked the world and up and left the Oklahoma Sooners, heading west to take the USC job. Shortly after, it was announced that LSU had reached an agreement with Notre Dame head coach Brian Kelly, who has been in South Bend since 2010.
That's a significant loss for Notre Dame. Kelly is the winningest coach in Notre Dame history, surpassing Knute Rockne this season. He's going to be extremely hard to replace, but a coach with Meyer's college resume would be a good start.
Meyer's struggles in the NFL make it easy to forget that he was an elite college football coach, with three national championships under his belt. He was also an elite recruiter at both Florida and Ohio State, and with the infrastructure of Notre Dame behind him, it's not hard to see him finding success and doing so quickly.
There have been no official reports tying Notre Dame to interest in Meyer, yet, but there is plenty of buzz because it makes too much sense. Meyer was actually a candidate for the ND job before he went to Florida and the Fighting Irish went with Kelly. Meyer had also apparently told his wife, Shelley, that Notre Dame was one of his three dreams jobs, the other two being Ohio State and Michigan.
He's already done Ohio State, and Michigan seems likely to stick with Jim Harbaugh after their win over OSU. Notre Dame is right there for the taking, though.
Let's face it. Meyer just isn't cut to be an NFL coach. There's no shame in that, either. Neither was Nick Saban.
He can stick it out in Jacksonville and perhaps eventually learn the ropes, but with his dream job finally open; one has to wonder if Meyer will end up bolting for the door and leaving the NFL forever.
Stats courtesy of ESPN and Pro Football Reference.