Notre Dame Football Is All About Their Players Getting Paid
Notre Dame is one of the more storied programs in the history of college football. The historic players that have come through that university are too many to count. The prestigious program is all about their players making money for their name, image, and likeness.
Sports and gaming fans received exciting news when EA Sports revealed that they were rebooting their college football video game. When the game releases, it could be without the Fighting Irish because of a pending NCAA rule change.
Notre Dame won't be in EA Sports Collge Football unless their players can profit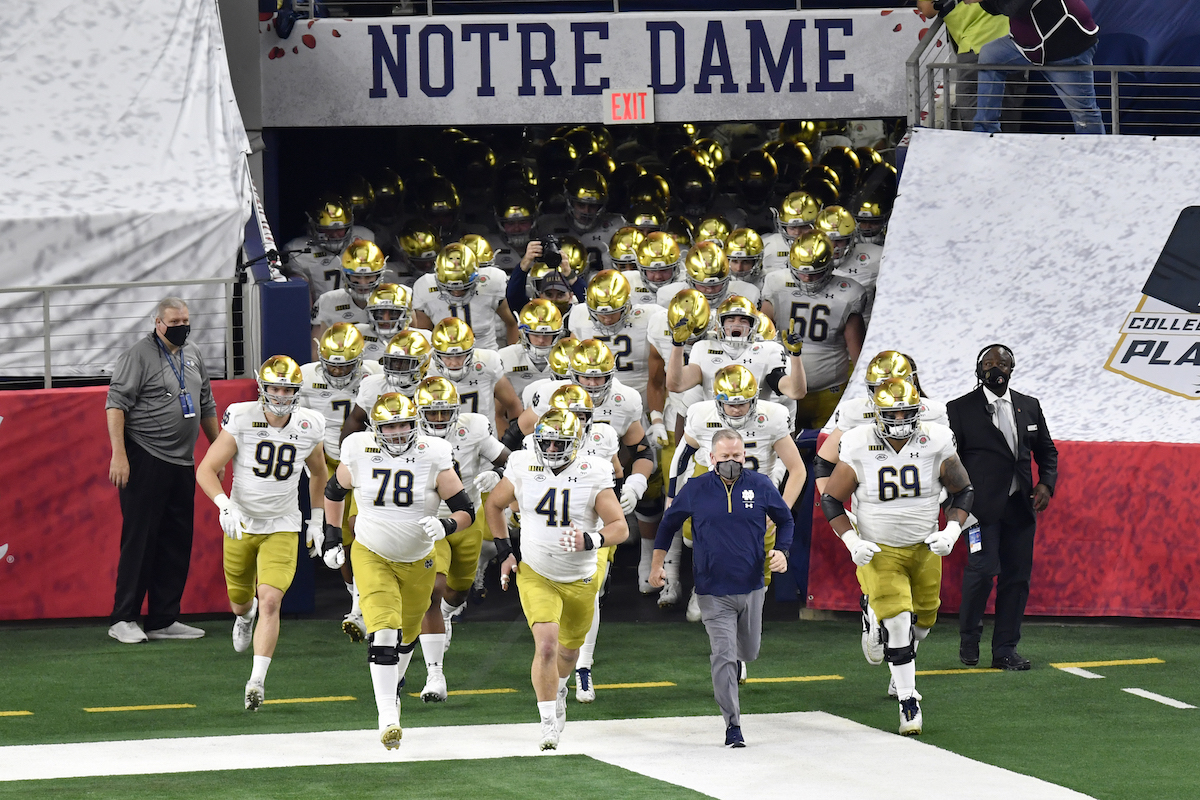 EA Sports announced that their new college football game called EA Sports College Football is in the development stages. There is no release date, but the news of the gaming franchise's return rocked the sports world. According to Notre Dame athletic director Jack Swarbrick, his school wants no part of the video game unless his players can profit from it.
Swarbrick said that his school wouldn't provide its branding rights to the gaming company until the rules legislating name, image, and likeness (NIL) are final, per a statement from the university. College athletes can't make money from their NIL under current NCAA rules.
"As those rules are developed, it is our strong desire that student-athletes be allowed to benefit directly from allowing their name, image, and performance history to be used in the game," Swarbrick said in a statement.
What exactly is the name, image, and likeness rule, and what does it do for NCAA athletes? Why is Notre Dame lobbying so hard for this law to materialize?
What is the NCAA name, image, and likeness rule?
The NCAA has prevented players from making money using their name, image, or likeness forever. An athlete could risk losing their scholarship and being ineligible if caught making money from endorsements. In recent years, progress has been made toward allowing athletes to profit from their name, image, and likeness.
A proposal that allows players to earn money off their NIL is going through the legislative process. The issue is there is not a national plan for implementing the new rule. This will leave it up to the schools to decide what players can profit from. In January, the NCAA delayed their vote to change the rule, citing the need for more information before making a decision. 
Some states will start implementing parts of the new rule in the summer of 2021. According to ESPN, A federal bill was introduced on Feb. 4. to prevent the NCAA or any other college sports organizations from placing restrictions on the kind and amount of endorsement deals a player can sign. 
"Big-time college athletics look no different than professional leagues, and it's time for us to stop denying the right of college athletes to make money off their talents. If predominantly white coaches and NCAA executives can have unfettered endorsement deals, why shouldn't predominantly black athletes be afforded the same opportunity?" said Senator Chris Murphy, who authored the bill along with Representative Lori Trahan, per ESPN.
How will EA Sports handle Notre Dame potentially not being in EA Sports College Football?
If the worst-case scenario happens and Notre Dame doesn't participate in EA Sports College Football, the gaming company should be ok.
General manager Daryl Holt said that they are watching the NCAA NIL rule situation closely, per ESPN. They are willing to include players' names in the games if possible. If they are unable to, they will go a different route. Holt said the game wouldn't be out in 2021, giving EA Sports plenty of time to decide.
EA Sports is partnering with CLC, a collegiate licensing company, to bring the FBS experience to their upcoming video game. The CLC has the names, images, logo, playbooks, traditions, and uniforms of FBS teams that EA will use. There are going to be at least 100 college teams in the game.
EA Sports College Football is coming to next-gen consoles, but one historic program might be absent from the game. Notre Dame is the first school to publicly support their players getting paid for their involvement in the video game. Joe Swarbrick is all-in supporting his players' fight for compensation.