Notre Dame Has Only Itself to Blame for Loss of Historic Rivalries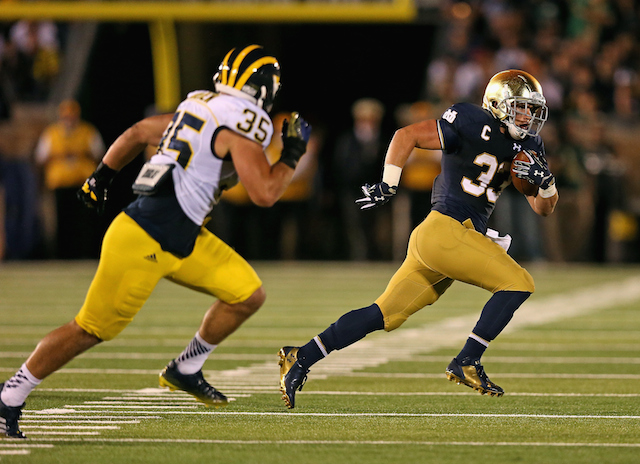 Rivalry and tradition in college football just don't mean what they used to. At least, apparently not in South Bend, Indiana. When Notre Dame first played Michigan in football way back in 1899, the Wolverines were literally teaching the Irish how to play the game. Notre Dame first met Purdue on the gridiron just a month later, still in the nineteenth century. The Notre Dame-Michigan State football series got underway in November 1918, less than a week after the ending of World War I.
These three Big Ten schools have combined to play the Fighting Irish 182 times, led by Purdue's 83 meetings with Notre Dame. The Boilermakers and Fighting Irish have met every year since 1946, and only Navy and USC have matched up with the Irish more throughout football history.
But that's all ending this year. Done. Over. Finished. Notre Dame is through playing Michigan, Michigan State, and Purdue every season (like the school did each year since 2002) because it just felt like it. At least, that's the way things seem.
The Irish got the benefit of the doubt in a complicated scheduling process once Notre Dame joined the Atlantic Coast Conference in all sports except football. Part of the deal athletic director Jack Swarbrick signed included five guaranteed games against ACC teams for his independent football program, and it was obvious the math would cause problems. No one could reasonably expect Notre Dame to keep the likes of Michigan State, Michigan, Navy, Purdue, Stanford, USC, etc. all on a 12-game schedule every year and still play five ACC games, due to the logistical issues that was sure to raise (especially with Big Ten teams moving to a nine-game conference slate in 2016).
But wasn't it fair to expect the Irish to at least try?
Instead, Notre Dame has basically killed off some of its longest rivalries for the fun of it. Swarbrick ended the Michigan series, canceling previously scheduled games in 2015, 2016, and 2017 — or as Wolverines coach Brady Hoke famously put it, the Golden Domers were "chickening out." (Of course, Brian Kelly didn't help matters by calling the series a "regional game.") The Hoke comment led to U-M playing the "Chicken Dance" song over the loudspeakers after a 2013 win over Kelly's team in Ann Arbor.
The Irish and Wolverines don't have another meeting scheduled, despite Swarbrick telling the South Bend Tribune in 2012 that his program was "more likely to rotate teams on and off the schedule, specifically as it pertains to Big Ten teams, then it is to drop an opponent all together." That story came less than two weeks before Notre Dame pulled the plug on the rest of its games against Michigan, by the way.
As for Purdue, the in-state rivalry is on the books for just four of the next twelve seasons, which will snap a string of 69 consecutive meetings when the teams don't play in 2015. In fact, the Boilermakers and Irish won't play again until 2020, despite Purdue's long-held preference of keeping the annual matchup. Michigan State shares the same sentiments, but already isn't playing the Fighting Irish for the next couple of years. The teams do have games scheduled out as far as 2031, but Mark Hollis should probably ask his counterpart Dave Brandon how that worked out for Michigan. In other words: stay tuned.
None of this is really new information, as it seemed like a sad, but true reality of the brave, new post-alignment playoff-era world of college football we're living in. What has changed over the last three months or so, though, is Notre Dame suddenly has a bunch of brand new non-conference scheduling agreements. The program that didn't have enough dates to go around for its longest rivals is now signing up schools like Georgia and Texas A&M for future games. These aren't just any type of scheduling agreements — they're home-and-home deals. That makes it harder to take Swarbrick's sob story explanation from a year ago about his scheduling headache. He told the Chicago Tribune he really only had three spots to "do deals: a home-and-home, a possible Shamrock Series game, and a home game without a return," according to the newspaper.
In other words, we nearly pitied Swarbrick for how he was supposed to juggle arrangements with longstanding Big Ten foes Michigan, Michigan State, and Purdue if he only had one non-conference home-and-home slot to go around. But somehow, the Irish just found space for the Bulldogs and Aggies despite a grand total of six all time meetings combined.
Well, maybe it's the Big Ten schedule that is throwing a wrench into things. At least Notre Dame's not adding home-and-homes with other teams in the conference instead of trying to work out extra games against the Wolverines or Boilermakers. Oh, wait, Ohio State's in the Big Ten, right? The year 2022 in Columbus, 2023 in South Bend.
The bottom line: Notre Dame's football schedule will look different in future years than it has for most of our lifetimes. Maybe, for their own reasons, the university's athletic director and staff think it's better, but don't say it's because there wasn't room to keep things the way they were. If you're more excited about hosting Massachusetts in 2015 than Purdue or welcoming Nevada to campus in 2016 instead of Michigan, that's fine — but at least come out and say it.
If Notre Dame's recent scheduling deals tell us anything, it's this: the Fighting Irish have only themselves to blame for rivalries going on hiatus and traditions dying. That's too bad.