Notre Dame Legend Brady Quinn Sees a 'Sticky Situation' With College Athletes Making Money off NIL
When he played college football, former Notre Dame quarterback Brady Quinn couldn't legally profit off his name, image, and likeness (NIL).
The stakes have significantly changed, and Quinn is all for it. However, the longtime NFL journeyman quarterback is naturally concerned about the potential problems that NIL can bring.
Brady Quinn is concerned about student-athletes staying focused when they're making so much money
Quinn wants it to be known that although he couldn't make money off starting at quarterback for a historic college football program, he has no issues with others being able to do it in 2021.
With that said, Quinn also isn't afraid to voice his concerns or issues with the NIL movement. During a recent appearance on The Dan Patrick Show, the 2007 first-round pick said he believes there exists the possibility of players having less motivation to perform well academically because they now have the opportunity to make money.
"I tend to believe people tend to be more motivated when they're paid a good amount of money. I just think the sticky situation becomes, you know, between practice and then NIL responsibilities for marketing [and] so forth; where does school even come into factor? Like, where does it come into play?"

Brady Quinn
Quinn also suggested a player might feel compelled to skip attending a class if it means they can participate in a marketing appearance where they'd earn $100,000.
"I mean, is that a hard decision?" Quinn said.
Quinn also offered suggestions on what schools can do to avoid problems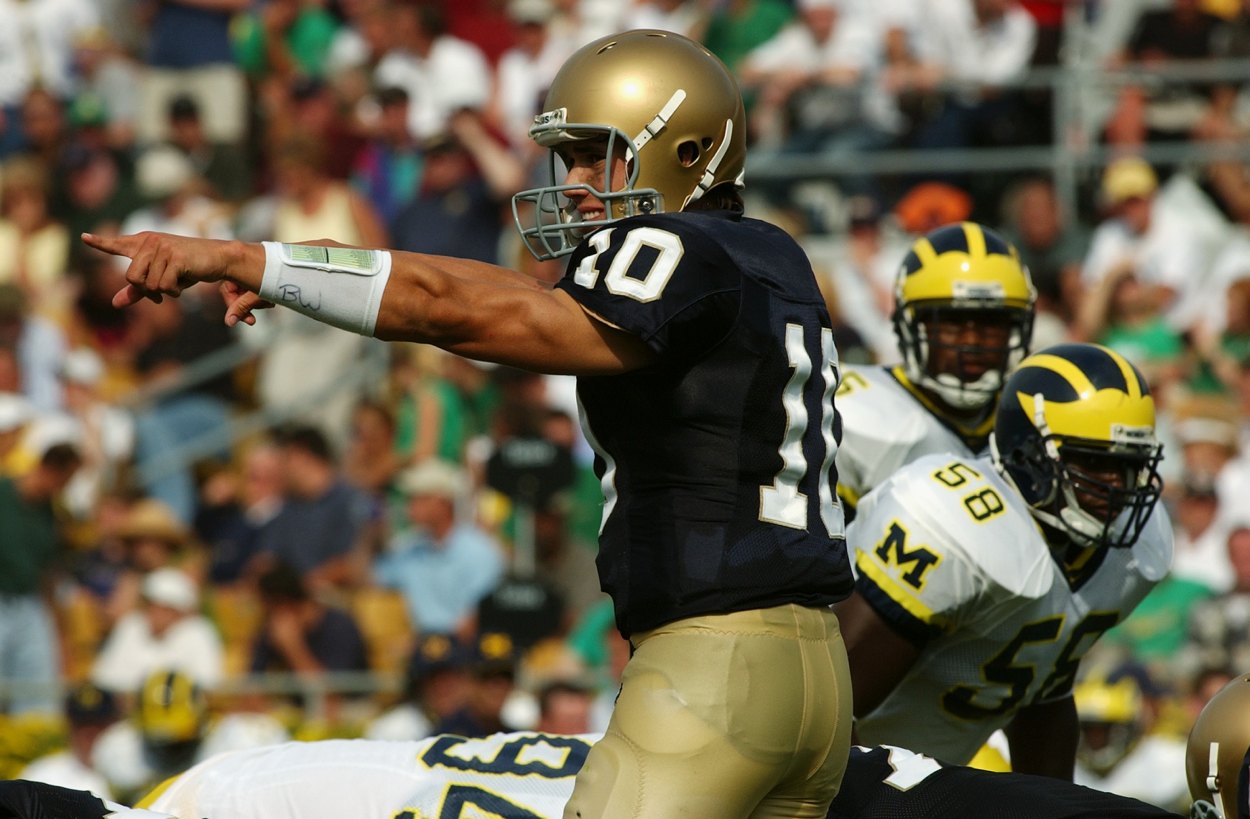 If any college athletic departments want help advising student-athletes in the NIL era, they should stop reading this story and immediately call Quinn.
During their conversation, Patrick proposed schools start having student-athletes take business-oriented classes, including those on investing and sports management. Quinn agreed and said Notre Dame already is doing something similar with their student-athletes.
"I do think universities are going to have to start looking at, like, what you need to start taking in order to get your actual degree and do away with some of the other stuff that's out there. And even though I do think it's good for enriching your general knowledge and, you know, you know, understanding how to think to your point, I don't know that all courses are relevant for these players and what they're being asked to do."

Brady Quinn
Quinn added that Notre Dame brings in former players, including those in post-football careers, to speak with current student-athletes and help them prepare for the eventual transition.
Quinn could have made a great deal of money had NIL existed when he played
Say whatever you want about Quinn's NFL career, but it's hard to deny how heartwarming it is to see him genuinely want to make sure the current generation of college athletes succeed.
Quinn, and so many others who couldn't make money off their own name, could justifiably be furious or bitter. Had the current NIL rules existed in the mid-2000s, Quinn and other Notre Dame stars would have had ample opportunities to make serious money.
According to Bleacher Report, Quinn already had endorsements with Xbox, Hummer, and Subway, among other companies, by the start of his second NFL season in 2008. Even if those major companies wouldn't have partnered a college quarterback, one has to think other corporations would have considered it at the time — and eventually will with current athletes.
According to Spotrac, Quinn earned nearly $11 million in the NFL. He eventually got paid, but not as soon as he should have. Luckily for the current generation and those who will come after them, they won't have those same problems.
All contract figures courtesy of Spotrac.