We Now Live In a World Where Pro Football Focus Says Geno Smith is Playing Better than Patrick Mahomes
Article Highlights:
Pro Football Focus says Geno Smith is having a better 2021 season than Patrick Mahomes
Mahomes has struggled with interceptions in recent months
What kind of world are we living in where Smith, of all people, is having a better season than Mahomes? 
The 2021 season hasn't been anything close to what Patrick Mahomes and the Kansas City Chiefs expected. Not only is the Super Bowl 54 MVP apace to set a career-high in interceptions, but he and his teammates need a lot of help to make the playoffs, let alone win the AFC West division for a sixth straight year. 
If Mahomes didn't think things could get any stranger, he should consider the fact that, according to Pro Football Focus, Seattle Seahawks backup Geno Smith is having a better season than the 2018 NFL MVP. We're not joking. 
Pro Football Focus says Geno Smith has been a better quarterback in 2021 than Patrick Mahomes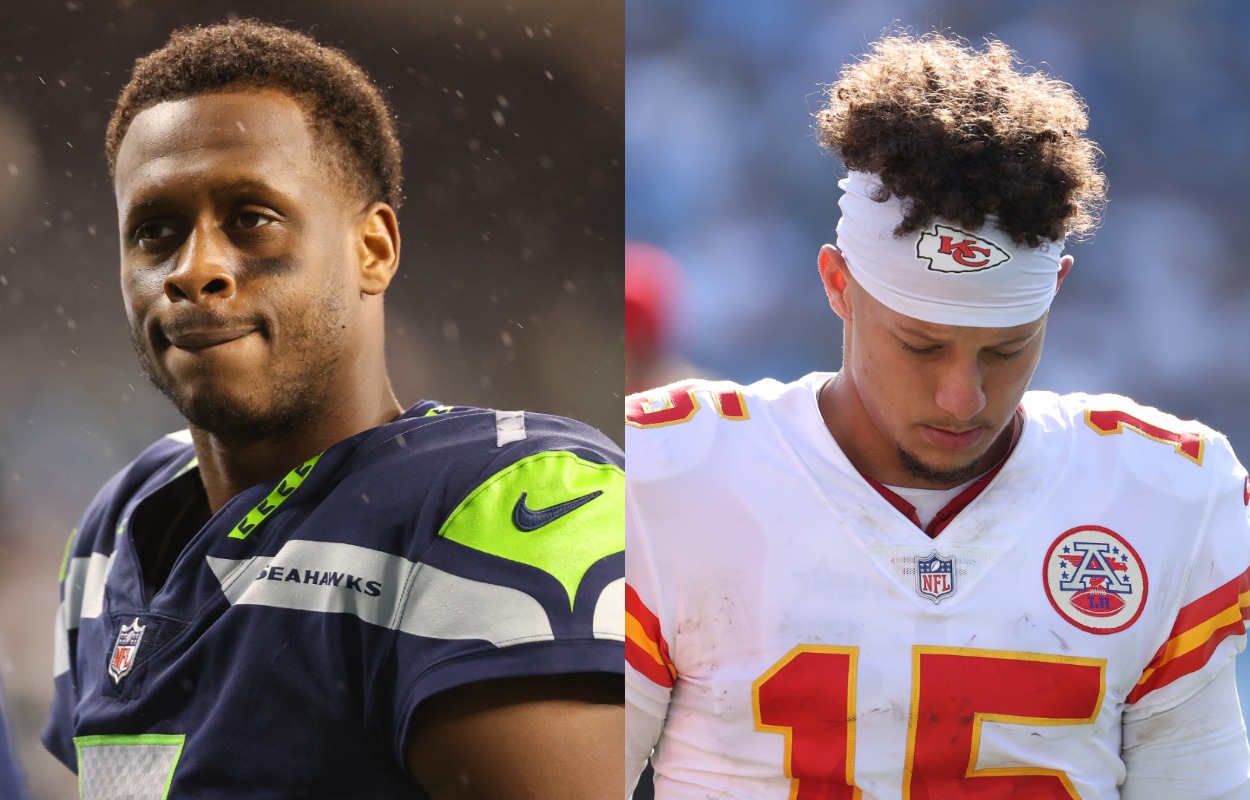 Numbers in sports aren't supposed to lie. We know how many 50 point games Kobe Bryant had (25), and we know how many regular-season touchdowns Tom Brady has thrown for (606 as of publication) since entering the league in 2000.
Advanced numbers and statistics which place value on a player, such as Wins Above Replacement in baseball, are far more subjective. Pro Football Focus' player grades fall into the same boat, and there's time where, despite the outlet's positive reputation, we have to raise an eyebrow.
As of Nov. 14, 2021, Mahomes had a 72.4 PFF grade and Brady, his Super Bowl 55 opponent, currently leads all quarterbacks with a 91.3 score. Arizona Cardinals star Kyler Murray, who has built a legitimate NFL MVP case thus far, has an 85.6 grade.
Considering that Mahomes is completing a career-worst 65.2% of his passes and already has 10 interceptions, we'll all agree he's not having a great of a season as Brady or Murray. However, when you look at Smith's profile and see the veteran backup has a 73.9 grade, you need to start asking serious questions.
Life is strange when Smith, of all people, is grading better than Mahomes
Before you rush to compare Mahomes' 20:10 TD/INT ratio to Smith's 5/1 ratio or how they played in specific games, let's point something important out first. Mahomes has played 630 snaps to Smith's 203 — and remember, all 203 of those snaps came once Smith replaced the injured Russell Wilson in Week 5.
No one is excusing Mahomes' play or how often he's tried forcing plays only to be intercepted. Teams intercepted him 10 times in the Chiefs' first nine games after the Texas Tech product only had 11 passes picked off in 29 regular-season games from 2019-20.
Still, Mahomes hasn't played terribly overall. Although his interceptions are significantly up and his completion percentage is slightly down from last year, he's still apace for 4,782 yards and 38 touchdowns. We're not seeing a star player forget how to play football here.
With all of that said, it's still so strange to think that respectable analytics have Geno Smith, of all people, playing better this year than Mahomes, who entered this season as arguably the league's best quarterback. What kind of world are we living in?
Then again, with everything that's happened since we entered the 2020s, maybe we shouldn't be so surprised.
Smith does deserve credit for doing his best to keep the Seahawks' playoff hopes alive
Unfortunately for Smith, he only won one of his three starts and narrowly missed leading a comeback in Week 5. Wilson will resume his starting quarterback duties in Week 10 on a 3-5 Seahawks team, which needs a significant amount of help to reach the postseason.
Smith nonetheless performed admirably in Wilson's absence and tried holding his own. He completed 68.4% of his passes for 702 yards and didn't throw an interception in his final three games.
Remember, we're talking about a quarterback who only threw 59 passes from 2016-20. Smith may not have won as many games as he'd have liked to, but don't be surprised to see him earn a bit more money on his next contract. He's currently making just north of $1.2 million this season and will hit free agency next spring.
With Smith returning to the bench and Wilson's durable history, the West Virginia product's PFF grade will likely remain in 73.8 territory for the rest of the season. If all goes to plan, Mahomes should conceivably pass him in the coming weeks.
However, if Mahomes is still ranked below Smith when the regular season ends, that's when we'll start needing to have some difficult conversations.
Like Sportscasting on Facebook. Follow us on Twitter @sportscasting19.