NY Giants Legend Carl Banks Is Running Out of Patience for His Beloved Team: 'Make the F****** Play'
Article Highlights:
New York Giants legend Carl Banks is extremely frustrated with his former team
The two-time Super Bowl champion said the Giants need to "figure it the f— out" in a recent podcast interview
Banks also criticized oft-injured running back Saquon Barkley
New York Giants legend Carl Banks has officially reached his breaking point, and it only took until early December.
Banks, who won two Super Bowls in nine seasons with the Giants, has tried supporting his former team while working their games as a color commentator. However, with Big Blue on pace for a fifth straight losing season, the former Pro Bowl linebacker wants it known that he's had enough.
Carl Banks ripped the New York Giants in a recent podcast interview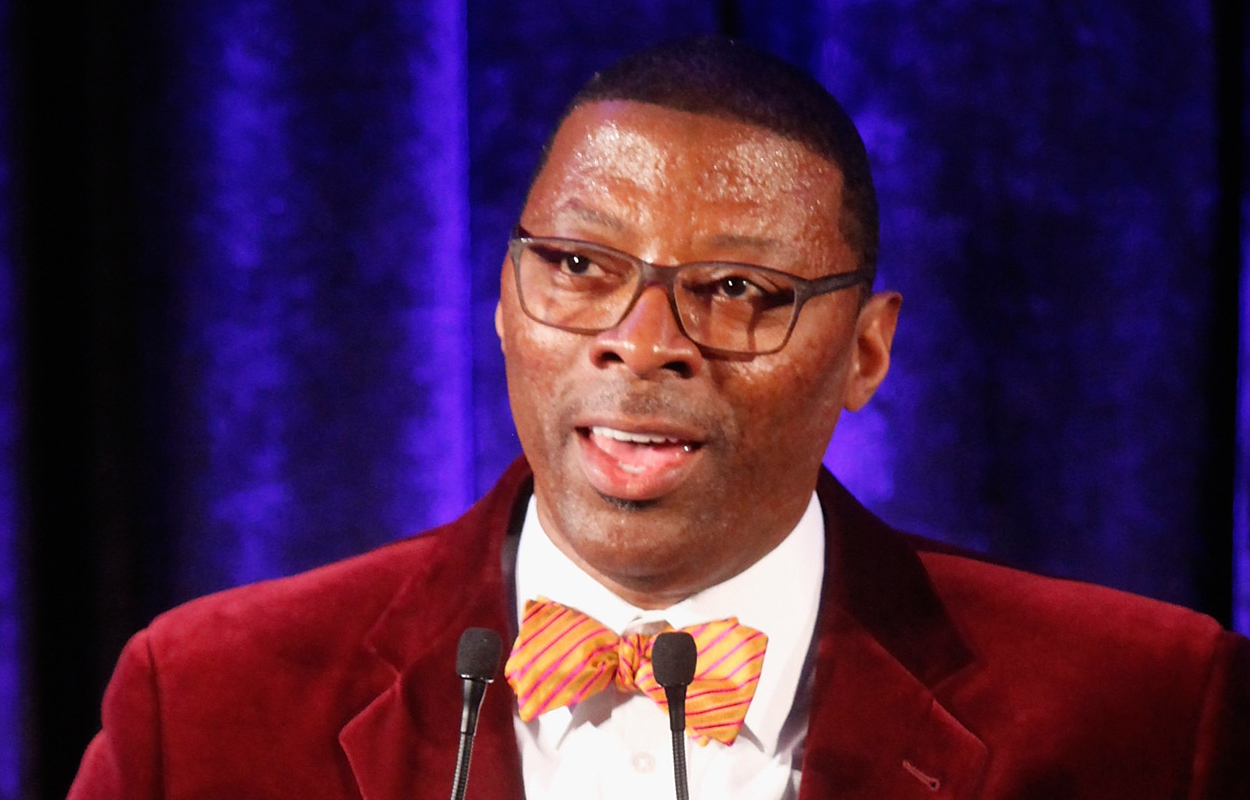 Banks played with the Giants from 1994-92, a span where the team only had a losing record twice; for what it's worth, one of those instances came in the strike-affected 1987 season. In those nine years, the Giants appeared in the postseason five times.
The current situation in East Rutherford, N.J., is far different. The Giants only have a single winning season since 2013 and haven't won a playoff game in nearly 10 years. As of Dec. 9, 2021, the Giants are 22-54 since the start of the 2017 season and appear destined to miss the playoffs yet again.
"My wish — and I'm not telling the fans, I'm telling the players [and] coaches — [is to] figure it the f–– out," Banks said on the Dec. 7 episode of the Bleav in Giants podcast. 
Banks, who co-hosts the podcast with Giants play-by-play voice Bob Papa, made those comments two days after the Giants' 20-9 loss on Sunday, Dec. 5. The Miami Dolphins held backup quarterback Mike Glennon and the Giants to 250 total offensive yards.
Even while factoring in Glennon's presence, Banks expressed his frustration with the team's overall play and demeanor. The Giants fired offensive coordinator Jason Garrett earlier this season and are still only averaging 17.6 points per game, fifth-worst in the NFL.
"When there are plays to be made, make the f—— play. Be intentional about your assignment. Value every possession like you won't get another one because you don't when you don't execute. Just know the assignment."
Neither the New York Giants nor WFAN, the franchise's broadcast partner, had commented on Banks' remarks as of publication. The former Pro Bowl linebacker has worked alongside Papa on Giants games since 2007.
Banks also had strong words for struggling running back Saquon Barkley
With Glennon starting in place of Daniel Jones, the Giants needed veteran running back Saquon Barkley to provide a spark. The Penn State product totaled 55 yards on 11 carries — most of the damage coming on a 23-yard pickup — and hauled in six catches for 19 yards.
Barkley, who has struggled with injuries over the last two years, only has 315 rushing yards on 3.8 yards per carry this season. Although Banks knows firsthand how injuries can negatively impact a player's ability, the retired linebacker said he's frustrated with Barkley's play of late.
"It's now at the point where it's gonna be labeled inconsistent from you," Banks said, adding, "He's gotta be able to make those plays."
Since winning Offensive Rookie of the Year in 2018, Barkley has missed 21 of a possible 44 games in three seasons. The Giants picked up his fifth-year option earlier this year and guaranteed his $7.21 million salary for 2022.
The Giants could have an excellent opportunity to hit the reset button (again) in 2022
A glance at social media or listening to WFAN quickly proves Banks isn't the only Giants fan tired of what he's watched in recent years. It's not hyperbolic at this point to say the next few months will decide if the organization wants to start contending again in 2022.
The Giants are currently expected to move on from general manager Dave Gettleman in 2022. It's not yet known if the team will retain head coach Joe Judge, who is 10-18 in two seasons. The organization parted ways with his two predecessors, Ben McAdoo and Pat Shurmur, either during or immediately after their second year.
As of publication, the Giants would pick sixth and seventh in the 2022 NFL Draft. The organization needs to address significant holes on the offensive line and in the front seven. The Giants must also decide if they will pick up Jones' fifth-year option or pursue a potential replacement, whether it be through the draft, acquiring Seattle's Russell Wilson via trade, or anything in between.
For now, Banks wants the Giants to focus on the fundamentals and, put cleanly, figure things out. However, given the team's upcoming matchups with the Los Angeles Chargers and Dallas Cowboys, the veteran linebacker might be best served by tempering his expectations.
Like Sportscasting on Facebook. Follow us on Twitter @sportscasting19.