NY Governor Candidate Andrew Giuliani, Son of Former NYC Mayor Rudy Giuliani, Once Played Golf at Duke and Sued the School
The former members of the Duke University golf team are seeing a familiar face on their screen in Andrew Giuliani.
Andrew, the son of former New York City Mayor Rudy Giuliani, is currently campaigning to become the governor of New York. But before he ever ran for office or worked in the White House, the younger Giuliani spent time as a college athlete.
Andrew Giuliani had an eventful golf tenure at Duke University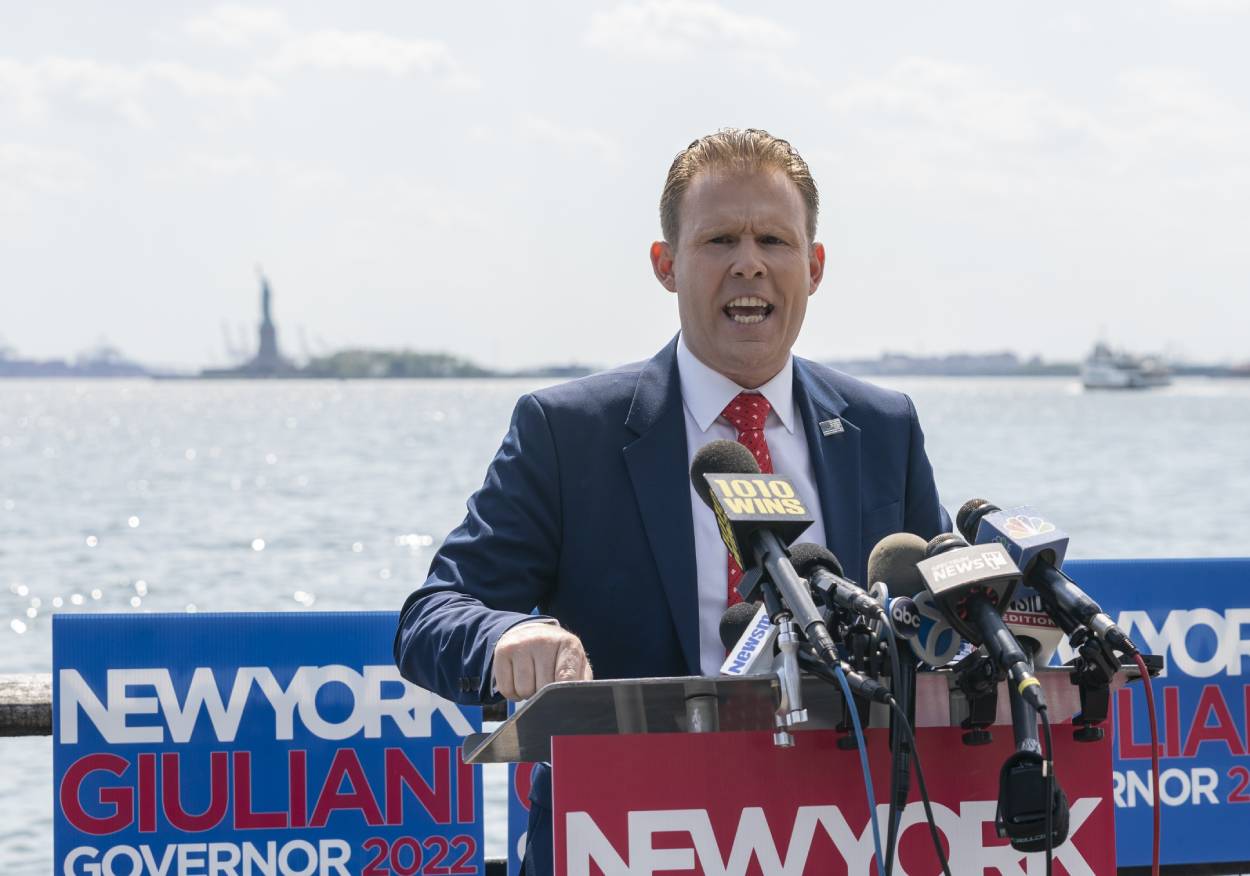 After growing up in the Northeast, Andrew Giuliani took his talents to North Carolina and enrolled at Duke University in the mid-2000s.
A standout football player and golfer at St. Joseph Regional High School in New Jersey, Giuliani joined Duke's golf team in 2005. However, Duke coach Orrin Daniel Vincent III dismissed him from the team in 2008, midway through his junior year of college.
According to The New York Times, Giuliani filed a lawsuit accusing the school of bad faith by recruiting him to play golf there and then removing him from the team. In the lawsuit, the aspiring golfer admitted to poor conduct, behavior which included tossing an apple at a teammate and breaking a club. Giuliani said he apologized for those actions.
Giuliani requested damages and the right to use Duke's golf facility for the rest of his life. Duke issued a statement in July 2008 about the lawsuit.
"Duke's coaches and student-athletes are held to the highest standards, which include a strong commitment to fairness for all participants in our sports programs. We intend to vigorously defend this lawsuit."

Duke University
The Times reported in 2010 that the United States District Court dismissed the lawsuit because the offers and recruiting process "did not constitute an enforceable contract." 
Giuliani also served as the White House's sports liaison
Giuliani obtained a Bachelor of Arts degree from Duke in May 2009. After he spent several years pursuing a golfing career, he landed a job in the sports industry.
Instead of working in a front office or for an agency, the Duke graduate became an Associate Director in the Office of Public Liaison for the Trump Administration. In that role, he helped arrange sports teams' visits to the White House.
When the coronavirus pandemic impacted sports leagues in 2020, Giuliani served as a sports liaison for the White House. He joined then-President Donald Trump on conference calls with leagues and sports commissioners.
Giuliani is now trying to become the Governor of New York
In the span of just a few years, Giuliani could go from aspiring golfer to the governor of New York.
In May 2021, Giuliani announced his candidacy for the 2022 gubernatorial election. He is expected to challenge Mario Cuomo, who is running for a fourth term in office.
Giuliani is not the only gubernatorial hopeful with an athletic background. Caitlyn Jenner, a former college football player and Olympic star, is running for governor of California. The state will hold a special election later this year.
Like Sportscasting on Facebook. Follow us on Twitter @sportscasting19.