O.J. Simpson Reveals His 4 Favorite Athletes of All-Time
O.J. Simpson is one of the most polarizing figures in all of sports. Of course, people mostly remember Simpson for his legal issues, but he was an excellent football player back in the day at USC and with the Buffalo Bills. Before his run-ins with the law, though, Simpson was, most likely, many people's favorite athlete because of his stellar play on the field. Simpson has his own favorite athletes, though, and he recently revealed who they are.
O.J. Simpson was an excellent football player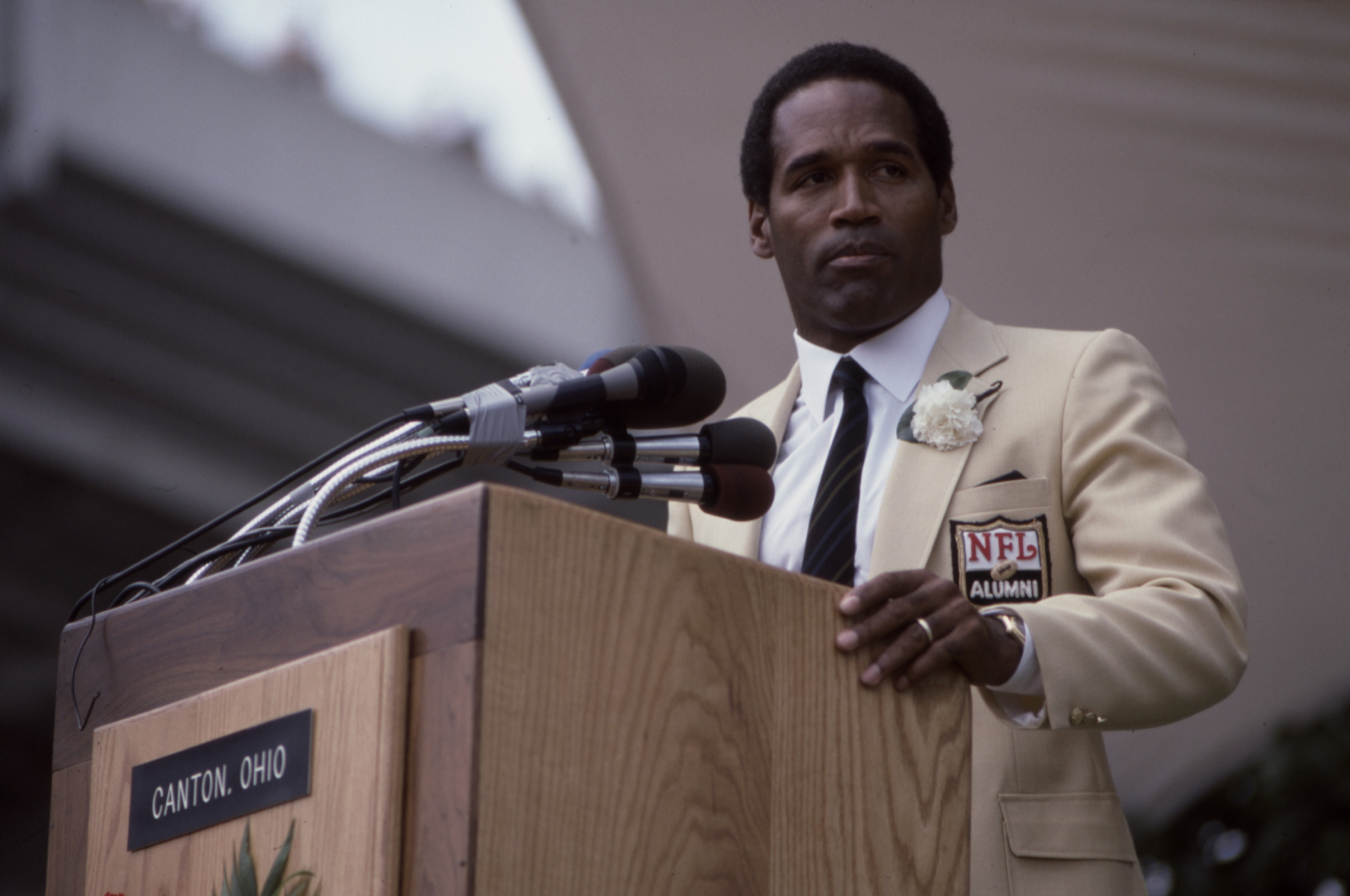 RELATED: O.J. Simpson Had a Few Things to Say About Cam Newton in New England
Before Simpson was a part of the infamous murder trial — in which he was acquitted of all criminal charges — and before he later went to prison for a separate incident, he was one of the best football players to ever play.
In 1967 at USC, Simpson led the country in rushing yards with 1,543 to go with 13 touchdowns. He also helped lead USC to a 10-1 record and a national title. Simpson finished second in the Heisman Trophy voting too. Then in 1968, Simpson dominated even more with 1,709 yards and 22 touchdowns, according to the Heisman Trophy's site. He ultimately won the Heisman Trophy that year.
Simpson then went to the Buffalo Bills with the first overall pick in the 1969 NFL draft. After failing to rush for 1,000 yards in his first three seasons, Simpson led the NFL in rushing in 1972 and 1973, running for 2,003 yards in 1973. Simpson ultimately ran for 1,000 yards or more each season from 1972 through 1976. He led the NFL in rushing in four of those five seasons and earned First-Team All-Pro honors in each of those five seasons. 
For his career, Simpson went into the Hall of Fame as he earned six Pro Bowl selections, five First-Team All-Pro selections, and an MVP award in 1973. He ran for 11,236 total yards in his NFL career and had 61 rushing touchdowns.
Simpson said Willie Mays and Muhammad Ali are two of his favorite athletes
RELATED: O.J. Simpson Believes He Might Have CTE and the Doctor Who Discovered the Disease Agrees With Him
Simpson celebrated his 73rd birthday on July 9, 2020. On his birthday, he posted a video on Twitter and gave his four favorite athletes of all-time. 
The first one Simpson gave was the Hall of Fame baseball slugger, Willie Mays. In his career, Mays won two MVP awards, he was a 24-time All-Star, a 12-time Gold Glove winner, and he won the 1954 World Series. He also had a .302 career batting average and 660 career home runs, which is fifth all-time. 
"I remember when I was 10 years old, running from grammar school, down to Seals Stadium because I wanted to see this guy Willie Mays," Simpson said in the video. "The first time I saw him run down a fly ball and then catch it with that basket catch, he was my hero from that point on."
The second athlete he named was former heavyweight champion boxer Muhammad Ali, who was also an Olympic gold medalist and the first fighter to win the heavyweight title three times, according to History.
"I was thinking about how fortunate I was to see Muhammad Ali in his prime do that Ali shuffle, and how honored I was when he showed up at my original 34th surprise party," Simpson said.
Gale Sayers and Tigers Woods are the other two
RELATED: How O.J. Simpson Made $600,000 While Serving Nine Years in Prison
In addition to Mays and Ali, Simpson also mentioned Gale Sayers and Tiger Woods. 
Sayers is a Hall of Fame running back who earned four Pro Bowl selections and five First-Team All-Pro selections in his career.
"I was thinking about seeing Gale Sayers on TV run for six touchdowns against my beloved 49ers," Simpson said.
Woods has won the second-most golf majors with 15 as he is three behind Jack Nicklaus for the most all-time.
"[I was thinking] how lucky I was to follow Tiger Woods around the golf course back when he was at the top of his game when I thought he was going to, jeez, win 100 tournaments," Simpson said. "Those four guys are probably my favorite all-time athletes. I'm not saying the best; they were just my favorite."
Like Simpson was during his prime, these four guys were legendary athletes when they were at their best.
Stats courtesy of Pro Football Reference and Baseball Reference