O.J. Simpson Delivers a Strong Message for Cole Beasley and Other Anti-Vaccine Players: 'Don't Play'
Like most of America, NFL players find themselves divided on whether they should get the COVID-19 vaccine or not, and one person who has been strongly against it is Cole Beasley of the Buffalo Bills. Beasley has made his feelings about the vaccine clear this summer. But the NFL has since announced a stronger policy that could result in teams forfeiting games.
Ever since making his initial comments, the pass-catcher has received significant criticism from fans who are pro-vaccine. Now, a Bills and NFL legend has a strong message for him: O.J. Simpson.
Cole Beasley is against the COVID-19 vaccine
Beasley has been very vocal about his disapproval of the COVID-19 vaccine in recent weeks, and he has since made more comments following the NFL's announcement of its new policy.
The league informed teams that if it cannot reschedule a game during the upcoming 18-week regular season due to outbreaks among unvaccinated players, the team with the outbreak will ultimately receive the loss. Players from both teams will not get paid for the game, either, and the team with the outbreak must cover financial losses while also potentially receiving further discipline, per NFL.com.
In light of the news, Bills defensive end Jerry Hughes' tweeted, "some ppl have an underlying health conditions, so they are at risk if an outbreak happens." Beasley, however, replied by saying, "Jerry so if a vaccinated player gives an unvaccinated player with underlying conditions covid it's cool though? And the player with underlying conditions gets blamed for it."
Beasley also responded to someone suggesting that Buffalo should cut him by saying, "Yea cutting [arguably] the best slot in the league is wise. Especially when the slot is such a significant role in this offense."
Former Bills running back O.J. Simpson delivers a strong message for Cole Beasley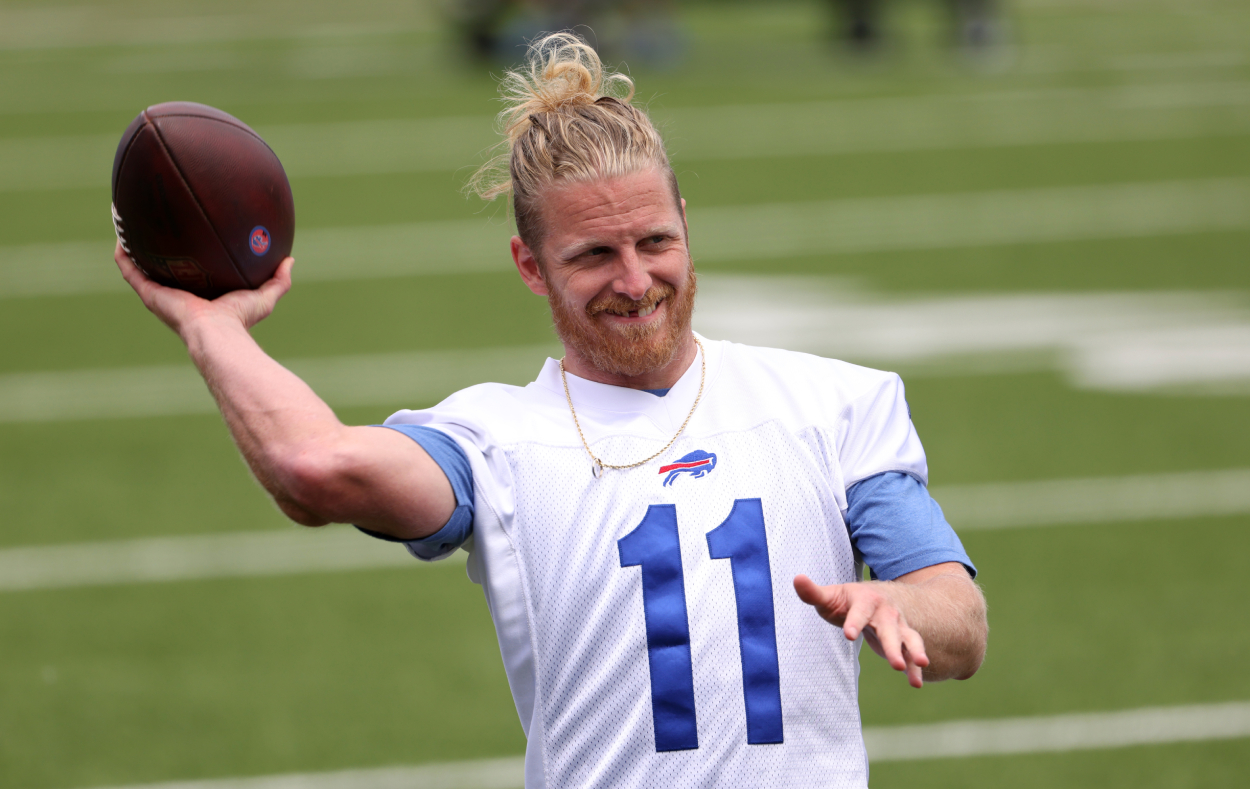 O.J. Simpson spent nine of his 11 NFL seasons with the Bills. He earned six Pro Bowl selections, an MVP award, and led the league in rushing yards four times. So, he, of course, still pays attention to what's going on with his former team, and he had a strong message for Beasley.
"I like Beasley. I love how he played for the Bills last year, but this talk about losing his rights if he got his shot, BS," he said in a video on Twitter, per Syracuse.com. "You don't have a right to drive at .08 alcohol in your blood. You don't have a right to drive over 80 miles an hour. Those are safety issues. This whole thing is about safety — public safety — it's not about your rights."
Simpson then reminded Beasley and any other anti-vaccine players that they must think about their teammates.
"You don't have the right to cost your teammates a game check," he said, per Syracuse.com. "You're taking food off their table. You don't have the right to put them in jeopardy health-wise. You don't have the right to do that. My suggestion is: opt-out. If you don't want to get the shot, don't play. I'm sure you've got enough money to last you, but you don't have the right to put your team in financial and physical jeopardy."
The financial aspect is what could push players to actually get the vaccine, but the ones still against it aren't too happy.
Cole Beasley isn't the only player against the COVID-19 vaccine
Beasley certainly isn't the only player who has made his feelings about the NFL's latest vaccine policy known.
In a since-deleted tweet, Arizona Cardinals wide receiver DeAndre Hopkins said, "Never thought I would say this, but being put in a position to hurt my team because I don't want to partake in the vaccine is making me question my future in the NFL," per Sports Illustrated.
Indianapolis Colts receiver Zach Pascal also tweeted, "Asked a Doctor what's the long term effects of the vaccine …. No answer."
Many players, though, are also in favor of getting the shots. Dallas Cowboys running back Ezekiel Elliott said his family was against vaccines while he was growing up, so he won't tell anyone what to do with their bodies. But he still got his shots to make sure he's out there for his team every Sunday.
"I got the vaccine just because I wanted to put myself in the best situation to be out there for my team, week in and week out," he said, per the Cowboys' team site.
The league's policy certainly won't be the end of the vaccine debate amongst players; this could just be the beginning, as more and more players could reveal their issues with the rules throughout the entire 2021 season.