Oakland's Stephen Piscotty Homered in His First At-Bat After His Mother's Death
Stephen Piscotty went through immeasurable heartbreak in his first season with a new team.
Piscotty had only recently joined the Oakland Athletics in a trade with the St. Louis Cardinals when he learned his beloved mother passed away.
When Piscotty rejoined the Athletics after a stint on the bereavement list, he found the perfect way to honor his mother.
Stephen Piscotty is a power-hitting outfielder for the Oakland Athletics
Stephen Piscotty has quietly had an underrated MLB career through his first five seasons.
Piscotty enters the 2020 season, assuming he doesn't opt out, with an opportunity to improve on a career .265 average, 78 home runs, and 295 RBIs across 567 games with the Cardinals and Athletics.

Piscotty had 13 homers and 44 RBIs in an injury-shortened 2019 season for the Athletics. The former first-round pick turned 29 in January and should still have plenty of gas left in the tank.
Piscotty is under contract through 2023 but can hit free agency as soon as 2022 if the Athletics (or another team) don't pick up his team option.
Oakland listed Piscotty on its 'Summer Camp' roster. The Athletics will need Piscotty to regain his 2018 form (27 home runs, 88 RBIs, and a .331 on-base percentage) if they want to thrive in a unique 2020 season.
Stephen Piscotty's mother passed away from ALS in 2018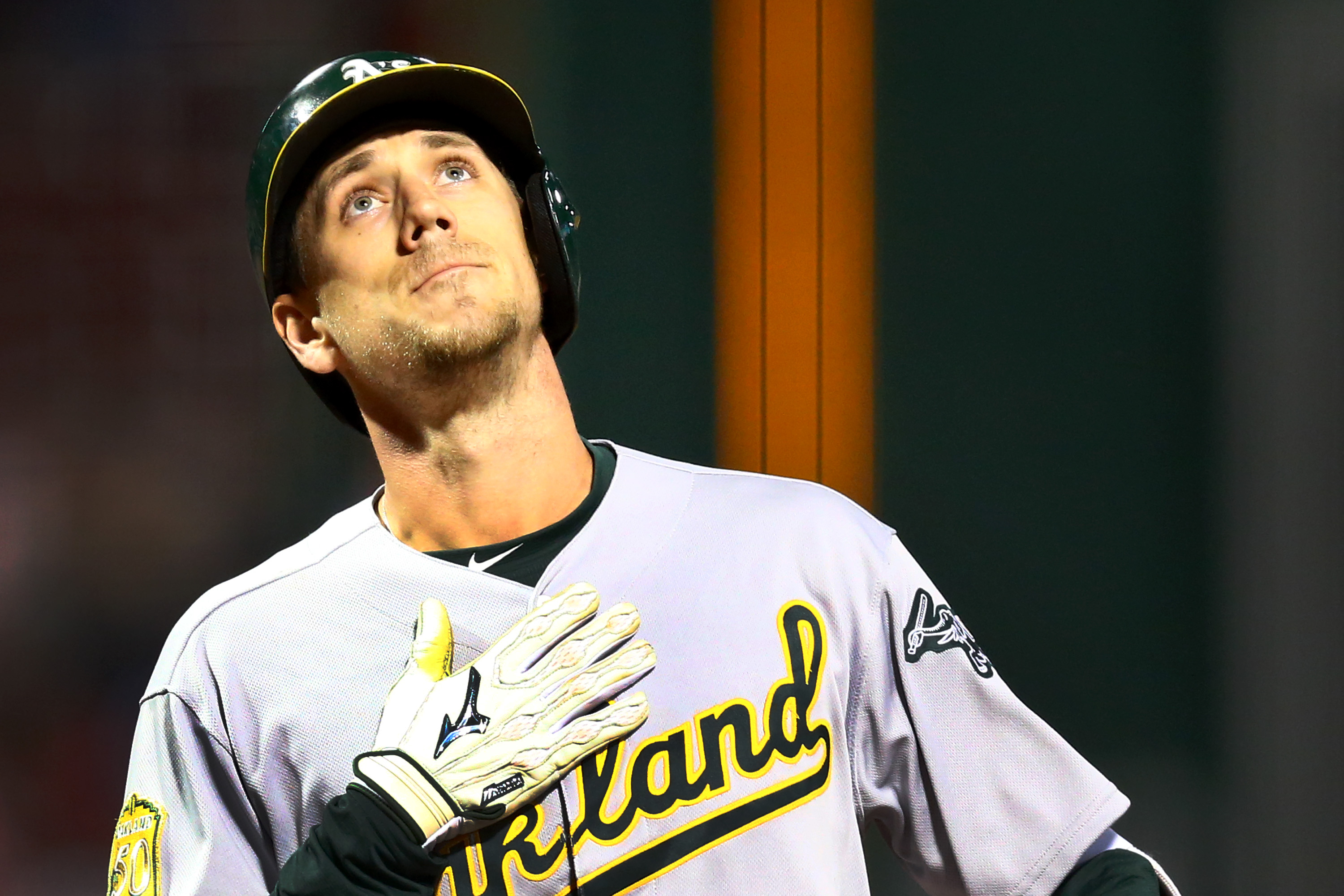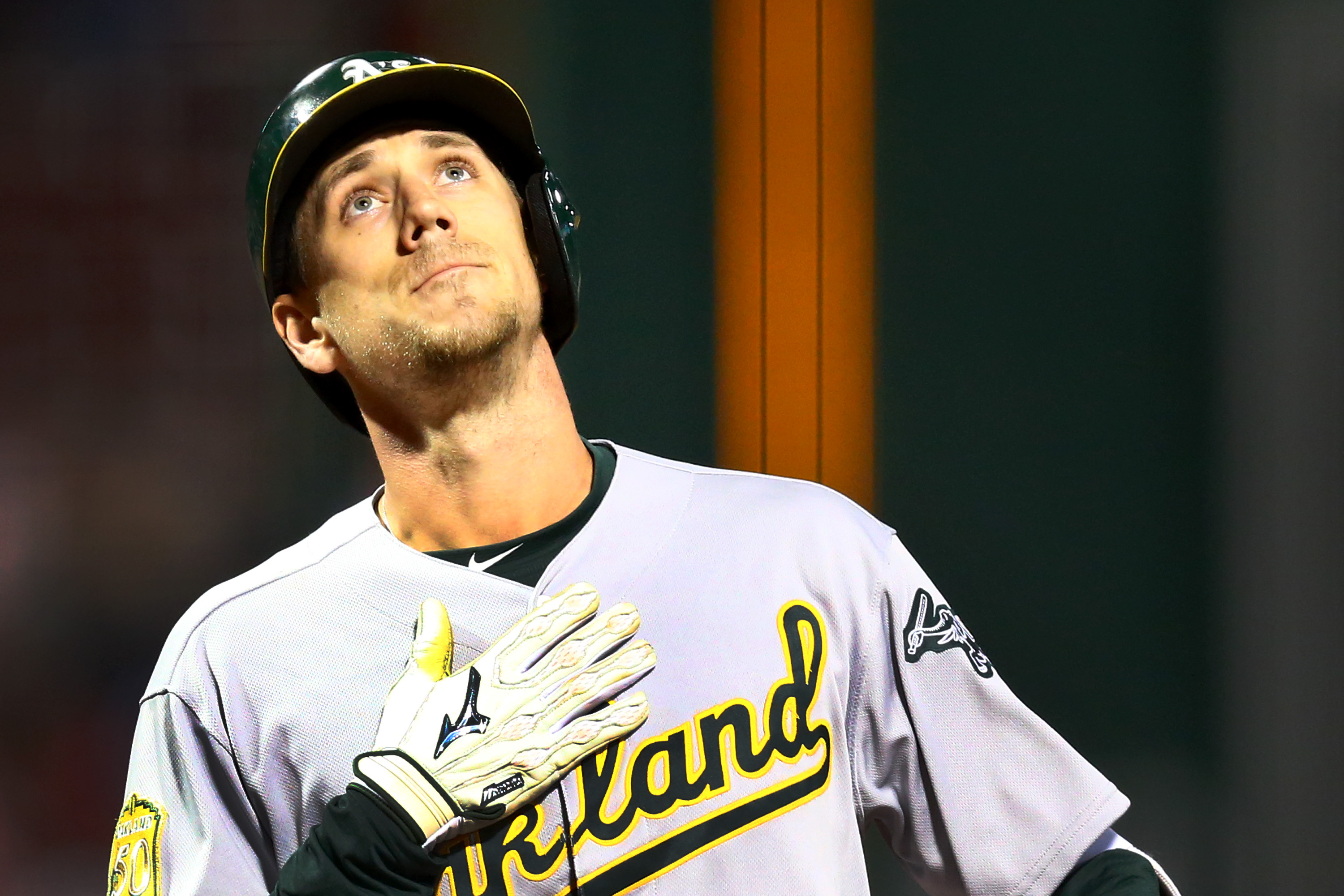 Part of why the St. Louis Cardinals traded Piscotty, a young outfielder who finished sixth in the 2015 NL Rookie of the Year voting, to Oakland was so he could be closer to his mother.
Gretchen Piscotty was diagnosed with Amyotrophic lateral sclerosis, or Lou Gehrig's disease, in May 2017. She passed away a year later.
Piscotty spent the offseason leading up to his first year with the Athletics taking care of his mother, who lived in Pleasanton, Calif.
Oakland is roughly 30 miles from Pleasanton.
Stephen Piscotty briefly left the Athletics and went on the bereavement list to be with his family.
Piscotty hit a home run in his first at-bat after his mom's death
When Stephen Piscotty rejoined the Athletics after his mother's death, manager Bob Melvin placed him in the starting lineup in the eight-hole.
Piscotty took the plate in the second inning against Red Sox left-hander Eduardo Rodriguez with one out and the bases empty.
In a heartwarming moment which quickly went viral, Piscotty crushed an 0-2 pitch over the Green Monster in left field for a home run.
As Oakland's lead increased to 3-0 and Piscotty rounded the bases, he touched his heart and pointed to the sky.
After the game, Piscotty explained the gesture was intentional and served as another way of honoring his mother, according to the East Bay Times.
"The hand over my heart, that's something my mom would do when she wasn't able to speak. This was just, 'I love you and thank you.' That's what I did in the box and that's kind of her way of saying. I'm going to keep that with me."

Oakland won 5-3 and held off a late Red Sox rally. Piscotty ended the season on a tear and hit .273 with 25 home runs, 75 RBIs, and 33 doubles in the 117 games he played after his mother's death.
Numerous MLB players and teams provided ALS donations in support of Gretchen Piscotty.
The Athletics presented a check for $150,000 to the ALS Therapy Development Institute that September.