Odell Beckham Jr.'s ACL Injury Means a Rams' Reunion is Likely
The Los Angeles Rams finished the storybook season by winning Super Bowl 56 against the Cincinnati Bengals. Matthew Stafford delivered the go-ahead touchdown to Cooper Kupp as those two wrote the final chapter in a marvelous campaign. After being released by the Cleveland Browns, Odell Beckham Jr. got his first Super Bowl ring and showed everybody why he made the right choice heading West.
Beckham caught a touchdown pass in the Super Bowl before suffering a devastating ACL tear — one that affected both teams, including Bengals QB Joe Burrow.
Unfortunately, Beckham was headed for a nice payday in free agency after a stellar second half of the season, but this ACL injury might have teams thinking twice about throwing him the bag. Regardless, several teams should have interest in Beckham, although a reunion with the Rams looks more and more likely than it did just a day before the Super Bowl kicked off.
Odell Beckham Jr. was on a roll before tearing his ACL in the Super Bowl
It is no secret how important Beckham was to the Rams after joining them — especially since Robert Woods suffered a season-ending knee injury before the two could play together.
The Rams' offense was far more productive with Beckham on the field. In the Super Bowl, he was effective leading up to the injury, and LA suffered drastically following that devastating play.
The Rams still walked away with the victory and the Lombardi Trophy, although one could argue that Aaron Donald, Von Miller, and that daunted defense had a lot to do with that.
Despite all of that, Beckham's absence hindered the Rams offense. However, because of that unfortunate turn of events, he just might be headed back to LA after all.
The Rams should have no problem signing OBJ if he wants to return
Before Super Bowl 56, it looked more and more like the final game for Beckham in a Rams uniform. With his contract expiring and a number of teams needing a true No. 1 WR, he was set to command a massive contract.
However, he has a long road to recovery, and teams have historically been wary of players coming off of an ACL team — especially this late in the season.
Do the Rams need him back? That's debatable. Can they make it work? Sure, if they want to. Furthermore, Beckham made sure to clearly warn how hard he would work to get back on the field and perform at that level.
The cap space for LA is a mess, although teams have found ways to get around it with simple restructuring. The Green Bay Packers and New Orleans Saints are two teams currently doing that to make a bit of cap room, and the Rams can easily do the same to bring back Beckham and Von Miller, among others.
Of course, a lot can change, and a desperate team such as the Jacksonville Jaguars or Las Vegas Raiders could sign Beckham to a monster deal. On the other hand, healthy receivers such as Allen Robinson, JuJu Smith-Schuster, or Mike Williams make more sense, given the risk involved with an OBJ deal.
That means the Rams' chances of bringing him back are good, and Beckham's taste of a Super Bowl might be even more incentive for him to return on a bit of a team-friendly deal.
After all, Beckham made plenty of cash this season alone between the Browns and the Rams.
The Rams talented WR got plenty of cash, so perhaps he returns on a cheap deal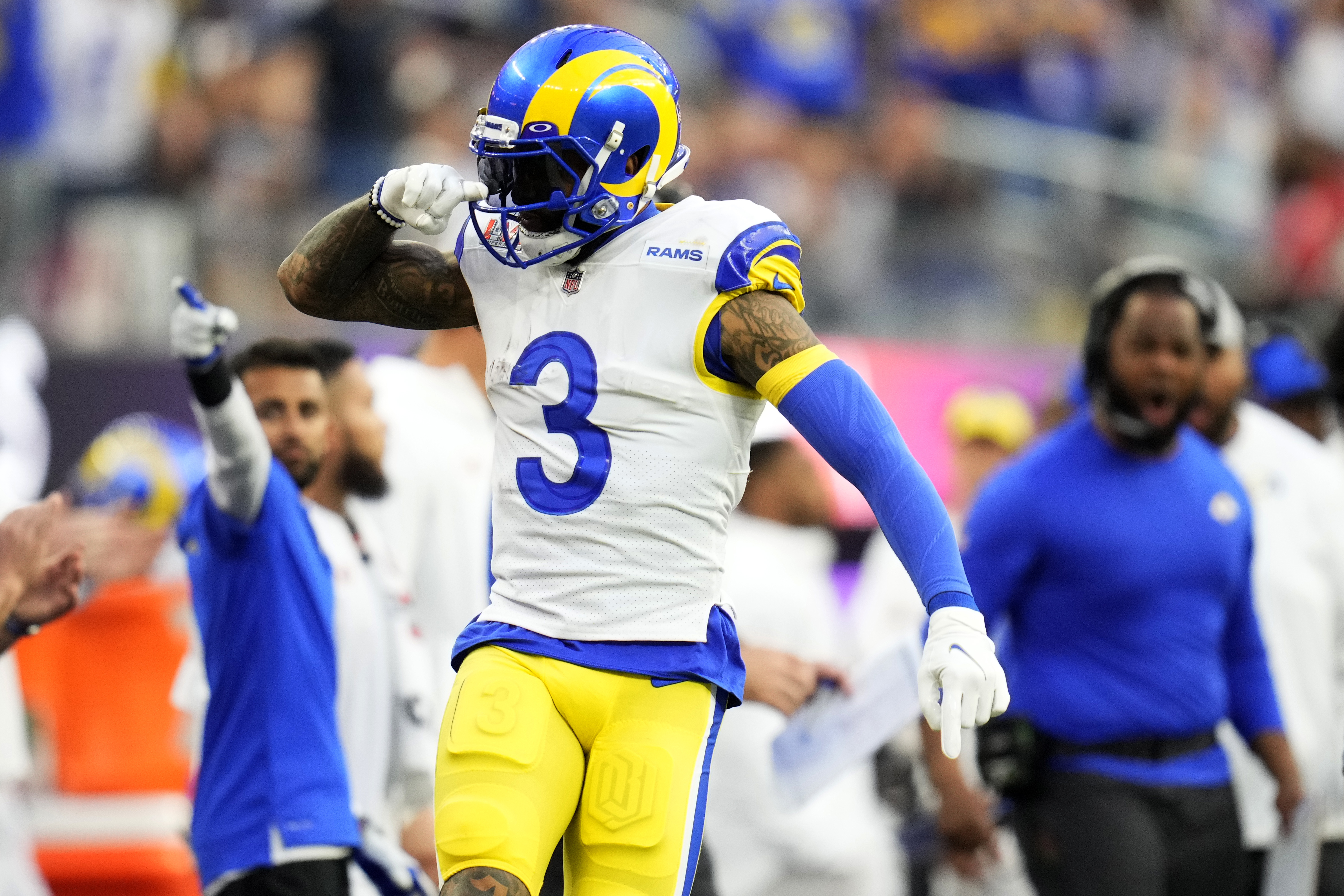 As strange as it sounds, money might not be the most significant thing for Beckham when free agency begins. Usually, a Super Bowl-winning player would head to the market and command a new contract.
First things first, the injury is a major one. Another thing to consider is that he got paid handsomely in 2021.
That's right, Beckham got just under $20 million between the Rams and Browns, thanks to cashing out entirely on his incentives with LA.
Could that be enough to have him sign a cheaper deal and try to repeat as Super Bowl Champions? Probably, especially if guys like Miller and Donald return for one more run.
There is nothing like holding that Lombardi Trophy and Beckham could thrive in another season with the Rams offense and head into 2023 free agency commanding even more money in a year where the salary cap is expected to increase again.
There are many ways this could play out, but Beckham returning to the Rams is highly likely.
Stats Courtesy of Pro Football Reference
RELATED: Odell Beckham Jr. Makes Bold Proclamation as NFL Free Agency Approaches