Odell Beckham Jr. Is Being Anonymously Ripped From Inside the Cleveland Browns' Locker Room: 'He Does Nothing'
Few players in NFL history may be as disappointing as Odell Beckham Jr. has been for the Cleveland Browns.
Traded to the Browns in March 2019, Beckham has been underwhelming during his time in Cleveland. He has the talent and star power to be the top receiver in the league; that much has not been questioned. What has been questioned, though, is his heart and his attitude. If OBJ isn't getting the ball, it's almost like he's not on the field.
Not that it would matter much anyhow for Cleveland at this point.
Beckham has been excused from the past two practices. In all likelihood, he's played his last snaps for the Browns.
His status with the Browns has gotten so bad that he's already reached the "anonymous source within the locker room" part of the divorce.
An anonymous player inside of the Browns' locker room says Odell Beckham Jr. is a malcontent
While reporting on Beckham Jr.'s status with the organization, Mike Garafolo of the NFL Network highlighted thoughts from an anonymous source inside Cleveland's locker room. While ESPN has reported that multiple players in the Browns' locker room would love to see OBJ stay, Garafolo's source painted a different picture.
Of course, there are always multiple sides to a story, and different people within one locker room can react to something entirely differently. What the NFL Network reporter heard from a teammate of Beckham's did not portray the veteran wide receiver in a good light, though.
"This is from a player," Garafolo reported. "'He does nothing. Talks to no one. He's just got a malcontent attitude.'"
"That's what you're seeing inside the building. He's clearly upset with the fact that he's not getting the football, whether it's Baker Mayfield's fault or somebody else's fault," Garafolo went on to say, explaining his reporting. "That is on display inside the building."
Garafolo did give credence to the fact that there are Browns players who do want to see Beckham play with the team, but it sounds like he's playing a role in not being in the building as well. Keep in mind, he is not suspended (yet) or released from the team (yet).
"The players are sitting there saying, 'We'd love to have him back if he wants to be here because he's a great player, and he could be a big part of our offense,'" the reporter said.
Garafolo emphasized that everything comes down to whether OBJ wants to be in Cleveland, and it sounds like from what his source is saying, the wideout does not.
How did we get here with Beckham and the Browns?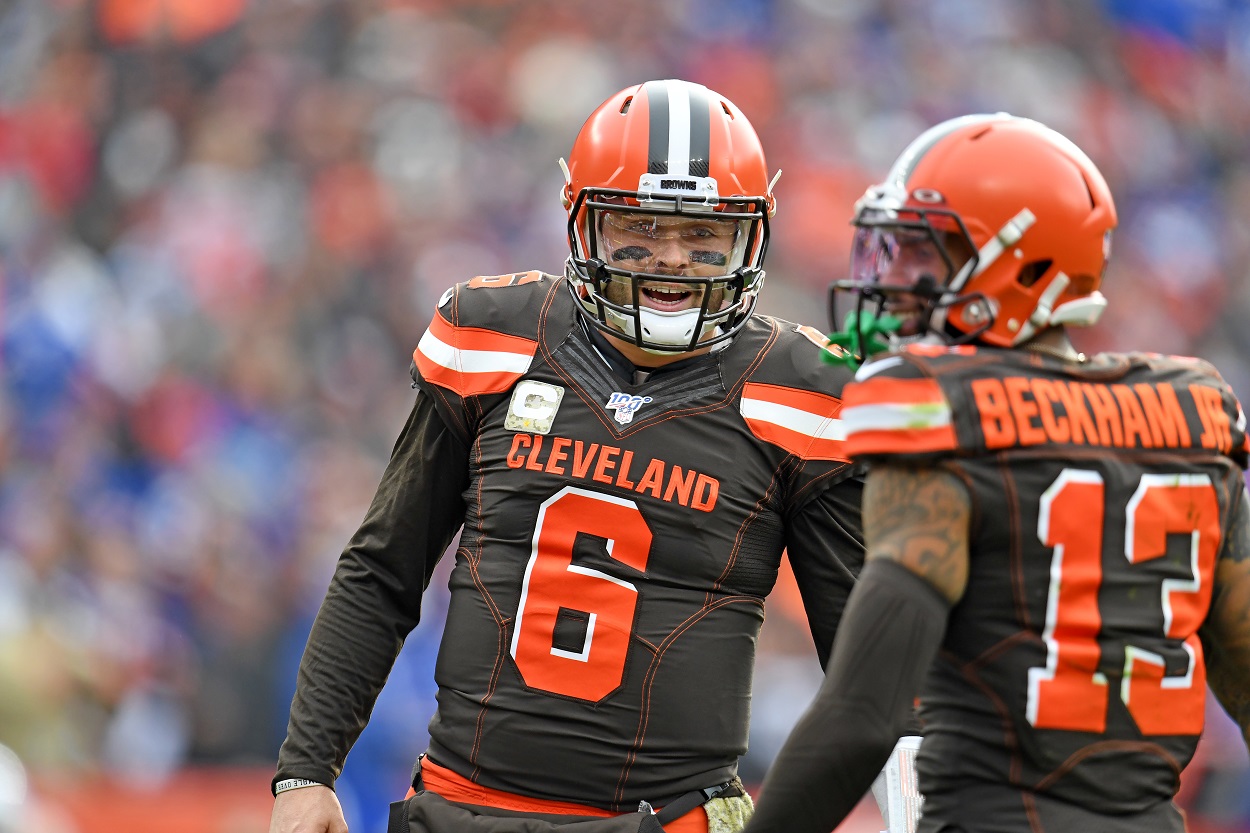 While Aaron Rodgers' COVID-19 story has taken hold of most of the NFL headlines, a storm has been quietly brewing in Cleveland.
The Browns are coming off a 15-10 loss to the Pittsburgh Steelers, and they've lost three of their last four games. Now in fourth place in the AFC North, frustration may be boiling over a bit, and it is worth noting that Beckham has a lot to be frustrated about. He hasn't caught a touchdown this season and has only seen 17 receptions for 232 yards.
He was targeted six times against the Steelers and came away with one catch for six measly yards.
Early on Tuesday, the day of the NFL trade deadline, OBJ's father posted a video on social media that was a lowlight reel of all the times his son has gotten open for the Browns but quarterback Baker Mayfield missed him. He also responded to a comment on the post bashing Mayfield with three green checkmarks, signaling his approval of comments like "Baker just doesn't wanna get Odell the ball" or "either he's hating on Odell, or he just doesn't want him shining."
While that may initially have seemed innocent enough — a father defending his son — OBJ was told not to show up to practice the next day and was given an excused absence. He also didn't show up to practice on Thursday, and in the meantime, it was reported that head coach Kevin Stefanski had told his players that Beckham was "effectively not on the team and that the two parties were working on a resolution."
To his credit, Mayfield did speak about the situation.
"I've had conversations with his dad before, man-to-man, face-to-face, and I was pretty surprised by the video and the intentions and the feelings behind it," the quarterback said. "I would be lying if I said otherwise."
"If he's back, then we'll work through it and do whatever it takes," Mayfield added. "I can put my ego and pride to the side to win. Because that's all I care about is winning. If not, then we'll roll with the guys we have out there."
This will likely be a disappointing end to a disappointing showing in Cleveland for OBJ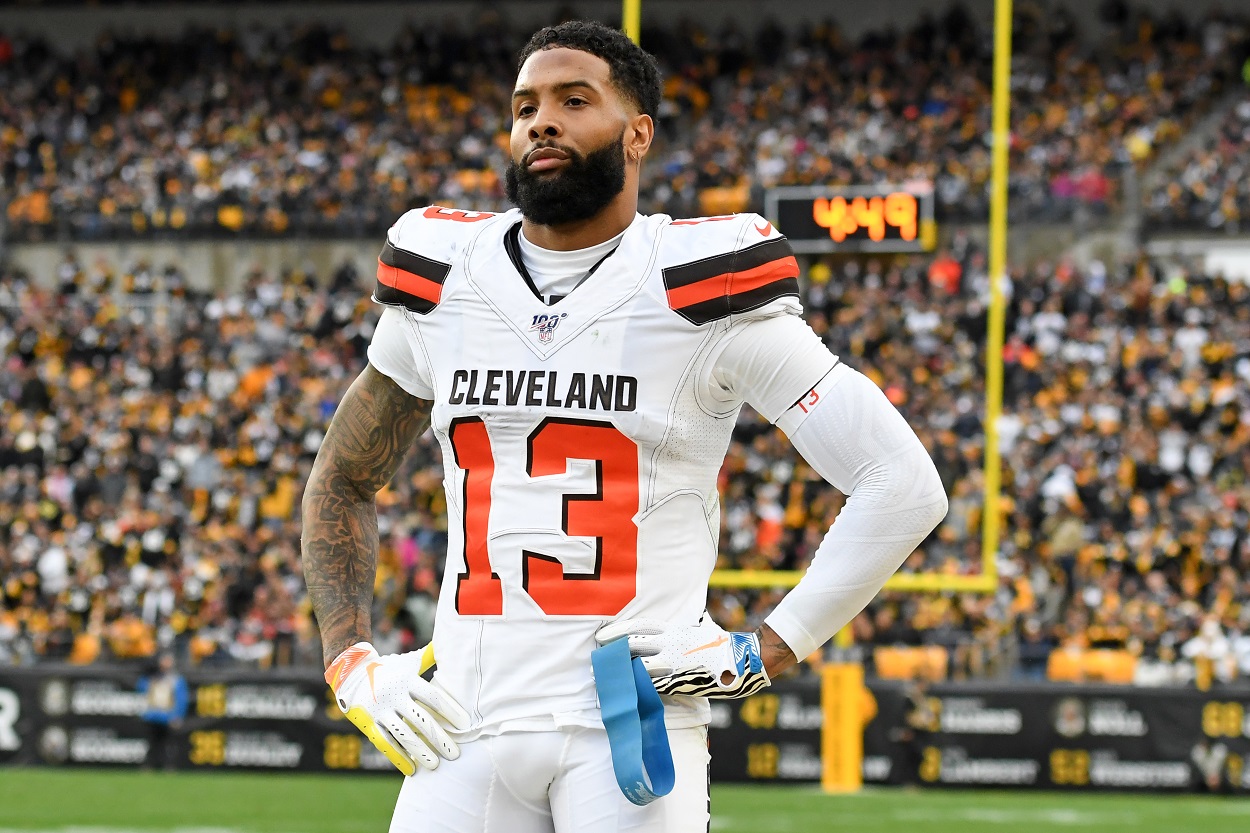 There was a time when Beckham being traded to the Browns was the talk of the NFL. He had effectively become a superstar during his time with the New York Giants, and he became basically world-renowned because of his famous one-handed grab.
OBJ was supposed to be a significant piece of the puzzle for the Browns, and he was meant to be a big-time weapon for Mayfield. His stardom never really came to fruition, though, and concerns about his character and "diva nature" as a football player were ultimately proven right.
He did start out of the gate strong with a 2019 season that saw him catch 74 passes for 1,035 yards and four touchdowns for the Browns. He played in only seven games in 2020, though, due to a season-ending ACL injury. He's made it through six here in 2021, but it sounds like the rest of his season will not be played out in Cleveland. He's likely to be released at this point.
Beckham caught 390 passes for 5,476 yards and 44 touchdowns in 59 games with the Giants. He'll likely end his time in Cleveland with just 114 catches for 1,586 yards and only seven touchdowns over 28 games.
When asked about his perspective on the trade before the 2021 season began, Giants general manager Dave Gettleman had two words that will tell you everything you need to know about how disappointing OBJ has been for Cleveland.
"I'm happy," he said, according to Cleveland.com.
Stats courtesy of ESPN and Pro Football Reference.
RELATED: The Browns' Brainless Decision to Not Trade Odell Beckham Jr. Is Opening the Door for a Surprising Second-Half Hero