Odell Beckham Jr.: Best Catch of the Year or Best Catch Ever?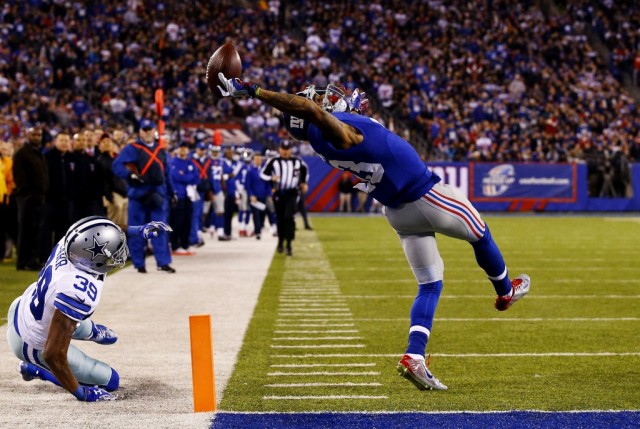 How did he catch that?
We're really asking. We honestly have no idea. When Giants wide receiver Odell Beckham Jr. jumped up to try and get to an Eli Manning pass Sunday night in a nationally televised primetime game against Dallas, he got interfered with before ever leaving his feet. The rookie wideout's body was contorted to where he could only get one hand up to reach for the ball. Beckham was falling backward, with his momentum carrying him both toward the ground and toward the sideline.
How did he catch that?
We've seen one-handed catches before. That's nothing new. We've seen awkward leaping catches before where a player manages to keep his balance long enough to get two feet inbounds. We've seen receivers shrug off defensive pass interference to make the catch despite contact. We might have even (rarely) seen all three of those feats on the same play before. And perhaps, in the rarest of instances, all of that happened on not just a catch, but a touchdown catch — a highlight that actually put points on the board. But, to that degree of difficulty? That scope? That ridiculous?
How did he catch that?
Seriously, look at the picture at the top of this story for a minute, then watch the replay a couple times (or a couple dozen times if you want — we wouldn't blame you). The human body simply isn't meant to bend that way. It's especially not meant to bend that way and catch 43-yard touchdown passes. But that's what the first-round draft pick out of LSU's body did on Sunday night. The game was only 15 minutes old at that point, and Beckham already had a touchdown to his credit. But, if the first touchdown catch was worth six points, the NFL rules should be changed to allow the second one to count for at least 17 points or so. It was that unbelievable. It was that crazy. It was that impossible.
How did he catch that?
We feel relatively confident in dubbing Beckham Jr.'s grab the "catch of the year." The real question is on a bigger scale: Was it the best catch in team history? Was it the best catch in NFL history? Was it the best football catch ever? There's no way to definitively measure that, but we would suggest framing the now-raging debate in a different way: After watching the Beckham touchdown, can you remember seeing a catch that left you more amazed than this one? Do you remember a highlight-reel reception that caused your jaw to fall farther than Beckham's play did? Can you make the argument for a different one-handed catch that blew you away more than the Beckham catch did? If so, you're ahead of us.
How did he catch that?
Predictably, it only took a few minutes for Odell Beckham to start trending on Twitter. The catch that defied belief, gravity and physics went viral in a hurry, and as the night went on, more and more football fans saw it for the first time. There were Beckham GIFs on every social media platform imaginable, there were Beckham Vines popping up right and left, there were Beckham screengrabs dominating every Facebook timeline. Oh, and it wasn't just diehard football fans that were reacting in amazement. (For instance, the writer of this article may or may not have gotten a text from his mother-in-law saying, "Did you see the Giants touchdown just now?" Let's just say that doesn't happen every day.)
How did he catch that?
If you're not sure that you buy our assessment that this could be one of the best catches in football history, don't just take our word for it. Here's NBC play-by-play man Al Michaels, who's been around for a "Miracle" or two, summarizing the play on the broadcast: "…A night that started with Beckham making one of the most incredible catches ever seen by anybody, anywhere, at any level of football."
And, while the game ended with the Giants on the losing end of a 31-28 score (not that Beckham can be blamed after he pulled in 10 catches for 146 yards), long after most football fans have forgotten who won Sunday Night Football on November 23, 2014, they'll still remember the catch of the year. (And it may well still be the No. 1 play on ESPN's Top 10 for who knows how many more weeks or months down the road — deservedly so.)
How did he catch that?
We're really asking. We honestly have no idea. But, it was fun to watch.