Odell Beckham Jr. Makes Bold Proclamation as NFL Free Agency Approaches
Odell Beckham Jr. started the 2021 season as an unhappy and unproductive member of the Cleveland Browns. He finished it as a Super Bowl champion with the Los Angles Rams.
One of his ex-teammates called it a Cinderella story. Unfortunately, the next chapter will have to be a comeback story because OBJ suffered a devastating ACL injury in that Super Bowl win.
Fresh off both surgery and the birth of his first child, the wideout is confident in his ability to make that comeback.
Odell Beckham Jr. had a wild ride in 2021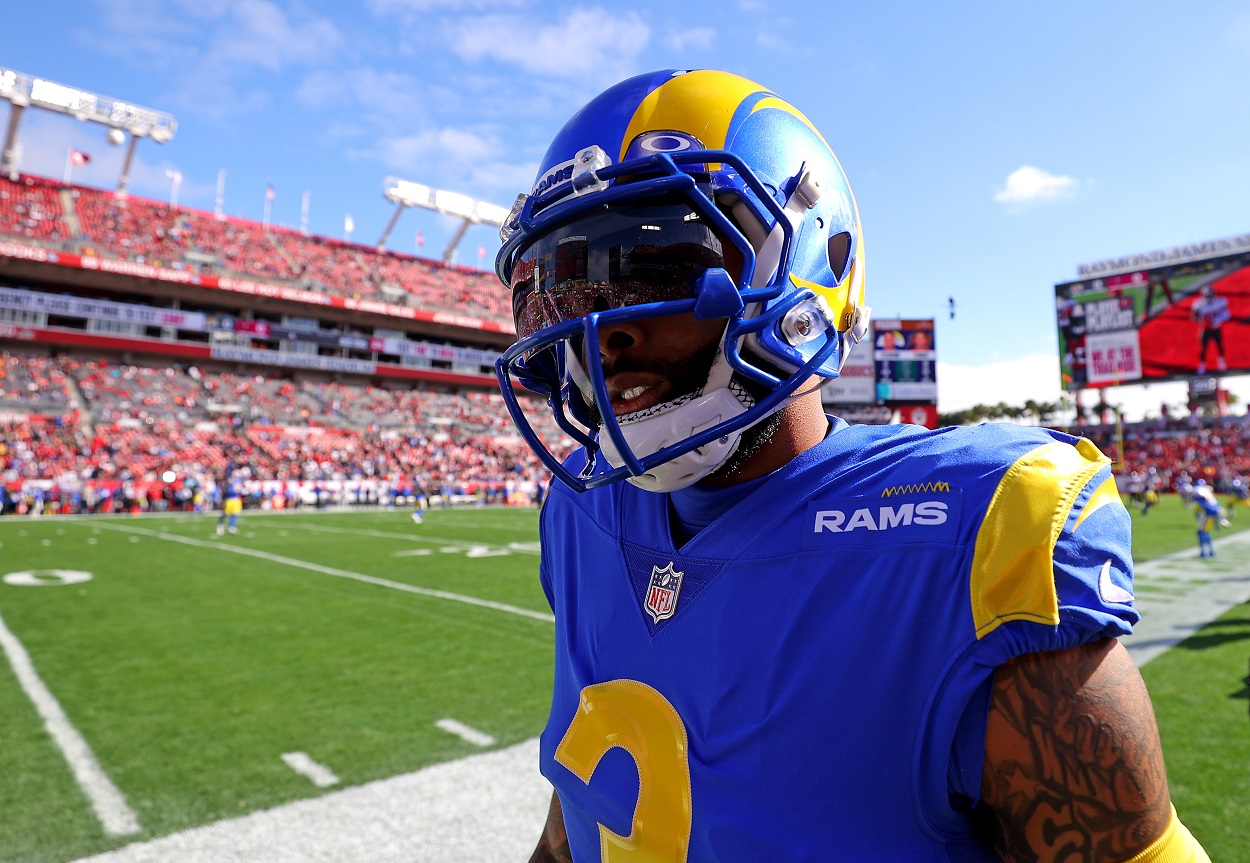 Just think of the roller coaster that OBJ has seen himself on in February. Heck, the whole 2021 season has been a ride.
Beckham was labeled as a malcontent in his final days in Cleveland. He didn't have any chemistry with Baker Mayfield and it both showed on the field and even in his father's social media posts.
OBJ was cut after a disappointing two-and-a-half seasons in Cleveland. He was far from the superstar receiver he was billed to be with the New York Giants. He caught 12, 13, and 10 touchdowns in 2014, 2015, and 2016 respectively, his first three seasons in the league. He caught only four in his first season with Cleveland and then played in only seven games in his second season due to injury, securing just three touchdowns in the games he did play.
Six games into 2021, Beckham had a goose egg in the touchdown department, and things seemed to be quickly deteriorating between him and the organization.
He wanted out, and he got out. LA took a chance on him, and the rest is history.
The Los Angeles Rams revitalized OBJ's career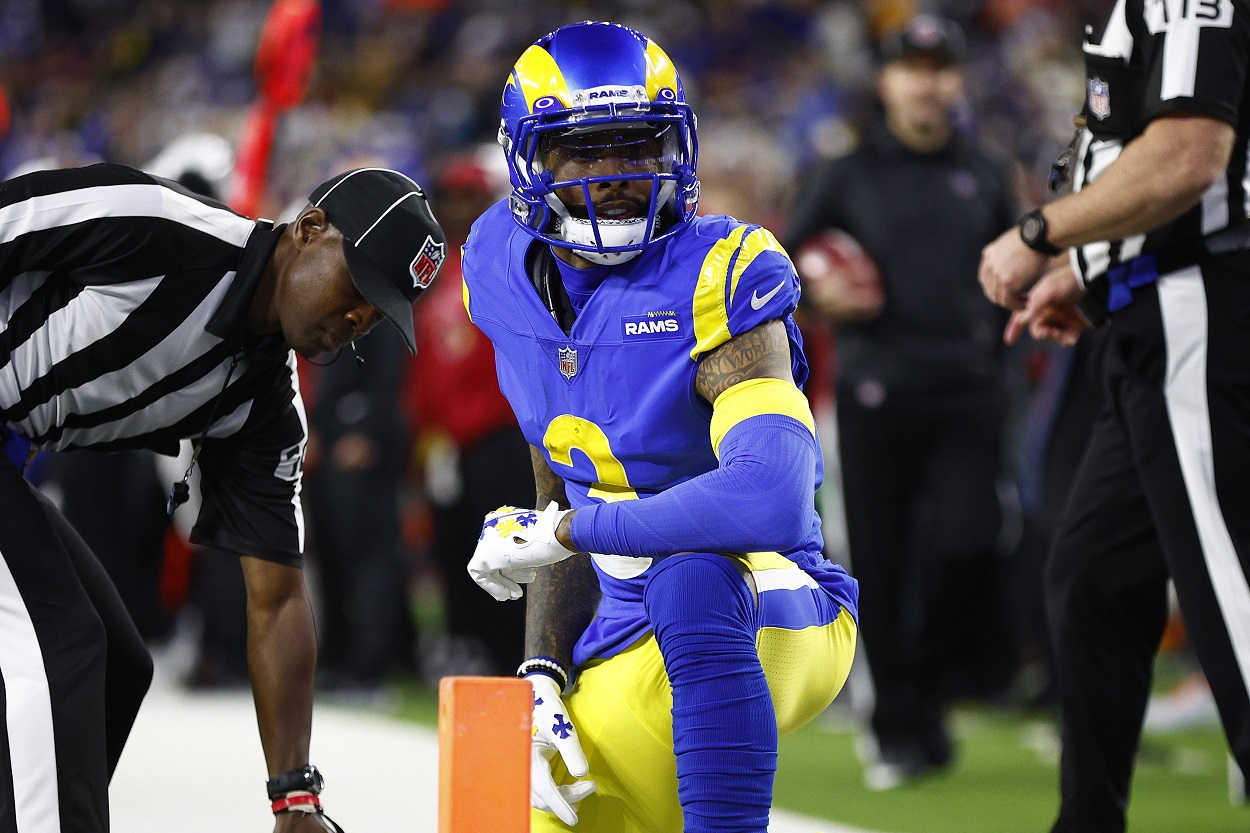 The Rams brought Beckham in to bolster an already explosive offense. At first, there were questions about whether OBJ still had "it" or the fire in his gut to still be a great player. He was initially thought to be an intriguing depth piece for LA behind Cooper Kupp, Robert Woods, and Van Jefferson, though.
Woods ironically suffered a season-ending injury the day after OBJ officially became a part of the team. The Rams had a need for a solid No. 2 to take pressure off Kupp, and Beckham filled that need and more.
It took him a game to get into the swing of things, but he secured his first touchdown with the Rams (and of the season) in just his second game with the team. He finished the regular season with five touchdowns under his belt, and then added two more in the playoffs, including one in the Super Bowl.
OBJ was locked in, especially in the Super Bowl. In a recent post on Instagram, he claimed that it's the most intense he's ever been before a game.
"I had never been more prepared and focused for a game in my life, I was ready to go nuclear and perform at the highest level that I ever had in my career. I knew it and I felt it in my soul," he wrote. "I was ON. Motivated, determined, and eyes set on a goal that I promised to myself and this team from the moment I decided to be an LA Ram."
Let the comeback begin for OBJ
Beckham was on a tear before his injury. He looked fast, sharp, and focused as the Cincinnati Bengals struggled to stop both him and the Rams' offense early on in the Super Bowl. He caught two of three footballs thrown his way and notched the first touchdown of the game. The Rams lined Beckham up as the inside player in a three-receiver set to the right. He ran a "wheel" route down the sideline and got a step on his defender, which was all Matthew Stafford needed to hit him with a dime for six.
It was vintage OBJ. A great route as well as an athletic leaping catch.
Unfortunately, Beckham tore his ACL in the second quarter and had to tearfully watch the rest of the game on the sideline. Adding insult to injury is the fact that he now enters the 2022 offseason as a free agent coming off his second significant knee injury.
Per Beckham, the knee surgery was a success, but now he enters a lengthy rehab that could take up to a year or even longer to complete. We know Aaron Donald wants him back, and OBJ may be willing to take a team-friendly deal considering the circumstance, but he will have an uphill battle ahead of him.
That's a battle he's ready for, at least at this juncture.
"[You] better believe imma be back, and imma be back better than ever before," Beckham wrote.
Stats courtesy of ESPN and Pro Football Reference. Contract information via Spotrac
RELATED: Green Bay Packers NFL Hall of Famer Charles Woodson Calls out Twitter User Trolling Odell Beckham Jr. After Emotional Super Bowl Reaction: 'Trust Me I Cried'