Is Odell Beckham Jr. Worth a Massive Contract Extension?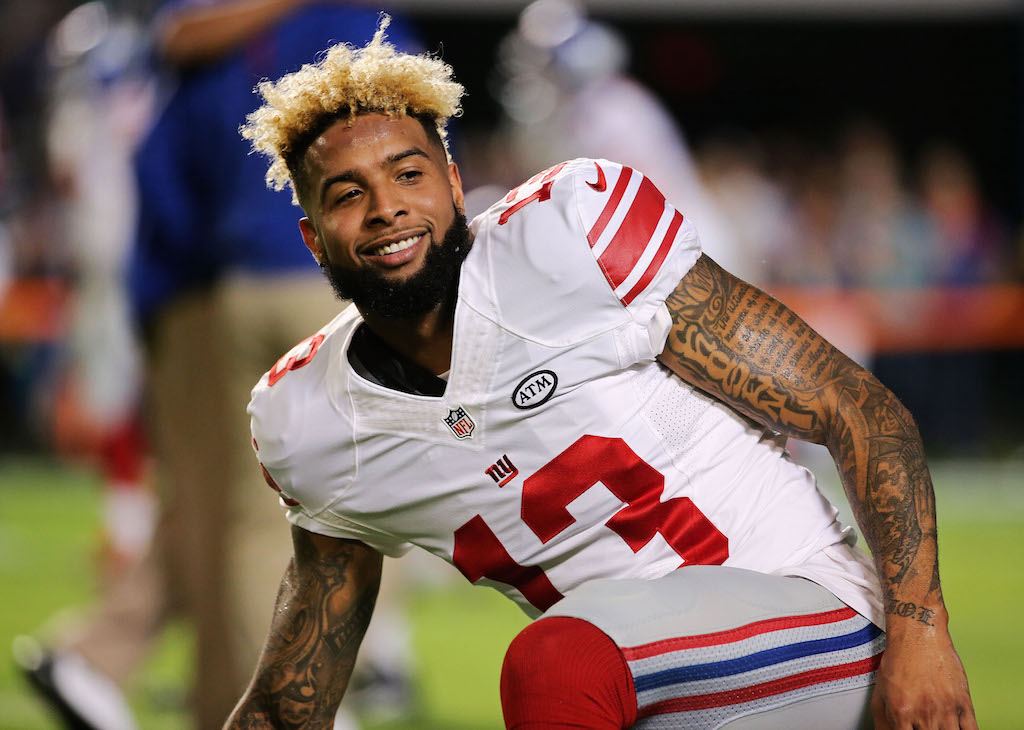 Odell Beckham Jr. is one of the most polarizing athletes in the National Football League. The 23-year-old wide receiver is easily one of the game's most dynamic players and regularly makes highlight reel-worthy plays look routine. In his first two seasons in the league, Beckham hauled in 187 passes for 2,755 yards and 25 touchdowns. Based on pure physical ability alone, the former LSU Tiger looks destined for eventual enshrinement into the Pro Football Hall of Fame. However, there is a lot more going on than what meets the eye when it comes to Beckham.
The 5-foot-11, 198-pounder also happens to be arguably the most immature player in the league. With his selfish behavior, he came dangerously close to costing the Giants wins on multiple occasions. In his brief NFL career, Beckham already takes the diva wide-receiver mantra to a new extreme. Up to this point in 2016, he has been borderline out of control. He continuously draws attention to himself with flashy touchdown celebrations, scuffles with opposing defensive backs, and childish sideline antics (his obsession with the Giants' kicking net is lame and has run its course).
This past weekend during the Giants' 27-23 win over the Baltimore Ravens we saw the best and worst of Beckham in one play. After catching what ended up being a game-winning 66-yard touchdown on nothing more than a simple slant pattern, the two-time Pro Bowler ripped off his helmet during his celebration, which resulted in a 15-yard unsportsmanlike conduct penalty. With the game very much in question at that point, Beckham's stupidity could have been a game-changer. Fortunately for the Giants, they kept the Ravens from scoring to take the lead. It's only a matter of time before Beckham does something similar that costs his team a game.
It really should come as no surprise that Beckham's behavior is wearing thin on his coaches and teammates. Here's what Giants quarterback Eli Manning said on Monday following the team's Week 6 win.
I think with a win you can ignore it a little bit easier, kind of let the coach handle — obviously we've got to be careful about getting penalties late in the game and putting our defense in a bind right there … He made plays and so it's one of those deals where you can get real sick of it if he's not going out there and making plays, but when he goes out and has a couple of huge catches and 200 yards and a game-winning touchdown, you still want him to be smarter, but you accept it a little easier.
New York head coach Ben McAdoo wasn't amused either.
We need to keep our focus on the ballgame. He came up to me right after. We had a discussion about it. Can't have it. He knows that. He went out and wanted to fire up our kick coverage and the defense. He knows we can't have it.
Here's the thing, though: If Beckham knows the Giants "can't have" him behave the way he does, then why is he continuing to make undisciplined decisions?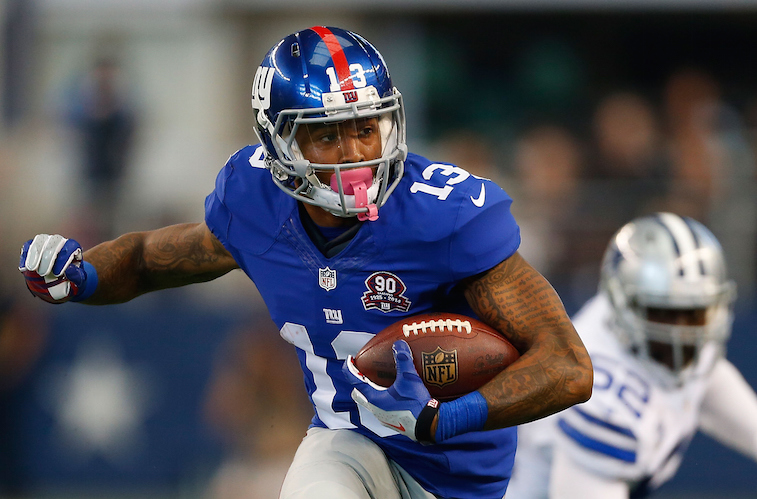 With the mega contracts that other top-flight wide receivers landed over the last two years, it's a virtual certainty that Beckham's representatives have already been in the ear of Giants General Manager Jerry Reese about what it will take to get an extension done for the 2014 NFL Offensive Rookie of the Year. From a football-only perspective, the Giants would be wise to lock up their most explosive playmaker for the foreseeable future.
Here's how Beckham's career stats through two full seasons compare to the likes of Dez Bryant of the Dallas Cowboys (five years, $70 million with $45 million guaranteed), Demaryius Thomas of the Denver Broncos (five years, $70 million with $43.5 million guaranteed), and Julio Jones of the Atlanta Falcons (five years, $71.3 million with $47 million guaranteed). All three of these wide receivers signed massive contract extensions within the last two years.
Beckham:
187 receptions
2,755 yards
25 touchdowns
14.73 yards per reception
Bryant:
108 receptions
1,489 yards
15 touchdowns
13.79 yards per reception
Thomas:
54 receptions
834 yards
6 touchdowns
15.44 yards per reception
Jones:
133 receptions
2,157 yards
18 touchdowns
16.22 yards per reception
As you can see, Beckham is substantially better than his peers up to this point in his young career. Thanks to his Week 6 performance (eight catches, 222 yards, two touchdowns), he is right on track to replicate the numbers from his first two NFL seasons. In reality, the only wideouts who can match his explosiveness are Jones and Antonio Brown of the Pittsburgh Steelers. But, as history proves, a lot more goes into contract decisions than talent and statistics.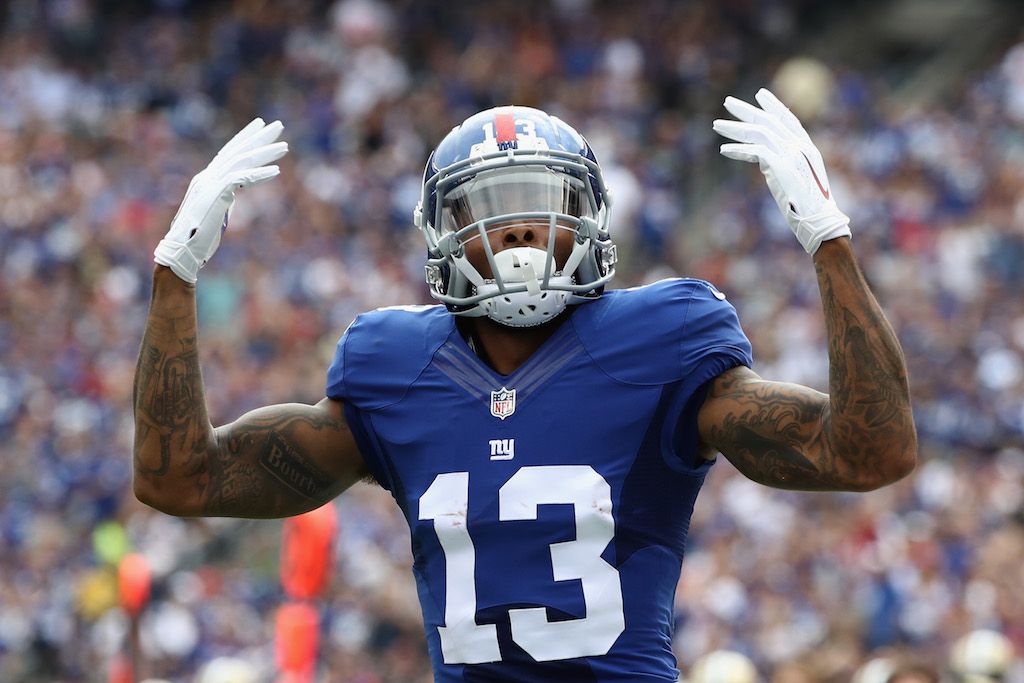 When the time comes for contract talks to get serious, the Giants have a lot to think about. First, they must decide if they can trust Beckham to act like a professional for the next five-plus years before giving him a big-money extension. Prior to his monster performance in Week 6, he had been a divisive force in the team's locker room.
Second, they must decide whether or not committing big money (likely $15-17 million per year) to a position that is largely dependent on the play of the team's quarterback is a wise expenditure. Let's not forget that the Broncos and Cowboys have both been burned, respectively, by paying big money to Demaryius Thomas (he led the league in drops in 2015) and Dez Bryant (he continues to be an injury risk and an off-field distraction).
Finally, the Giants must consider Beckham's value on the trade market. If another team willingly parts with multiple early-round draft picks, it may be worth making a move, as the No. 12 pick in the 2014 NFL Draft is a ticking time bomb. When it happens, Beckham will likely land a five-year contract for at least $75 million. While his playmaking ability is elite, his immaturity and lack of humility could easily tear a team apart. He is rightfully compared to guys like Bryant, Terrell Owens, and Chad Johnson — likely a red flag for New York's front office. Until he proves he can be a good teammate and act like a professional, we don't see how the Giants can build a team around Beckham.
Statistics courtesy of Pro-Football-Reference and ESPN. Contract data courtesy of Spotrac.