Odell Beckham Jr. Could Team Up With Patrick Mahomes and the Chiefs Despite Impressive Super Bowl Run With Rams
Odell Beckham Jr.'s journey to get to the Super Bowl is a strange one. After a sensational rookie year with the New York Giants, they eventually traded him to the Cleveland Browns. Then, he dealt with injury, inconsistent quarterback play, and more frustration before they released him.
Beckham then joined the Los Angeles Rams in the middle of the 2021 season and has enjoyed a career resurgence in LA en route to a Super Bowl trip. Thus, he should be one of the most sought-after free agents this season among wide receivers, especially with guys like Mike Williams and Davante Adams eligible for the franchise tag.
As it turns out, despite a trip to Super Bowl 56 with the Rams, there is a scenario where Beckham heads to join Patrick Mahomes and the Kansas City Chiefs.
Odell Beckham Jr. could join the Chiefs despite making a Super Bowl run with the Rams
At the end of January, Jeremy Fowler of ESPN reported that the Chiefs could pursue Beckham — and obviously, there would be mutual interest.
The Kansas City Chiefs were in the mix for Beckham during his midseason free-agency swing and are among the most bold front offices. It wouldn't shock to see them circle back

Jeremy Fowler of ESPN
It wouldn't be a surprise at all for the Chiefs to try and land Beckham once again. Mahomes has Travis Kelce and Tyreek Hill at his disposal, but they have been trying to find a No. 2 receiver to add talent to that offense for years.
At times, Byron Pringle and Mecole Hardman have shown promise, although neither is as talented as Beckham. The Josh Gordon experiment was a failure, and finding another wideout needs to be a priority for the Chiefs this offseason.
The Chicago Bears and Jacksonville Jaguars are obvious wide receiver-needy teams, although Beckham returning to mediocrity wouldn't make sense for either side — no matter how big the paycheck is.
The Rams might have trouble keeping Beckham in town despite his impressive stats in LA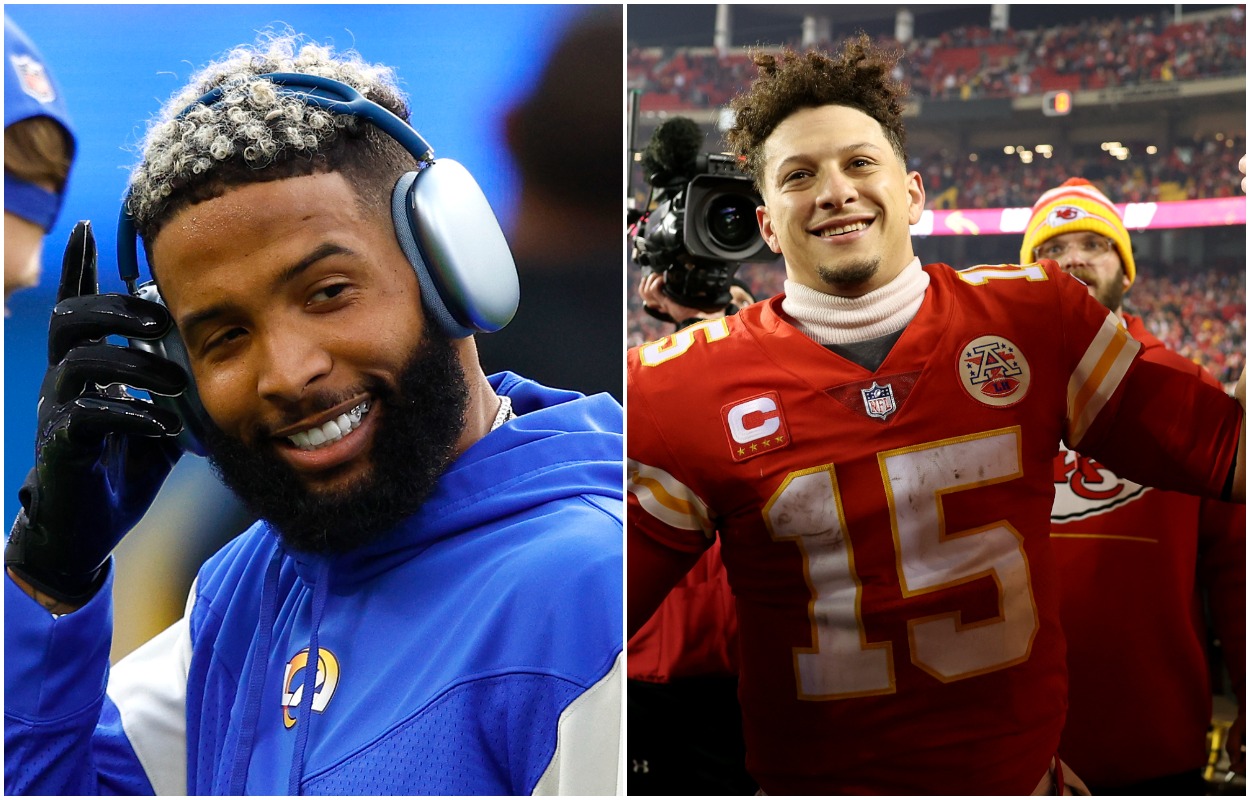 With everything that happened in Clevland the past few years, it was time for Beckham and the Browns to move on.
Teams lined up left and right to land Beckham, but he chose to head to LA in a bit of a stunning decision that nobody saw coming.
Nonetheless, it has paid dividends in a big way. Beckham posted 305 yards and five touchdowns on 27 catches in eight games during the regular season. He has 19 grabs for 236 yards and a score in the playoffs while eclipsing the 100-yard mark against the San Francisco 49ers in the NFC title game.
Sure, Beckham loves being with LA, apparently, but the Rams have an uphill battle to re-sign him in the offseason. Cooper Kupp, Robert Woods, and Van Jefferson are all under contract in the WR room going into the 2022 season.
The Rams also need to decide on Von Miller, Sony Michel, and Darious Williams. Furthermore, the Rams won't have very much wiggle room at all, barring some cuts, trades, and other things of that nature.
What do the Rams do? As much as they would love to have Beckham back, it doesn't make sense to throw a massive contract at him with these other wide receivers on the roster already — not to mention second-round pick Tutu Atwell expected to make noise at some point.
The Super Bowl could be Beckham's final game in a Rams uniform, and the Chiefs do make a ton of sense.
Is OBJ the reason why the Chiefs didn't make the Super Bowl? There certainly is an argument to be made
Chiefs insider Pete Sweeney mentioned that the Chiefs could make a run at Beckham this offseason. After they tried and failed to land him following his release from Cleveland, it makes sense to at least take a swing at a Beckham deal in free agency.
Beckham had the Chiefs as a finalist, although the Rams were nowhere to be seen on any reported lists of teams that expressed interest in him.
Still, as Sweeney mentions, Beckham could very well be the difference from the Chiefs playing in Super Bowl 56 to the Rams appearing in the game at SoFi Stadium.
Can you imagine how dangerous the Chiefs offense would have been with Beckham as the No. 2 wide receiver? Do you think things would have gone differently against Joe Burrow and the Cincinnati Bengals in the AFC title game?
Most likely. However, nobody will ever know, but the Chiefs should be preparing a huge offer to land Beckham and make another run at AFC supremacy.
Beckham will have plenty of suitors, but the Chiefs should be one of the top destinations for him — if he does leave LA.
Stats Courtesy of Pro Football Reference
RELATED: Rams Legend Marshall Faulk Clowns the Browns for Fumbling Odell Beckham Jr. Situation: 'You Got It Wrong'