Odell Beckham Jr.'s Devastating Knee Injury Appears to Have Finally Set Him on the Path to Maturity
Cleveland Browns receiver Odell Beckham Jr. sounds like a man ready to prove his critics wrong.
Although Baker Mayfield led the Browns to an AFC Divisional Round appearance last season, he and the offense picked up their game after Beckham suffered a season-ending knee injury in October. Surprisingly, the former Pro Bowl selection isn't talking a big game as he nears a return to the field.
Odell Beckham Jr. provided a mature answer about his recovery from a knee injury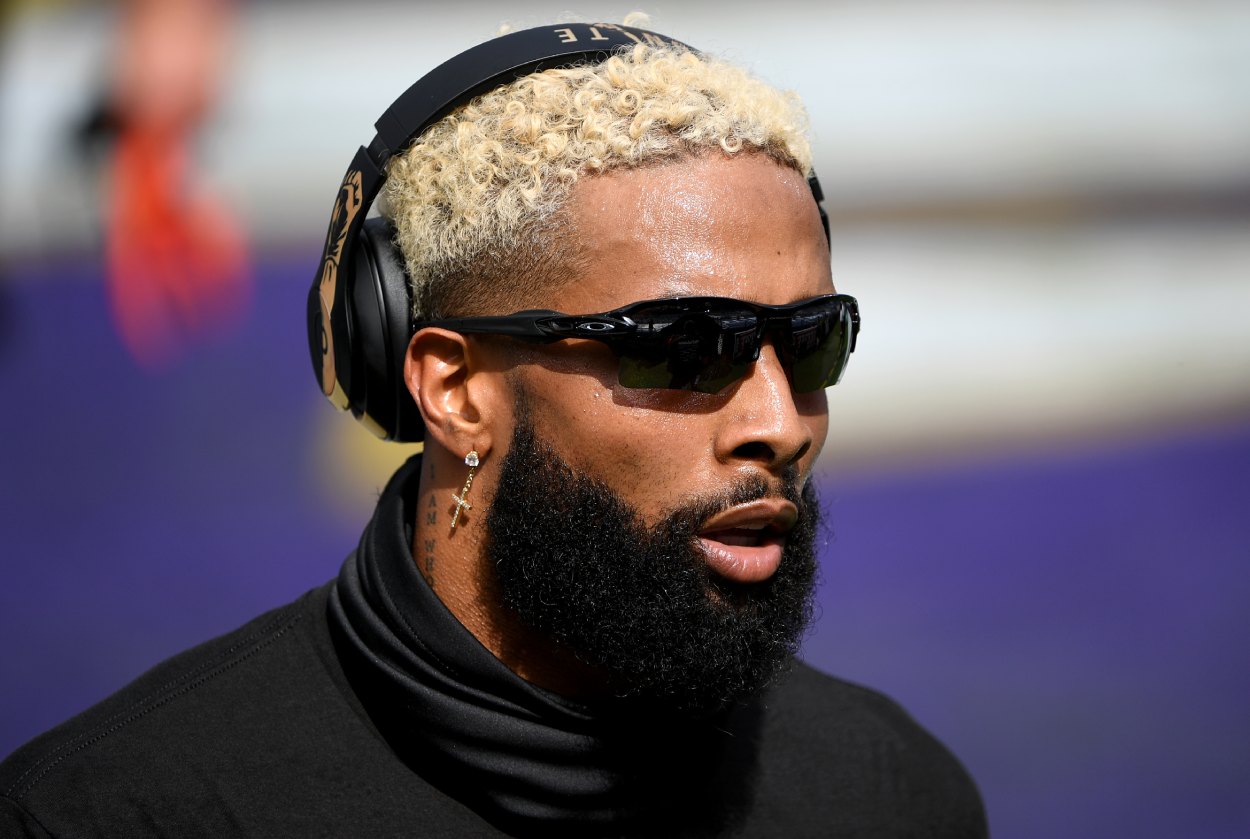 For once, Beckham is eager to let reality, and not his hopes and dreams, dictate the situation.
The three-time Pro Bowl selection discussed his recovery in a recent interview with Cleveland.com. Beckham, who previously underwent ankle reconstruction and core muscle surgery, explained how his rehab philosophy is far different this time.
"I did want to have the fastest comeback ever and all these things, but then I'm like, what accolade is that really? I want to be able to have the best season I can possibly have. That's why I say we're just running our race, and whenever the time is, I will be ready."

Odell Beckham Jr.
Although Beckham hopes to be ready for the Browns' Week 1 opener against Patrick Mahomes and the Kansas City Chiefs, he said he had not been cleared for that game yet. 
Beckham has impressively taken a far more humble approach to recovery
Considering Beckham's reputation for boastful remarks and flashy touchdown celebrations, it's stunning to hear — er, read — him sounding so calm and composed about the recovery process.
But we're all supposed to grow up at some point. Beckham turns 29 in November and hasn't made a Pro Bowl since 2016. Although he hauled in 74 catches for 1,035 yards in 2019, both represented his lowest total during a season in which he played in double-digit games.
The injuries and mental toll have clearly played a role in Beckham shifting from a ball-hungry diva to a veteran player saying all of the right things entering his eighth NFL season. Beckham described his far more humble and pragmatic approach to recovery when he spoke with Cleveland.com.
"What I used to get caught up in — which led me down a path I won't go to again — is you get hurt, and we're all men, and we want to show everyone we're a man, and we want to come back. It [becomes] all this ego challenge. I'm not really in it for all that anymore because I don't feel like I really have anything to prove except to myself and me wanting to be the best.''

Odell Beckham Jr.
The Browns would certainly love to see Beckham at his best this fall. He showed flashes of explosiveness last year and even scored three touchdowns from scrimmage in a 49-38 victory over the Dallas Cowboys in Week 4.
Beckham is facing a make-or-break year for whatever remains of his career
At this stage in his career, no one is sure what to expect from Beckham. He's had three surgeries since 2017, and it's been several seasons since he dominated defenses the way he did when he played for the New York Giants.
The excuse that teams devote far more attention to Beckham doesn't work, especially when one remembers how often teams double-teamed him as a young player on the Giants. He has three seasons, counting the 2021 campaign, on his current contract and needs to prove he's still the type of player who is worth over $13 million per year.
Beckham, to his credit, has said all the right things this offseason. The same goes for Mayfield, whose play increased exponentially without Beckham on the field and demanding the ball. Clearly, the Browns still want this marriage to work, and all sides sound eager to give it one more season together.
If Beckham and Mayfield finally click this season, it can erase any long-term doubts about the receiver's future in Cleveland and as a starting wideout. But if things don't work out, at least the three-time Pro Bowler is starting to sound like a man who will be prepared for whatever comes next.
Like Sportscasting on Facebook. Follow us on Twitter @sportscasting19.