Odell Beckham Jr. Has the Biggest Shoe Deal in NFL History
Odell Beckham Jr. understands the art of the impossible. Often simply called OBJ, he managed an incredible one-handed catch late in his rookie NFL season. Since then, the league's highest-paid wide receiver has stayed in the spotlight. Sure, the 27-year-old is a talented player for the Cleveland Browns but he's also as a welcome style icon for the NFL. 
In 2017, Beckham got the biggest shoe deal in NFL history. How did the Nike deal come to be? How has he built his brand since arriving in the NFL?
Odell Beckham Jr.'s Nike shoe deal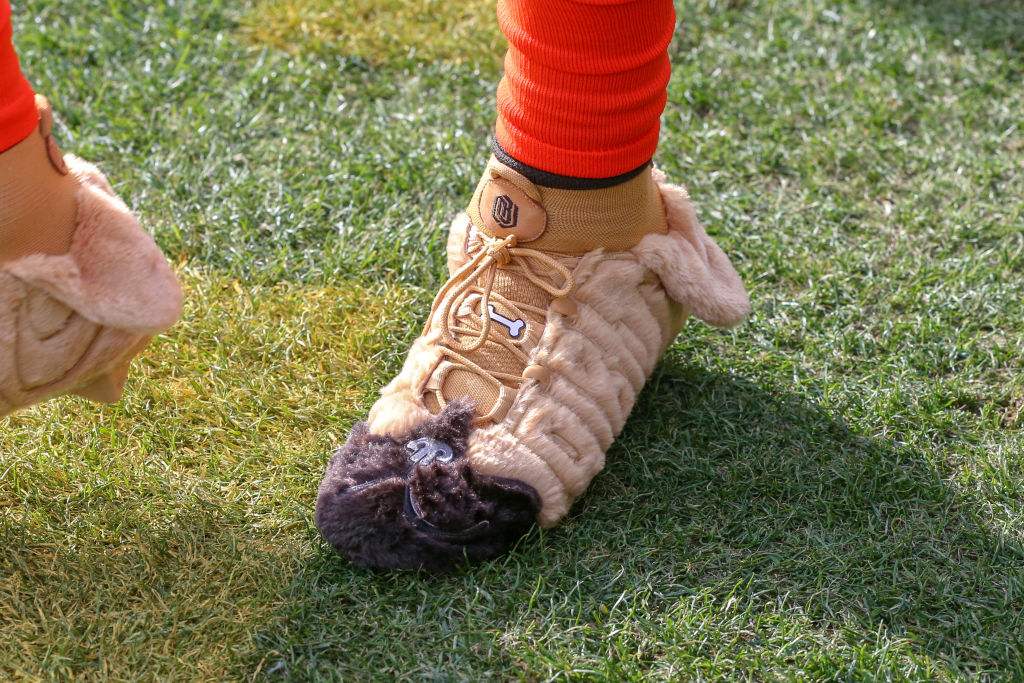 In May 2017, an insider for the NFL Network reported that OBJ had re-upped his contract with Nike — the biggest contract of his life. What he ended up with was the most lucrative shoe deal ever offered to an NFL player.
Beckham's deal was for $25 million dollars over five years. That's more than his salary for the 2019 season, which is just under $17 million for his first year in Cleveland. That's a nice bit of cash for a young athlete.
According to reports, there was a little drama with the deal. Beckham allegedly met with both Adidas and Nike separately. Nike formally matched the offer Adidas made the young wideout. Beckham ended up going with Nike who he'd originally signed with out of college.
By the time his new deal expires, he'll have made almost $50 million dollars and contracted to the worldwide footwear titan for eight years. It's not the best deal ever offered to an athlete though.
LeBron James signed a lifetime deal with Nike two years prior. James' agent suggested that the deal could be worth as much as $1 billion. And when you consider the Michael Jordan Brand at Nike, it's hard to say just how much money he made in such deals.
Beckham: an athlete to watch
In 2019, Beckham ranked No. 85 on Forbes' list of the world's highest-paid athlete earnings with $26.5 million.
The wide receiver was a standout at LSU. He spent five years with the New York Giants, winning NFL Rookie of the Year in 2014 and three Pro Bowl selections there. The Giants made him the league's highest-paid wideout in 2018 with a contract for $95 million over five years.
Seven months later, to everyone's surprise, they traded Beckham to the Cleveland Browns. OBJ reached 200 career receptions and 4,000 career receiving yards faster than anyone in the NFL so far.
When it comes to endorsements, Beckham is sought by many brands. Aside from the Nike contract, he's worked with Dunkin' Donuts, EA Sports, Foot Locker, Head & Shoulders, Lenovo, and Steiner Sports.
Building Beckham as a brand
Beckham is a trendsetter off the field, wearing some of the most hyped ensembles in menswear. Fans expect the wild fashion he wears with his trademark bleached hair and longer earrings. In a league that's historically been stuffy, he's a marketable face — something usually reserved for quarterbacks.
When Beckham does anything — showing up at the Met in a kilt, wearing a $190,000 watch on the field, or talking with the media — it's just as memorable as what he does in the game.
OBJ finds himself embroiled in controversies here and there, but he's in a small group of NFL players who can sell shoes. Only 17 NFL players in the last three decades, including OBJ, have been considered marketable enough to get their own sneaker.