Odell Beckham Jr. Inadvertently Dissed Baker Mayfield and the Cleveland Browns While Celebrating a Super Bowl Berth With the Los Angeles Rams
Odell Beckham Jr. started the 2021 season with a Cleveland Browns squad that went 8-9 and missed the playoffs. He finished the season as a member of the Los Angeles Rams and is now 60 minutes away from being a Super Bowl champion.
How's that for a comeback story?
OBJ could not be in a more different place.
Odell Beckham Jr. has been a massive part of the Los Angeles Rams' run to the Super Bowl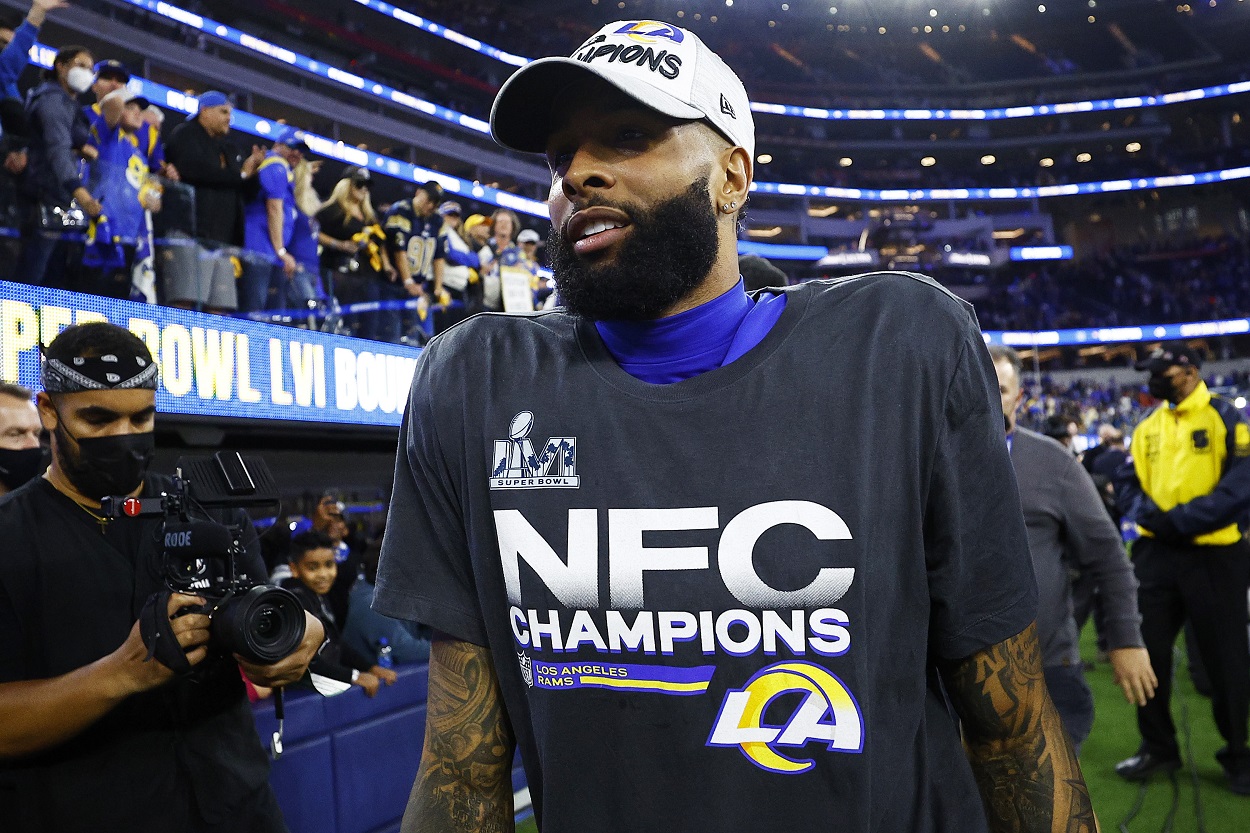 If it wasn't a match made in heaven, it was at least one made in Hollywood.
Beckham was considered a malcontent in Cleveland and was ultimately released by the Browns midway through the season. A social media post by his father that called out Baker Mayfield was the inciting incident, but the two sides appeared to be heading toward divorce for some time.
Considering his lack of production in Cleveland, there were some serious questions about whether OBJ could be more than just a role player for the Rams. After the initial "getting to know you" period, though, it became abundantly clear that he and quarterback Matthew Stafford had a great connection.
OBJ caught 27 passes for 305 yards and five touchdowns in eight regular-season games with LA. He notched 232 yards and no touchdowns in his six games to start the season with Cleveland.
He looked rejuvenated. He seemed supremely athletic. He looked comfortable and happy, which is something that could not have been said for the majority of his time in Cleveland.
In fact, Beckham looked a lot like the receiver who became a superstar with the New York Giants at the start of his career. No, there weren't any spectacular one-handed grabs, but OBJ quickly became a productive member of the Rams offense, and he seemed to be surprisingly OK playing second fiddle to Cooper Kupp.
"I'm a competitor, but like I say, I came late to the party," Beckham said in early January, according to Pro Football Talk. "I knew that I wasn't going to be the one — I'm not, like I said, like I tell you, I'm not getting 10 to 15 targets each and every game, and so for me, it's about — I just was having this conversation — finding ways to be locked in knowing that you're not specifically the guy, but I am going to be a threat and the option each and every play."
OBJ may have inadvertedly taken a parting shot at Baker Mayfield and the Cleveland Browns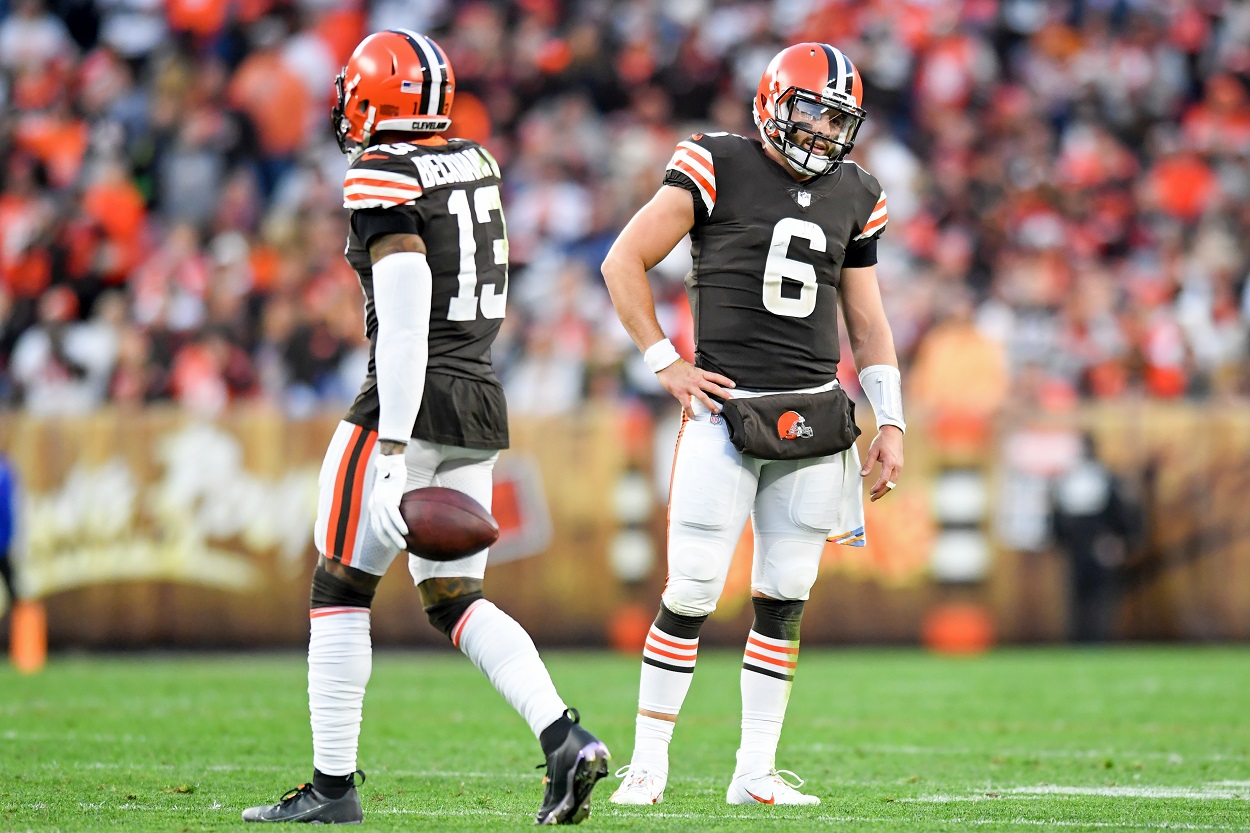 The Rams barely squeaked by the San Francisco 49ers in the NFC Championship Game, but they did beat them. That's what really matters. It was the first time Sean McVay and his squad secured a win over their rivals to the north in six games, and it couldn't have come at a better time.
Kupp and Aaron Donald were the star players for the Rams, and Stafford will get the majority of the headlines because of his journey from Detroit to LA. With that said, Beckham also played a significant role in the contest. In fact, he was one of the key reasons the Rams walked away with the win.
He was targeted by Stafford 11 times and came away with nine catches for 113 yards, averaging 12.6 yards per catch.
From malcontent to a significant contributor on a team looking to win the Super Bowl, Beckham has come a long way in just a few weeks.
After the game, he discussed what has been so special about the Rams and why he's seemingly fit in so well. And sure, he was talking up his new organization, but he may have inadvertently taken a shot at Mayfield and the Browns in the process.
"Being integrated into the plan. Taking me in, pushing me for excellence, the weight room — everything about this place is right and it's done right," OBJ said, according to Yahoo. "And it's just been an incredible opportunity. And I feel like I'm just trying to make the most of it. And here we are playing in the Super Bowl, one game away from our dreams."
The difference between Mayfield and Stafford seems to be the key for OBJ
To know something is being done the right way, sometimes you have to understand what things look like when they're done the wrong way.
That's not to say Cleveland is utterly inept as a franchise. Sure, historically, that may be the case, but the Browns have done some nice things in the past few years. Hiring head coach Kevin Stefanski was a great move, and they've built a strong running game and excellent defense, which is something not every franchise can say.
Injuries played a role in Cleveland going from a team that won a playoff game in 2020 to one that didn't even make the playoffs in 2021. A lot of that has to rest on the shoulders (literally) of Mayfield, though. He admirably played hurt for most of the season but ironically may have ended up hurting his team more than he helped. Mayfield was highly inconsistent all season, highlighted most by his 17 touchdowns compared to 13 interceptions.
OBJ never came out and said it himself, but Mayfield was clearly one of the main reasons he was unhappy with the Browns. The two could never get on the same page. There was just a chemistry issue with Mayfield, and if that wasn't clear when OBJ was in Cleveland, it became abundantly clear when he went to LA and started lighting it up with Stafford.
The chemistry he didn't have with Mayfield, he has an abundance of with Stafford. That's gone a long way toward rehabilitating his status as an elite wide receiver.
From frustrated in Cleveland to potentially on top of the world in LA, it's incredible to see what the change in scenery has done for Beckham's career.
He's now on the cusp of winning the Super Bowl while the Browns toil ahead toward an uncertain future with Mayfield.
Everything in LA is right and done right, according to OBJ. He never uttered such a phrase in Cleveland.
Stats courtesy of ESPN and Pro Football Reference.
RELATED: Odell Beckham Jr.'s Warning to Von Miller Paid Huge Dividends for the Los Angeles Rams and Their Super Bowl Dreams