Odell Beckham Jr. Just Confirmed His Commitment to the Cleveland Browns With 1 Tweet
Since last season, there have been plenty of rumors about the Cleveland Browns potentially trading Odell Beckham Jr. The rumors have been somewhat questionable when looking at Beckham's talent and the Browns' desire to finally build a winner. There has still been plenty of reports to go around, though. However, Beckham recently sent out his commitment to the Browns with just one tweet.
Odell Beckham Jr. struggled in his first season with the Browns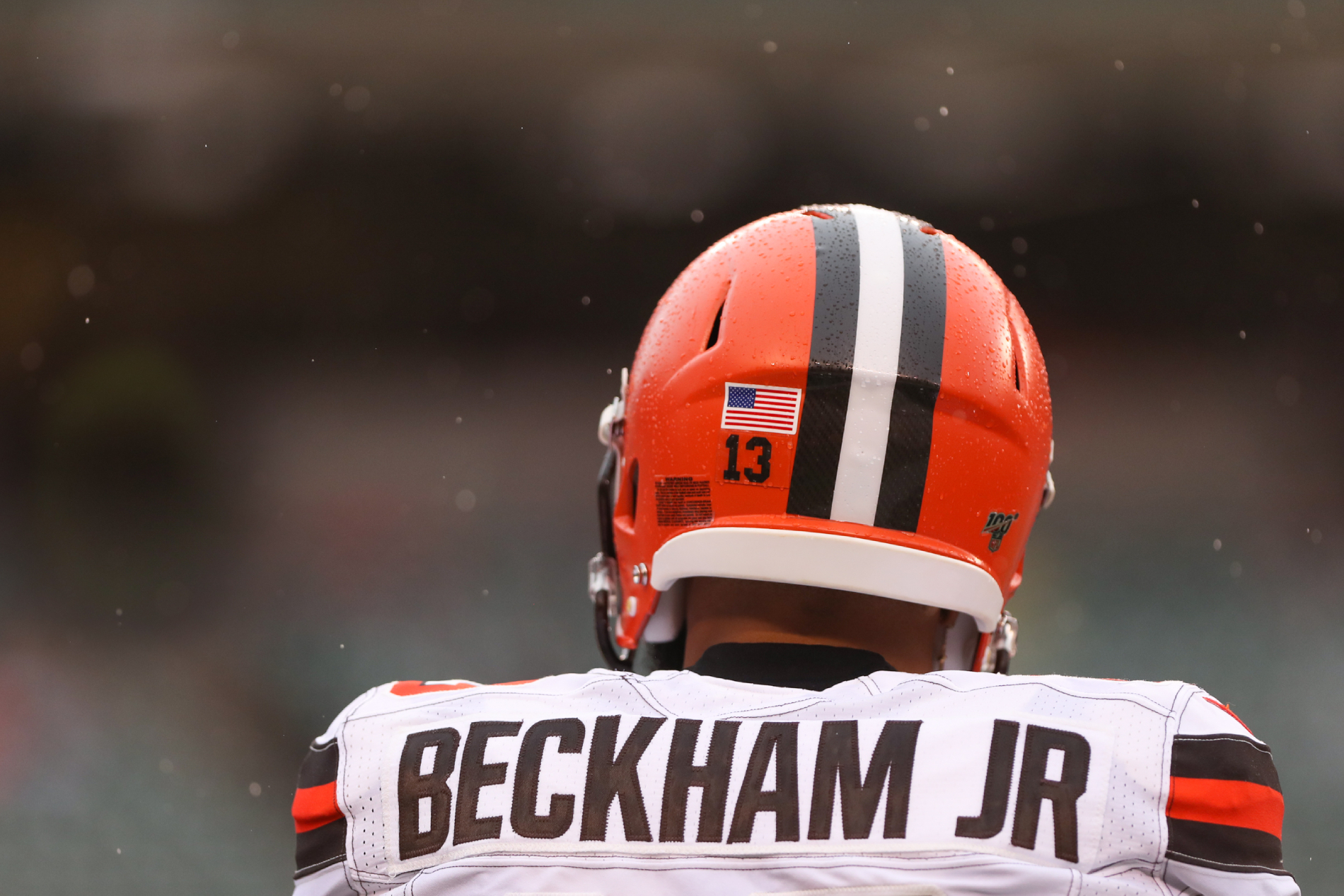 RELATED: Odell Beckham Jr. Left Scratching His Head After Giants' Latest Petty Move
There were high expectations for the Cleveland Browns in 2019. Baker Mayfield was coming off of a stellar rookie season and the team added Beckham to an already talented roster with Jarvis Landry and Nick Chubb.
The season, however, did not go quite as planned. The Browns went 6-10, one fewer win than the 2018 season, and they missed the playoffs for the 17th straight year. 
Beckham had over 1,000 yards receiving (1,035 yards and 74 receptions), but it was a career-low for him when playing 12 games or more in a season. He gained over 1,300 yards each of his first three seasons with the New York Giants. Then after the 2017 season, where he only appeared in four games, Beckham had 1,052 yards in 12 games in 2018. 
There have been rumors about the Browns trading Beckham
RELATED: Tom Brady Inspired Odell Beckham Jr. to Invest in His Body
Toward the end of the 2019 season, there was already speculation about Beckham wanting out of Cleveland. Some reports even said that he told players on opposing teams to "get me out of here," according to Bleacher Report. He, however, later denied those reports. 
"It is old. I am not going anywhere. I will be here," Beckham said, according to Bleacher Report. "We are going to figure this thing out. It is just too special to leave."
Earlier this offseason, Jeremy Fowler and Dan Graziano of ESPN reported that the Browns would consider trading Beckham if they were "blown away" by a trade offer, according to Bleacher Report.
However, Browns general manager, Andrew Berry, shut down any reports about the team looking to trade Beckham in April.
"With all due respect to the question, I think this is actually a topic, at least from our perspective, [where] there really hasn't been a ton of ambiguity," Berry said on Good Morning Football, according to Bleacher Report. "We've been clear from the beginning that we view Odell as a fantastic player. We're a better team with him on the field. We see him as a long-term member of the organization. We really like how he's acclimated and adjusted with the new staff. So the rumors, that's not something that we can control, but we're happy to have him as a part of our organization."

Andrew Berry
He just confirmed his commitment to Cleveland
RELATED: Baker Mayfield and Dak Prescott: Mayfield's Career Earnings Total With the Browns Is Already 4 Times Higher Than Prescott's With the Cowboys
Obviously, Beckham can't do anything about the Browns if the team were to actually want to trade him. He is, however, making it seem like he doesn't want out of Cleveland.
Alex Wood, an MLB pitcher for the Los Angeles Dodgers, tweeted this after Cam Newton signed a deal with the New England Patriots.
In return, Beckham said, "U can find me in The LAND homie! We got unfinished business."
That should be reassuring to Browns fans.
Additionally, one Twitter user tweeted a video of Beckham working out with Newton and said, "[Beckham] to New England? Hmmmm. Welcome to New England Cam!" Beckham also responded to that tweet by saying, "Lol no sir boss! But y'all got my brother, wishin nothin but the best and LUV."
So, is Beckham all in with the Cleveland Browns? It looks like it for now. Maybe he and the rest of the team's stars can figure it out in 2020.
Stats courtesy of Pro Football Reference