Odell Beckham Jr.'s Prime Could Sadly Be Over After This Latest Brutal Injury
Odell Beckham Jr. has been one of the best wide receivers in the NFL throughout his entire career. During his first few seasons with the New York Giants, he had been talked about as one of the greatest wide receivers to ever play. However, fans, sadly, might not see his explosiveness for that much longer, as he reportedly suffered a season-ending injury in the Cleveland Browns' most recent game against the Cincinnati Bengals.
Could this injury be the end of Beckham's prime?
Odell Beckham Jr. has been a star for the New York Giants and Cleveland Browns
After having a nice college career with the LSU Tigers, Beckham went to the New York Giants with the No. 12 overall pick in the 2014 NFL draft. He quickly became a star in the NFL, too.
Beckham earned a Pro Bowl selection in his first season, and even won the 2014 AP Offensive Rookie of the Year award, as he caught 91 passes for 1,305 yards and 12 touchdowns in 12 games. He also led the NFL in yards per game with 108.8.
This led to Beckham having one of the best starts at wide receiver in NFL history. He caught 96 passes for 1,450 yards and 13 touchdowns in 2015, which earned him another Pro Bowl selection. He then had 101 catches for 1,367 yards and 10 touchdowns in 2016, earning another a Pro Bowl.
Beckham then only played in four games in 2017 due to injury, and then had a nice season for the Giants in 2018, but he has since been a productive receiver for the Cleveland Browns the past two seasons.
After getting traded to Cleveland prior to the 2019 season, Beckham caught 74 passes for 1,035 yards and four touchdowns for Cleveland in 2019. His stats, obviously, were not as great as they were in previous years, but he was still productive. Then, so far in 2020, he has had 23 catches for 319 yards, and four total rushing/receiving touchdowns.
His 2020 season, though, has now come to an end.
He will miss the rest of the season after injuring his knee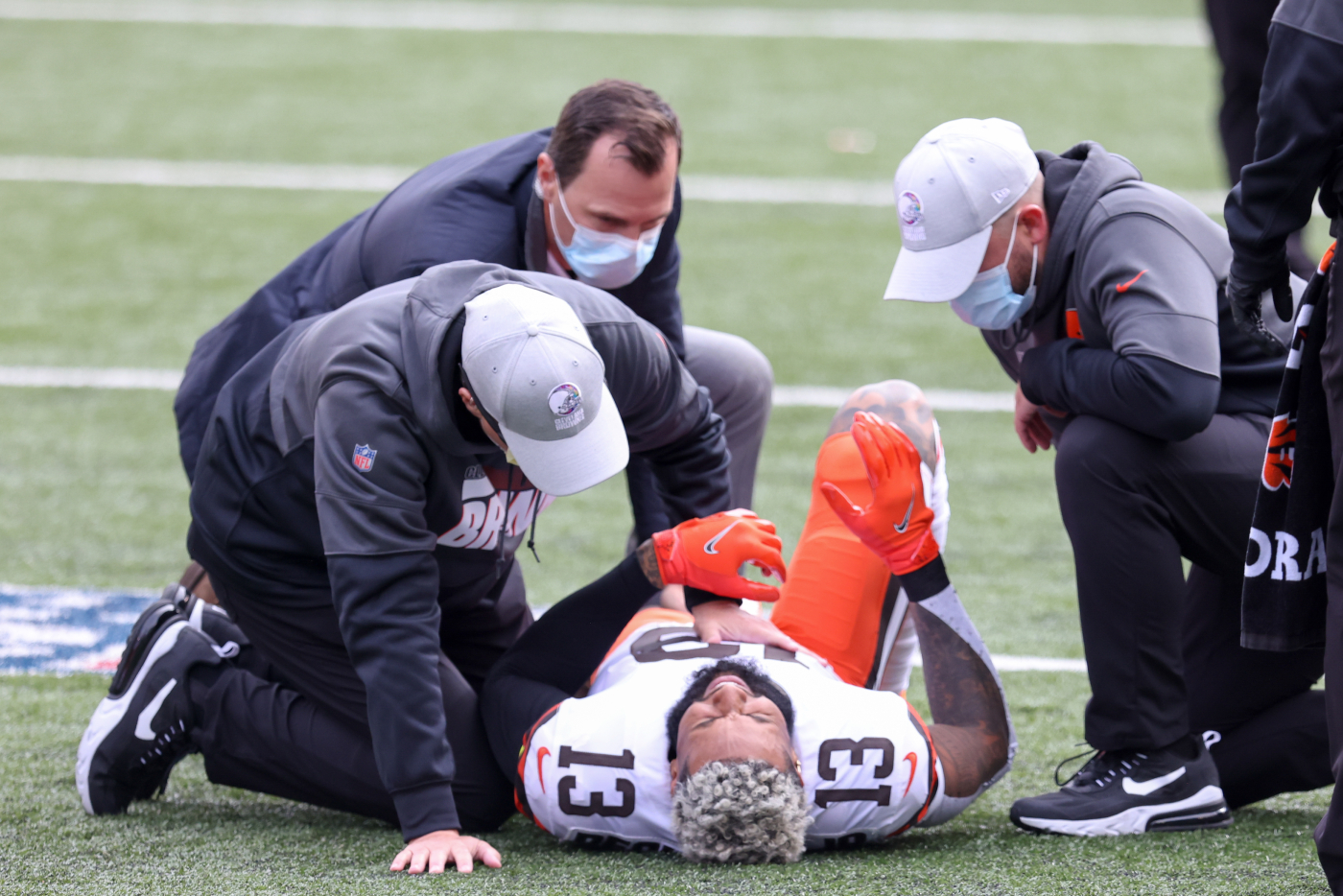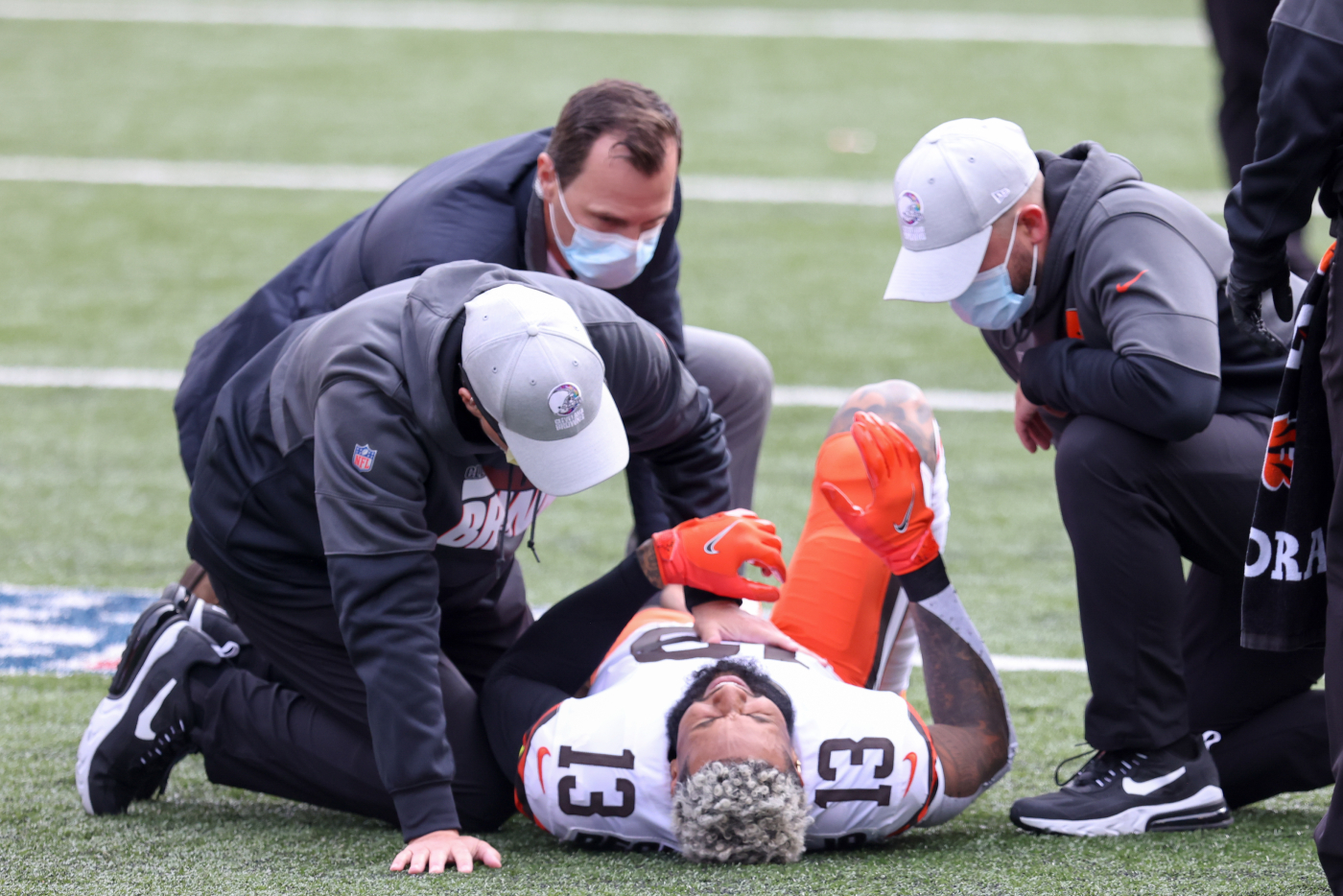 Beckham injured his knee in Week 7 against the Cincinnati Bengals while attempting to chase down a Bengals defender after quarterback Baker Mayfield had just thrown an interception. It occurred on the Browns' second snap of the game.
Cleveland went on to win the game 37-34.
On Sunday, Ian Rapoport of NFL.com reported that a source said Beckham was "feared to have suffered a major knee injury." Then, on Monday, NFL reporter Josina Anderson gave the news that everyone had hoped not to hear. She reported that Beckham texted her, saying that his ACL is torn and his season is over.
The team then ultimately confirmed it.
This is extremely sad news to hear about one of the game's best talents. Could this, sadly, be the end of his prime?
Is this the end of Odell Beckham Jr.'s prime in the NFL?
While he has still been a productive wide receiver and athlete for the Cleveland Browns, his numbers have not been nearly as great while in Cleveland.
Other than the 2017 season when he missed most of the year due to an ankle injury, Beckham never averaged under 85 yards per game while with the Giants. He only averaged 64.7 yards per game for the Browns in 2019, and he was only averaging 53.16 through six games this season.
The decrease in production is not all Beckham's fault, as quarterback Baker Mayfield has had his struggles the past two seasons. However, it is still something to worry about when considering that, since injuring his ankle during the 2017 season, he has not put up the same type of numbers that he had been putting up early in his career.
The 2017 ankle injury led to him only playing in four games for the Giants that season. In 2018, the season after the injury, Beckham gained 1,052 receiving yards on 77 catches for the Giants. That was the lowest number of receiving yards he had ever gained while in New York when playing 12 or more games in a season.
Beckham is still young and has still proven that he is an incredible athlete with the Browns, but the decrease in production over the years is still a reason for fans to worry — at least a little bit — that this latest injury could ultimately be the end of his prime.
Odell Beckham Jr. is one of the best wide receivers in the game. Hopefully, this injury doesn't signal the end of his prime. Hopefully, he comes back even better the next time he takes the football field. We should get our answer in 2021.
Stats courtesy of Pro Football Reference