Odell Beckham Jr.: Ranking the 5 Best Players Selected Ahead of the 3-Time Pro Bowl Wideout in the 2014 NFL Draft
Odell Beckham Jr. is preparing for Super Bowl 56 with the Los Angeles Rams. After being released from the Cleveland Browns midseason, Beckham has been a massive addition to the Rams.
When Beckham was traded from the New York Giants, it looked like the Browns would work out. Well, it didn't, although a big reason could be Baker Mayfield.
After Beckham was selected at No. 12 overall in the 2014 NFL Draft, his career has been quite the roller coaster. He made the Pro Bowl three times and looked like a dynamic force on the Giants. His famous catch against the Dallas Cowboys will be remembered forever.
Then, he was traded to the Browns and battled injuries and inconsistent quarterback play. Beckham ultimately found his way out of Cleveland and landed in LA, which has been the best thing to ever happen to him.
Nonetheless, let's look back at the 2014 NFL Draft and see the five best players selected ahead of Beckham, ranked solely on their on-field performance in their NFL careers.
5. Atlanta Falcons, Jake Matthews (sixth overall)
This list will be full of surprises, and no, Blake Bortles isn't anywhere to be found after being selected third overall. On the other hand, Matthews has been a rock for the Atlanta Falcons. He made the Pro Bowl back in 2018 and is the model of consistency.
Matthews has started every single game since the 2017 season, and even in 2016, he missed just one contest.
Matthews was rewarded nicely in 2018 with a massive extension from the Falcons — and he is worth every penny.
Typically, a tackle with consistency and stellar play such as Matthews would be higher on this list, but the four above him are hard to argue with, and the Falcons didn't need Beckham with Julio Jones dominating still.
4. Houston Texans, Jadeveon Clowney (first overall)
Jadeveon Clowney was an absolute wrecking ball coming out of South Carolina. In the 2014 Outback Bowl, this hit went viral and will stick with Clowney's name forever.
When the Houston Texans selected him first overall, it was a no-brainer. Unfortunately, his rookie season didn't turn out very well.
Since then, Clowney played well in Houston. In his final four seasons with the Texans from 2014-2018, he finished with 29 sacks and three trips to the Pro Bowl.
Clowney then went to the Pacific Northwest and played for the Seattle Seahawks for a season before heading to the Tennessee Titans. In eight games with the Titans, he failed to record a sack and then moved to the Browns in 2021.
He worked wonders in Cleveland alongside Myles Garrett and finished the year with nine sacks. If it weren't for Clowney's subpar seasons in Seattle and Tennessee, he would be further up this list.
3. Tennessee Titans, Taylor Lewan (11th overall)
Taylor Lewan was the last player selected before the Giants nabbed Beckham. Do the Titans regret this move? Probably not.
Lewan has been pretty consistent except for the 2020 season. The former Michigan star started six games as a rookie, then started at least 15 games in the next four seasons and was named to the Pro Bowl three straight times from 2016 to 2018.
Lewan was also rewarded with a nice extension in 2018.
At the time, that was the richest OL deal in NFL history — and Lewan was worth every penny. As the 2022 offseason approaches, questions remain on whether or not the Titans want to keep Lewan on board. Nonetheless, he has been a stellar player throughout his career, and if it weren't for the torn ACL he suffered in 2020, he probably would have made the Pro Bowl then as well.
But, these next two on the list are in another class altogether.
2. Oakland Raiders, Khalil Mack (fifth overall)
This is where the rankings get difficult. However, Khalil Mack falls into the number two spot.
The fifth overall pick landed with the then-Oakland Raiders and enjoyed success in California. In his four seasons with the Raiders, he totaled 40.5 sacks, three trips to the Pro Bowl, three First-Team All-Pro nominations, Defensive Player of the year, and Defensive Rookie of the Year. That's impressive.
Then, the Raiders traded Mack to the Chicago Bears.
The Mack trade was a massive haul for both sides, and Mack is well worth it. Since joining the Bears, he has totaled 36 sacks since heading to The Windy City.
He has six total trips to the Pro Bowl and three All-Pro nominations. Bottom line: Mack is a star.
1. Tampa Bay Buccaneers, Mike Evans (seventh overall)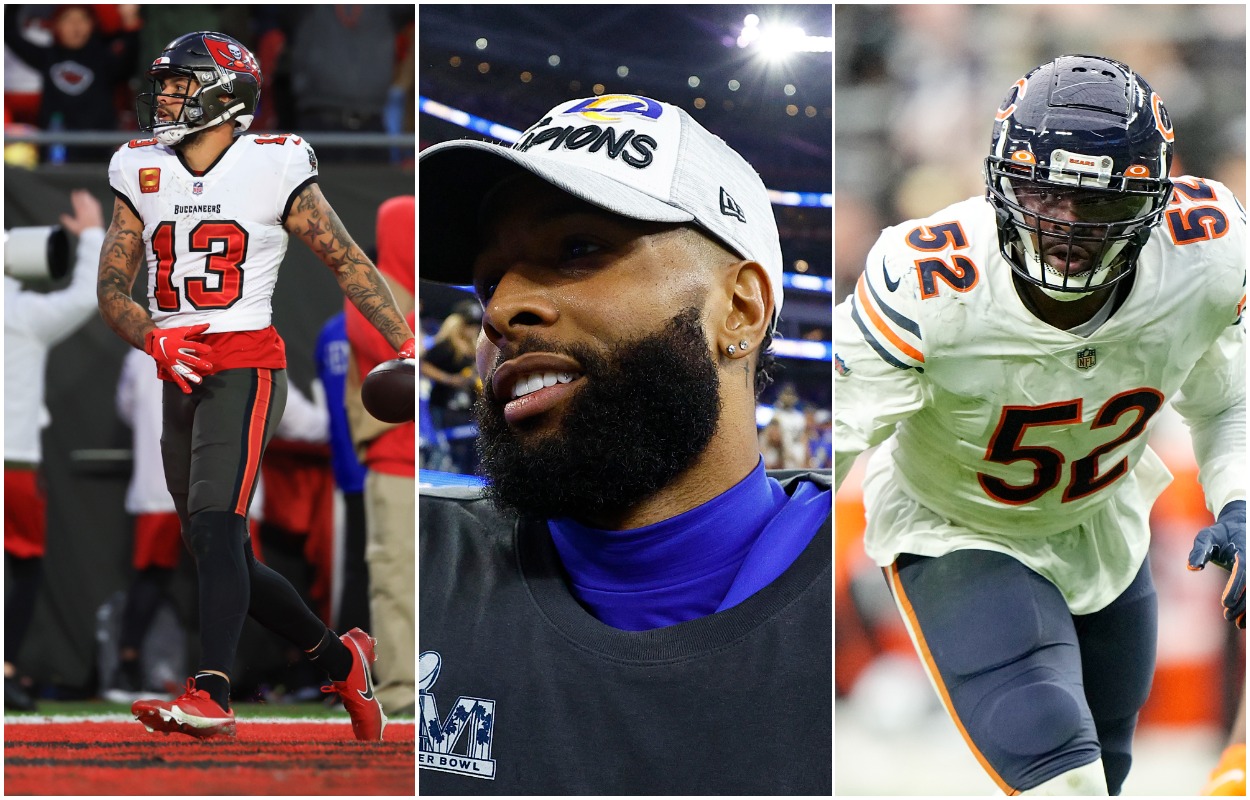 Yes, Mike Evans is on top of this list. Sammy Watkins and Eric Ebron were the other two pass-catchers selected before Beckham in the 2014 NFL Draft besides Evans.
But Evans has become a superstar. Even before Tom Brady was in Tampa Bay, Evans was a beast. He has posted more than 1,000 yards in every season since 2014 and has double-digit touchdowns in four of those seasons.
Evans even made NFL history with his eighth consecutive 1,000-yard campaign.
It doesn't matter who's throwing passes to him — he's going to produce. Don't you think the Raiders could have used somebody like Evans?
Sure, Mack was an excellent pick, but Evans is a pure monster every single season and has been to the Pro Bowl four times in his career.
With questions swirling about Chris Godwin and Rob Gronkowski's futures in Tampa Bay, we might see Evans put up his best season yet no matter who the quarterback is.
Stats Courtesy of Pro Football Reference
RELATED: Ranking Patrick Mahomes and the 6 Quarterbacks Playing in the 2022 Pro Bowl