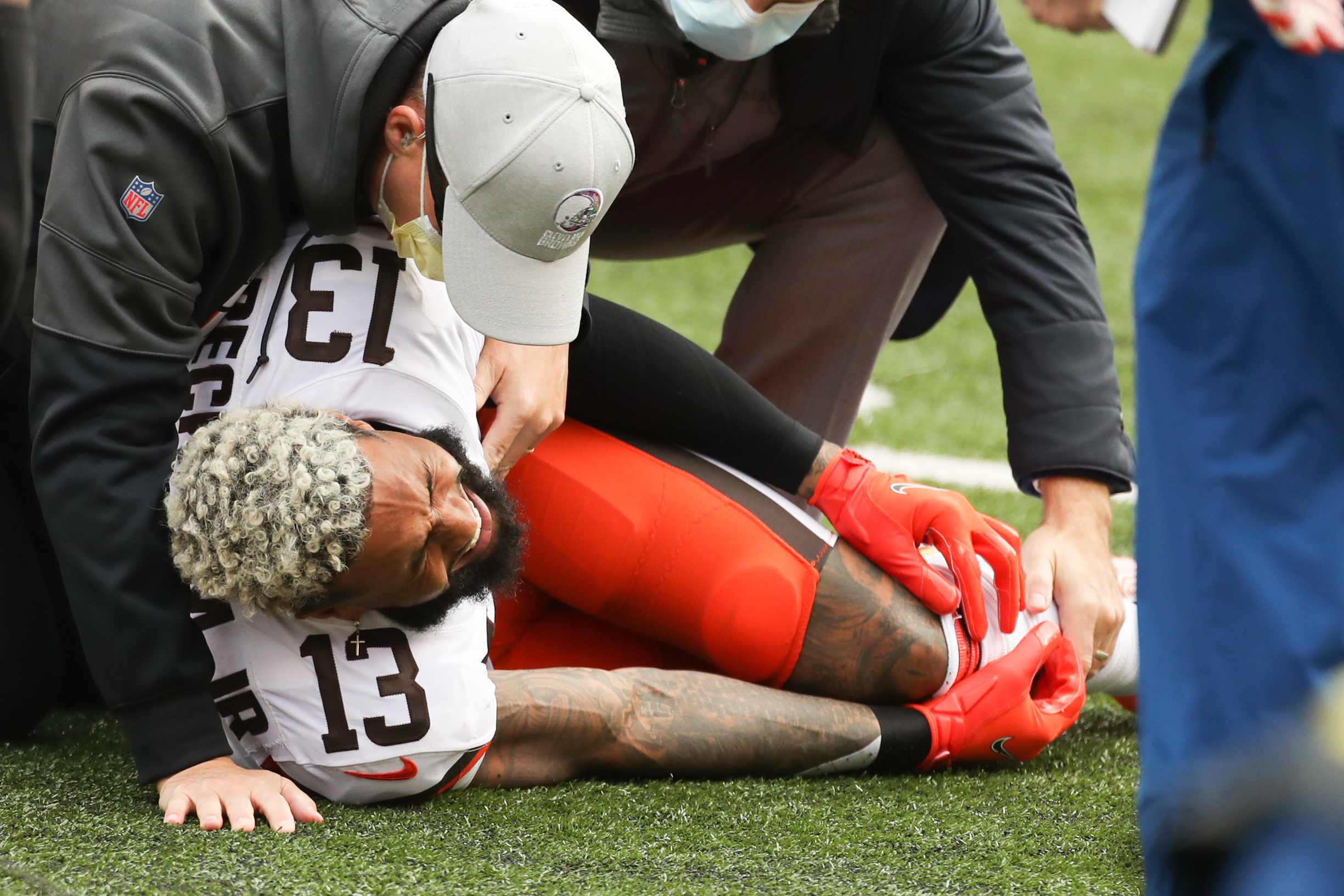 Odell Beckham Jr.'s Knee Injury Could Be a Devastating End to His Time in Cleveland
Odell Beckham Jr.'s time with the Cleveland Browns may be over. A torn ACL will end Beckham's season early and is possibly a sad end to his Browns tenure.
Odell Beckham Jr. may have played his final down for the Cleveland Browns.
Beckham, the eccentric All-Pro wideout, suffered a torn ACL in a Week 7 victory over the Cincinnati Bengals. The injury will keep Beckham, who turns 28 on November 5, out for the remainder of the 2020 season.
Not only is quarterback Baker Mayfield playing without one of his best weapons, but Beckham's time with the Cleveland Browns could have a devastating ending.
Odell Beckham Jr. will miss the rest of the 2020 season
For the second time in four years, Odell Beckham Jr.'s season had ended prematurely due to injury. 
In 2017, Beckham's penultimate season with the New York Giants, he suffered a fractured ankle. Beckham bounced back in 2018 to catch 77 passes for 1,052 yards and six touchdowns in 12 games. 
Now, Beckham is on the shelf again. Beckham went down in the Week 7 victory over Cincinnati with a knee injury, and trainers helped off the field. Cameras caught Beckham grimacing in pain as he held his knee. 
An MRI on Monday revealed the results Cleveland feared: a torn ACL, which knocks Beckham out for the rest of this season. In seven games this year, Beckham turned 23 passes into 319 yards and three touchdowns. 
Beckham also had a 50-yard touchdown run that contributed to 72 total rushing yards this season.
For his career, Odell Beckham Jr. has 487 receptions for 6,830 yards and 51 touchdowns. He earned Pro Bowl honors in his first three seasons and second-team All-Pro honors in 2015 and 2016.
Beckham has had a troubled tenure in Cleveland
The marriage between Odell Beckham Jr. and the Cleveland Browns appeared doomed from the start. 
Beckham is an eccentric, and a sometimes controversial, figure who thrived in the New York (technically, New Jersey) spotlight. The Giants traded him to Cleveland, where careers go to die and where big-name acquisitions never pan out. 
Beckham's overall numbers from 2019 — 74 catches for 1,035 yards and four touchdowns — didn't reflect how poorly he fit in on a team that fired head coach Freddie Kitchens after one year. 
Odell Beckham Jr. had also been the subject of trade rumors throughout the calendar year. Cleveland emphatically said earlier this season that the team had no intention of trading Beckham anytime soon.
Odell Beckham Jr. may have played his final down for the Browns
Even before the injury, it appeared questionable that Odell Beckham Jr. would return to the Cleveland Browns in 2021.
Although Beckham is under contract through the 2023 season, both he and the Browns might have benefited from a trade. Beckham could go someplace where he'd be the unquestioned No. 1 receiver — a role he technically has in Cleveland, but the Browns use so many different receiving weapons that Beckham rarely has those massive performances — and Cleveland could avoid any further potential issues.
If Beckham is on the Browns' roster on the third day of the 2021 league year, he will receive his entire $15.75 million in total compensation. Even so, the injury could accelerate Beckham's departure from Cleveland.
This is not a situation where Beckham was still an all-world player. He and the Browns haven't been a fit, and now Cleveland might have more reason to take the financial hit that would come by cutting Beckham.
Cleveland will have $12.7 million in dead cap if Odell Beckham Jr. is not on the roster in 2021. Given Beckham's age, significant knee injury, and lack of productivity relative to his potential, that one-year hit might be worth it.
All contract figures courtesy of Spotrac.