Odell Beckham Jr. Is Sending a Threatening Message to Future Employers Following His Shocking Browns Release
Odell Beckham Jr.'s release from the Cleveland Browns was a swift and confusing matter.
One day he was on the roster gearing up for practice; the next, he was subject to waiver wires for the first time in his NFL career. The Browns foolishly didn't trade him at the deadline for reasons unknown, ultimately cutting him for absolutely nothing in return. It's possible they couldn't find a suitor before time expired. However, common sense suggests at least one team would have lobbed a seventh-rounder to Cleveland in exchange for a potential WR1 in OBJ.
Regardless, Beckham Jr. is on waivers, and interested teams can claim him by November 8. However, the message OBJ is putting out there should scare certain teams off.
Odell Beckham Jr. hasn't tasted playoff football in a long time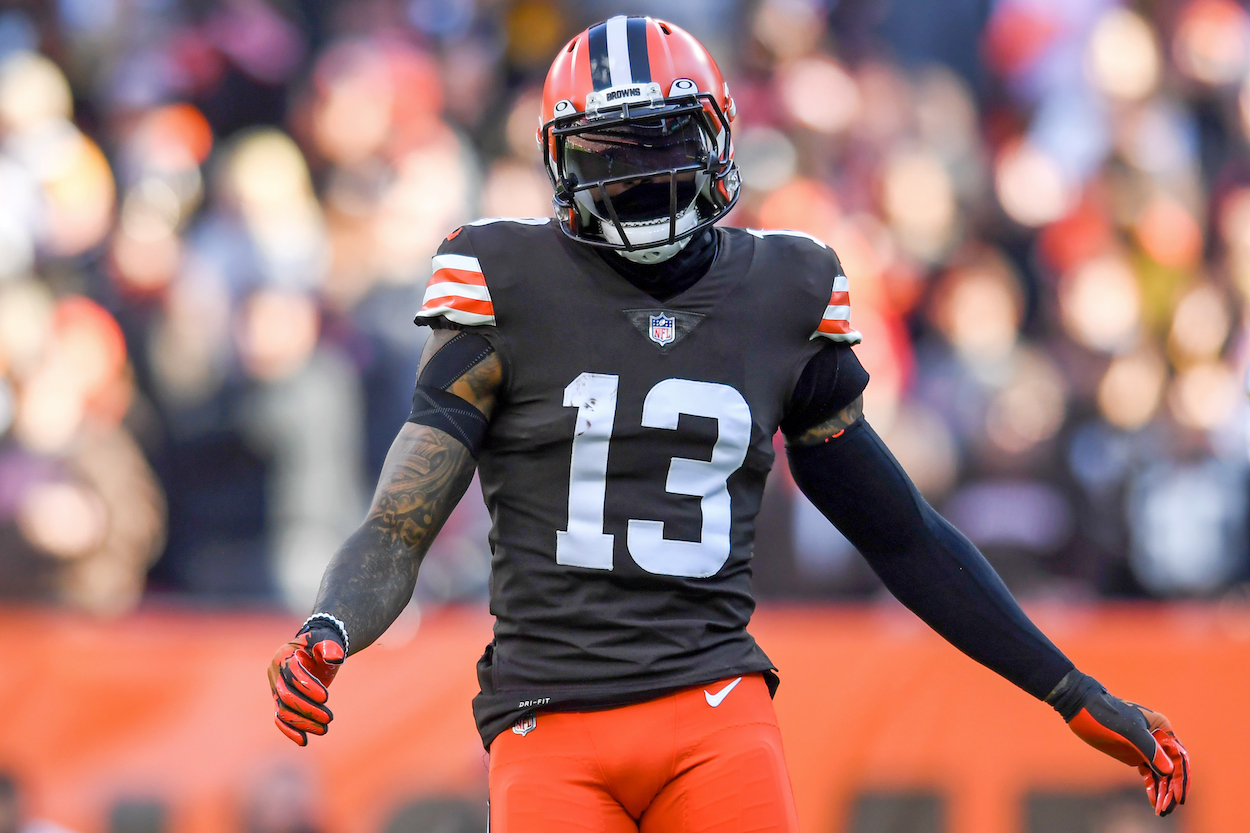 The biggest issue Beckham Jr. was dealing with in Cleveland was a lack of targets. He wanted to see 10-15 targets per game, whereas Browns quarterback Baker Mayfield was more interested in spreading the ball around.
However, another problem OBJ was dealing with in Cleveland was an overall lack of success. Sure, the Browns made the postseason in 2020. However, Beckham Jr. was injured at the time and unable to participate. That means the last time the controversial wide receiver tasted playoff football was way back in 2016 with the New York Giants.
That's quite a long time for a top-tier receiver to operate playoff-less.
OBJ is telling the bad teams to stay away
With this in mind, Beckham Jr. is looking to take advantage of his newfound freedom. He'll have a chance to negotiate with teams as a free agent if he can clear waivers unclaimed, paving the way to land on a good organization in the playoff hunt.
So, Beckham Jr. is simply telling the bad teams to stay away.
According to NFL insider Adam Schefter, Beckham Jr. "wants to spend the rest of this season with a playoff contender and in a winning environment" and "there could be potential issues" for a team that claims him if they aren't currently competitive.
It's unclear what type of "issues" OBJ is referring to. However, he's a prevalent figure with a ton of connections in the media. It's reasonable to assume he could make life hell for an organization like Detroit or Houston if they put a waiver claim in for him.
Odell Beckham Jr. has a few attractive suitors
If Beckham Jr. can clear waivers unclaimed, there are a handful of teams who make perfect sense as fits. Teams in the mix for a postseason spot, but don't have an established WR1 on the roster.
The Las Vegas Raiders, New England Patriots, Baltimore Ravens, and New Orleans Saints tick all the boxes for OBJ. Each team is currently in a playoff spot, and each can afford to give OBJ 10-plus targets per game.
Time will tell if OBJ can clear waivers and make it to free agency. However, he's doing everything on his side of the equation to make sure it happens. This is all somewhat unprecedented at the end of the day. No one is quite sure how it will play out.
Like Sportscasting on Facebook. Follow us on Twitter @sportscasting19.