Odell Beckham Jr. Is Still Taking Shots at the Cleveland Browns, but Maybe He Has a Point: 'Over the Last Couple of Years, I've Felt Deprived'
Odell Beckham Jr. has clearly found home with the Los Angeles Rams.
He gained his footing in Sean McVay's system, and he's been rolling. He's looked as good as he has for a long time. Perhaps catching footballs from Matthew Stafford rather than Baker Mayfield makes all the difference.
The results are there for OBJ, and the Rams, winners of four-straight, are flying high as well. Still, Beckham just can't seem to get the Cleveland Browns off his mind. At least, that's what it sounds like.
Odell Beckham Jr. says he's been deprived the past few years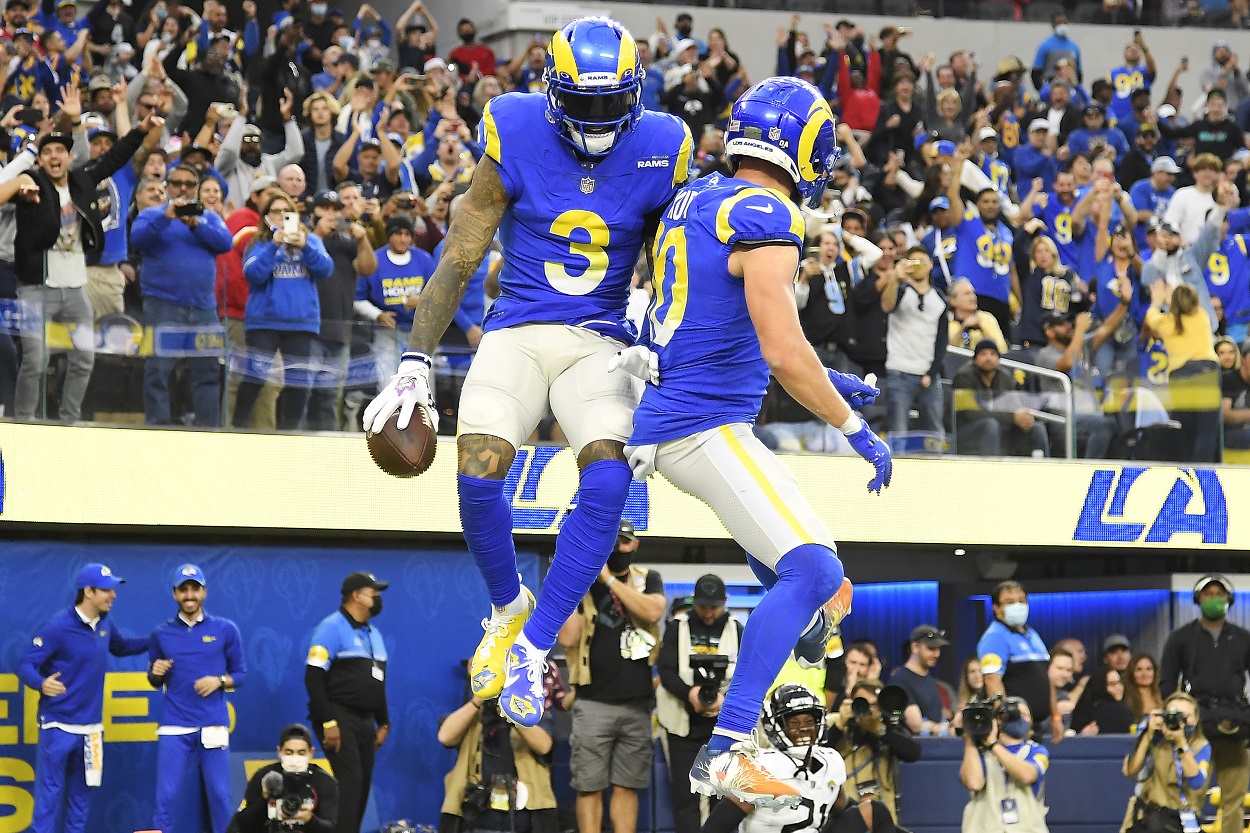 Beckham has kind of developed a talent for being snarky without being straightforward with it. Some may call that being passive-aggressive, and perhaps it's true. After all, it was technically OBJ's father who was calling out Mayfield in Cleveland. Do you think he would have done that had OBJ not green-lit the social media post, though? There's an ocean-front property in Nebraska with your name on it if you do. Just sign on the dotted line.
Frankly, it's impossible to hear what OBJ had to say about his recent success in LA and not take it as a dig against Cleveland. He might have a point, and frankly, he does, but it's still a shot at the Browns.
"It's been great," Beckham said about his recent touchdown success in LA, according to ESPN. "Over the last couple of years, I've felt deprived. I've definitely missed the end zone for sure, and it just hasn't been as easy and seamless as it could and should be. I'm someone who I feel like I should score once or twice every single game, I feel like I can get 100 yards every single game."
The sometimes controversial wide receiver also relayed that he's in a better place in his relationship with football.
"I'm just happy that I'm at a place that I'm having fun within myself," he said. "Just having fun playing football again."
Beckham has clearly gotten the best of his split with Cleveland
For those reading from under a rock, OBJ had been in Cleveland for the past couple of seasons before he was released midway through this season.
He basically forced his way out (he was anonymously ripped as a malcontent just days before being released) and ultimately ended up with the Rams, which is kind of a step up, isn't it?
It is.
The Rams are currently 11-4 and a contender for the Super Bowl. Plus, it's LA. Cleveland is 7-8 and one loss away from being eliminated from playoff contention.
What once looked like a Super Bowl roster on paper has been a significant disappointment in 2021, and there are legitimate questions and concerns about whether or not Mayfield is the long-term answer at quarterback for the Browns. Hint: He's not.
Maybe OBJ's dad was right.
Either way, the Rams and Browns are in two completely different situations right now, but it doesn't take a veteran NFL scout to see that the situation in LA is much preferable to what the Browns have been dealing with this season.
In that way, even though OBJ was technically cut by the franchise that had such high expectations for him, he came out of this as the winner.
Does he sound like someone who regrets ditching Cleveland for the sunny skies of LA?
Not even a bit.
Maybe Cleveland was the problem for OBJ after all
Beckham's legacy from his time in Cleveland will be that of a frustrated star receiver who didn't feel like he got the football enough. If refs could throw a flag for poor body language, OBJ would have been called for a penalty in almost every game he played for Cleveland. That's far from the case in LA, though. So much so that even McVay can't help but gush about the player the Rams now have.
"He's got a great charisma, great presence, he's an incredibly talented football player and then I can attest to this now, he's a great teammate," McVay said. "He really cares about these guys, he's been incredibly selfless, he's made plays when he's had the opportunity."
Where was this guy in Cleveland?
Since joining the Rams in November, Beckham has caught 20 passes for 248 yards and four touchdowns. He's caught a touchdown pass in four of the six games he's played for LA, and he seems relatively comfortable playing second-fiddle to Cooper Kupp, who is having a monstrous "triple-crown" worthy season for the Rams. Kupp currently leads the league in catches (132), receiving yards (1,734), and receiving touchdowns (14).
In terms of what he had to say about his attitude, OBJ thinks all of the people who have thought of him as a selfish player, if not a typical diva wide receiver, had him all wrong.
"Man, I find it funny, all the talks that ever been said about me being a me guy. People are going to say whatever but just have no idea," Beckham said.
He related that he knew when he chose to sign with LA that Kupp has been having a historic season for the Rams, and he didn't sign with the intention of just eating up a bunch of targets.
"That's just not being me — yeah I want the ball, I'm a competitor, but like I said, I came late to the party," OBJ said.
Beckham may have been late to the party, but he's no doubt fit into the scene. Maybe things were that bad in Cleveland. Sometimes a fresh start is all it takes, and that's being proven once again with OBJ.
Stats courtesy of ESPN and Pro Football Reference.