Odell Beckham Jr. Torches Giants in Hilarious Tweet Ahead of NFL Free Agency
Odell Beckham Jr. is a Super Bowl Champion after joining the Los Angeles Rams in the middle of the 2021 season. Now, Beckham is headed for free agency, although a devastating ACL injury could mean a return to Hollywood after all.
Nonetheless, teams should be inquiring about Beckham, especially with his performance during his time in LA after being released from the Cleveland Browns. Injury aside, several teams should be interested in the talented wide receiver, and some destinations make more sense than others.
Before anybody asks, no, the New York Giants are not a possibility. That is even clearer after Beckham took to Twitter and torched his former franchise with a hilarious Tweet.
Odell Beckham Jr. torches the Giants in hilarious fashion on Twitter
Beckham hasn't forgotten about his unfortunate ending with the G-Men. When Beckham was brought up about the possibility of returning to MetLife Stadium and playing for the Giants, he quickly shot it down.
As Beckham said, he doesn't want to be "a problem and a locker room cancer."
Beckham was marvelous for the Giants on the field, but the last couple of seasons didn't work out very well for him. Recently, former Giants QB Eli Manning spoke to great lengths about Beckham's New York tenure while acknowledging that he is happy for his turnaround in the NFL.
The Giants ended up trading Beckham to the Browns, and we all know how things work out in Cleveland with Baker Mayfield and all of that.
Even after winning the Super Bowl, Beckham still has bitterness toward the Giants, and rightfully so.
Beckham's time with the Giants was good and bad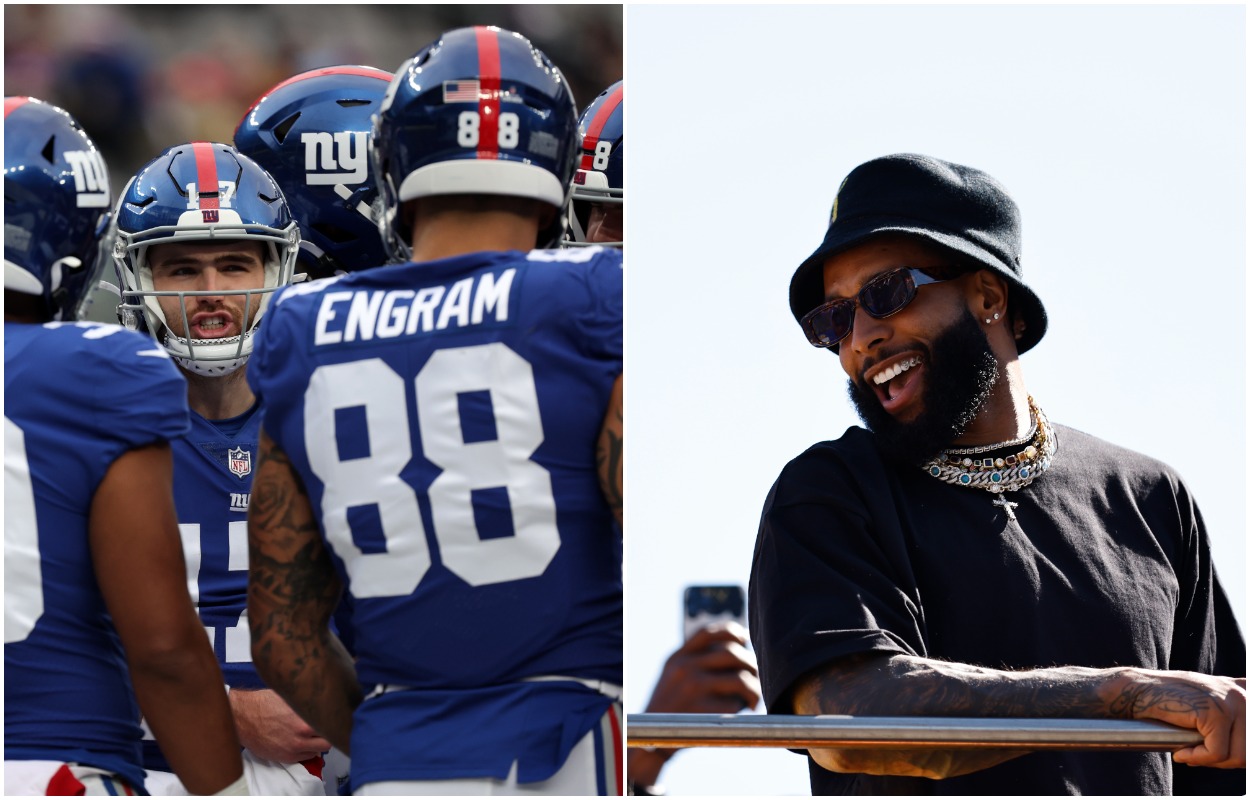 To no surprise, Giants fans are desperate for Beckham to return to their side. However, his latest comments show that there is no way he even considers now or ever.
Lately, Beckham spoke about his time with the Giants, and he had both good and bad things to say, including an interesting comment ahead of Super Bowl 56 (h/t Dan Benton of Giants Wire).
"First, I didn't leave, I got booted. Second, it is a great feeling to be here at this moment."

Odell Beckham Jr.
On the other hand, Beckham showed how important the Giants were to his carer, saying, "those are some of the greatest years of my life."
But, things took an ugly turn at the end, and he was traded to the Browns. Then, he played an essential role for the Rams on their Super Bowl journey and was in line for a massive payday before the injury in Super Bowl 56.
If it wasn't evident before that a return to the Giants is out of the cards for Beckham, it is crystal clear now.
Who will take a chance on the Rams WR in free agency?
Unfortunately, Beckham was expected to be a hot commodity when free agency rolled around. After joining the Rams, he impressed and became a focal point of the dangerous LA offense with Matthew Stafford under center.
The injury changes things in a big way, but that won't stop teams from showing interest — albeit, on a much smaller deal than he would've gotten, presumably. But, Beckham made sure to come back in a huge way.
The Rams make too much sense for a reunion, although their cap space is tricky. The Giants and Browns are clearly out of the picture, but too many teams need a big-body red-zone threat like Beckham.
When NFL free agency kicks off in the middle of March, Beckham will be one of the more interesting cases. The talent is there, and he turned things around drastically in a short time in California.
The Jacksonville Jaguars and Las Vegas Raiders are both WR-needy teams and have ample cap space to sign him, although that might not be where he wants to go after the sweet taste of a Super Bowl victory.
One thing is sure: We can rule out the Giants, especially after Beckham's latest jab toward his former employer.
RELATED: Odell Beckham Jr.'s ACL Injury Means a Rams' Reunion is Likely