Odell Beckham Jr. Won the Genetic Lottery With His Athletic Parents
Odell Beckham Jr.'s time in Cleveland hasn't lived up to expectations. Regardless, he's been one of the biggest NFL stars for most of his career. He's put in plenty of work to become a great wide receiver, but his lineage gave him tools to succeed, too. Athletic excellence is a generational touchstone in the Beckham family. Both of his parents played sports at a high level, but they weren't OBJ's only relatives to do so. 
Even among NFL players, Odell Beckham Jr. is an unreal athlete
A number of videos show Odell Beckham Jr. displaying his athleticism in sports other than football. Here he is playing soccer with more finesse and confidence than some members of the U.S. Men's national team:
In this clip, Beckham swings for the fences:
He can also throw down dunks worthy of a dunk contest:
Beckham can also kick field goals and throw a football well enough to be a backup quarterback. Having these talents plus his elite receiving ability is just Beckham running up the score. His touchdown pass against the Cowboys in his rookie season thrust him into the spotlight. Beckham backed it up by becoming a consistently brilliant outside threat.
In each of his first three seasons, Beckham made the Pro Bowl. The only two years he hasn't accrued over 1,000 receiving yards ended with an injury after four games. And he did it without an elite quarterback at any point. It likely explains why some critics look for any chance to discredit him or place the failures of a team on his shoulders. It's easy to be jealous of a man who is rich, gifted, and handsome. 
There's a reason Beckham is seemingly good at every sport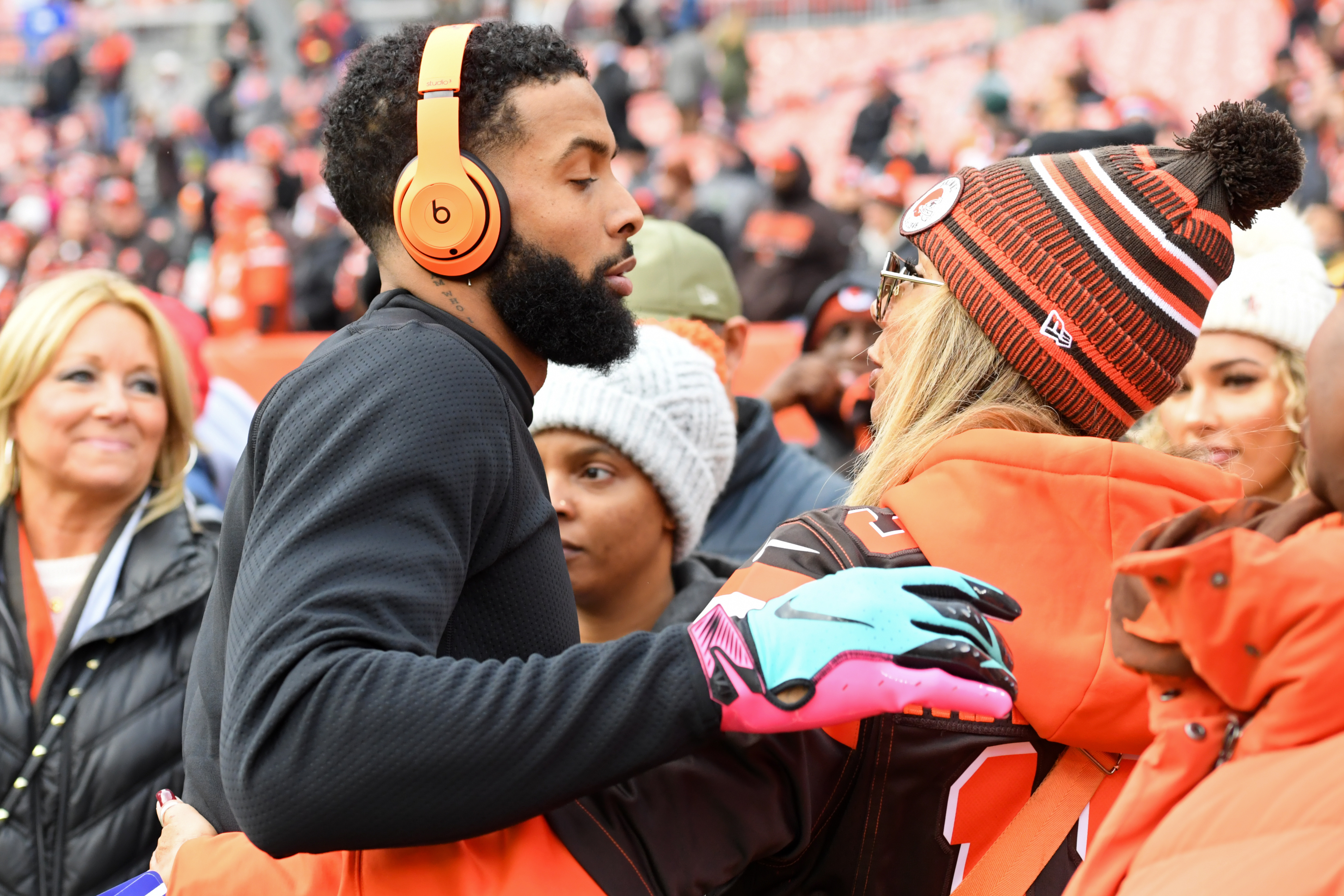 RELATED: Odell Beckham Jr. Came Extremely Close to Calling It Quits
While the rest of us were gawking at Beckham's incredible dexterity for that catch against the Cowboys, his father didn't think it was a big deal. In most other cases, this would be an example of parents having unfair standards for their kid, the history of the Beckham family makes it more understandable that they would be nonplussed by plays like that. Such feats are not rare in their family.
Odell Beckham Sr. also played college football at LSU, starting at running back for nine of the 28 games he played for the Tigers from 1989 to 1992. His mother, Heather Van Norman, went a step further at the school and became one of the best track and field stars in school history, according to Fanbuzz.  
She arrived onto campus in 1989 and was an All-American in all six years of her college career. In addition to that, she won three straight NCAA outdoor titles from 1991 to 1993, two indoor national titles (1991 and 1993) and won both indoor and outdoor SEC titles in 1993 and 1995.
RELATED: Odell Beckham Jr. and Kevin Durant Invested Heavily in the Future of Esports
Van Norman was such a physical specimen that even creating a life couldn't get her off the track. In 1992, she realized she was pregnant with Odell while she was preparing for the Olympic trials. She continued to run every day until she gave birth.
The athletic lineage goes even further, according to the New York Daily News. Odell's grandmother, Margaret Sauls Jones, said played basketball, volleyball, ran track, and threw the discus at Dunbar-Meredith High in Temple, Texas. 
Even his stepfather, Derek Mills, was a Gold medalist in the 1996 Olympic Games. Mills also ran as part of the United States 4X400 Relay and also appeared in the 1995 World Championship where he was ranked as high as No. 2 in the world the 400 meters. Odell was destined to be a top-level player in whatever sport he chose.
Hopefully, his genetic background helps him recover from his ACL injury
Beckham's career has hit a crossroads in Cleveland. He's struggled to put up big numbers on a regular basis, but it's hard to know how much of his underperformance is down to him, the general mediocrity of Baker Mayfield, and the borderline incompetence of the Browns front office. Beckham's dealt with injuries before, but nothing as serious as the torn ACL he suffered against the Cincinnati Bengals. 
It's tough to foresee what his future in the NFL will be. Rumors about him leaving Cleveland have circled him ever since he put on the uniform, and if Mayfield continues to inexplicably play well without his most talented wideout, then there will be louder calls to get rid of him.
There's also no way to know what kind of player Beckham will be until he gets back on the field. Considering the gap between him and most other athletes, he has much more room for ever than the majority of his peers.