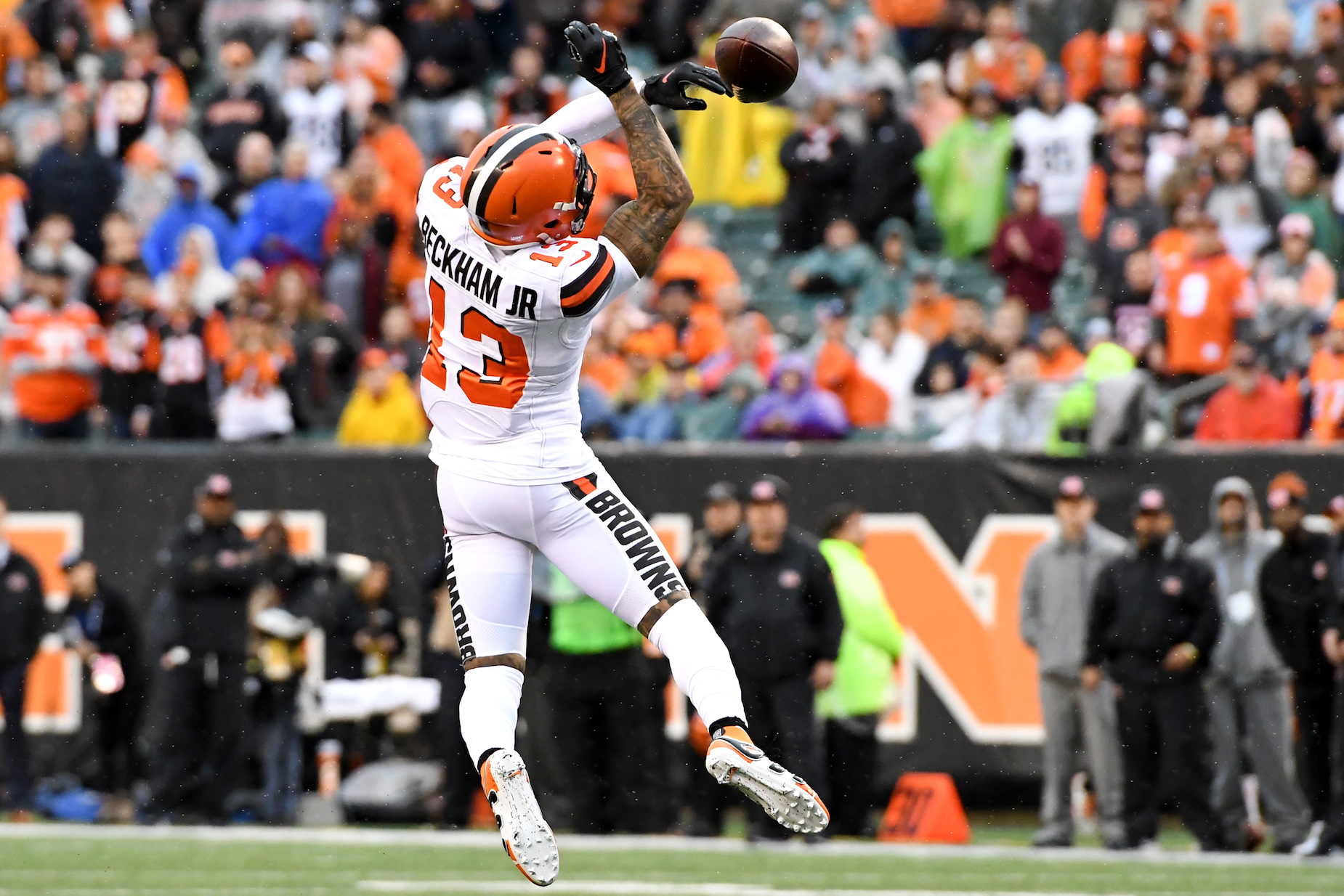 Odell Beckham Jr. Would Miss Out on a $14 Million Payday if He Doesn't Play Football in 2020
If Odell Beckham doesn't play football in 2020, he'll be missing out on a potential $14 million paycheck from the Cleveland Browns.
During his time in the NFL, Odell Beckham Jr. hasn't been shy about making headlines. Between his on-field play and off-field personality, the Cleveland Browns receiver has grown into one of the biggest names in professional football. In 2020, however, OBJ might not be too keen on taking the field.
In a recent interview, Beckham Jr. went on the record saying that he feels like the 2020 NFL season "shouldn't happen." While talk might be cheap, the receiver would be giving up $14 million if the season fails to get off the ground.
Odell Beckham Jr. has become one of the NFL's biggest names
In the world of sports, the old cliche says that defense wins championships. In the modern NFL, however, offensive stars like Odell Beckham Jr. are incredibly important.
OBJ played his college ball at LSU, where he grew from a true freshman into a legitimate star. He spent three seasons with the Tigers, piling up 2,340 receiving yards and 12 touchdowns before entering into the 2014 NFL draft.
The New York Giants liked what they saw and selected Beckham with the 12th overall pick. Although he battled through some injuries as a rookie, the receiver finished his inaugural NFL campaign with 91 receptions for 1,305 yards and 12 touchdowns. That stat line, combined with his iconic one-handed catch, let football fans everywhere know that OBJ was the real deal.
While things haven't been ideal since then—the Giants changed coaches, and Beckham was eventually dealt to Cleveland, where he had to adjust to an entirely new situation—no one can question the receiver's talent. Through Beckham's six seasons in the pros, he's piled up 464 catches, 6,511 receiving yards, and 48 touchdowns; with numbers like that, it's easy to overlook his questionable outfits and touchdown celebrations.
Questioning the wisdom of the 2020 NFL season
On paper, the 2020 NFL season was supposed to be a chance for Odell Beckham Jr. to rebound from a tough start in Cleveland. The coronavirus pandemic, however, has thrown everything into question.
Earlier this summer, OBJ took part in a roundtable conversation with Victor Cruz, Todd Gurley, and Cam Newton. At the time, he said that he was "relaxed" about the idea of potentially sitting out the 2020 season; he also explained that there were other issues, mainly around health and safety, that needed to be answered before the season began.
In an interview with Lane Florsheim of The Wall Street Journal, Beckham reiterated his position. "That's how I feel," the receiver explained. "Obviously with everything that's going on, it doesn't make sense why we're trying to do this. … We're not ready for football season. So why are we trying to push forward? It's obviously for their money. And that bothers me because there's always been this—and I hate saying it like that—but the owners' [attitude is], Oh we own you guys, and just kind of that unfairness going on that they don't see us as human. I just feel like the season shouldn't happen and I'm prepared for it to not happen and I wouldn't mind not having it."
As Florsheim noted, however, a decent amount has changed since the interview; the NFL and NFLPA hammered out an agreement and OBJ, like many other players, reported for training camp.
Odell Beckham Jr. would be giving up $14 million if there's no football
Everyone's heard the phrase, "talk is cheap." If Odell Beckham Jr.'s words come to pass, however, he'll be out roughly $14 million.
According to Spotrac, the receiver is slated to earn $14.25 million during the 2020 NFL season; it goes without saying that Beckham will have to play football to receive that cash. As explained by Ben Volin of The Boston Globe, "no games, [means] no payment of base salary or per-game bonuses, which is the majority of compensation for most players. Players get their base salary and bonuses only when games are played, whether that happens in September, November, or not at all."
Even if OBJ opts out, he'll still take a serious financial hit. According to Jason Fitzgerald of Over the Cap, there are two opt-out categories. High-risk players will receive a $350,000 stipend if they choose not to play; voluntary opt-outs will get a $150,000 salary advance on their 2020 salary, and their contract will essentially slide back by a year.
It's worth noting, however, that Odell Beckham Jr.'s quotes may be out of date and obsolete; according to Mary Kay Cabot, the receiver's interview took place weeks ago, and he currently has no intention of opting out. At the same time, though, his sentiments should help put the gravity of the situation in perspective.
If players are willing to give up multimillion-dollar paychecks, maybe we should consider the risks of playing professional sports outside of a bubble.
Stats courtesy of Sports-Reference and Pro-Football-Reference