It's Officially Time For the Denver Broncos to Hit the Panic Button
Through nine weeks, it is obvious that parity is at an all-time high in the National Football League. It's why upstart teams like the Oakland Raiders and Dallas Cowboys are emerging as Super Bowl contenders; it's why teams like the Green Bay Packers and Pittsburgh Steelers have struggled their way to .500 overall records; and it's why the Denver Broncos are learning that it's extremely difficult to repeat as Super Bowl champions.
After getting off to a 4-0 start in 2016, it looked as though the Broncos were well on their way to yet another showdown with the New England Patriots in the 2016 AFC Championship Game. Since then, however, they have dropped three of their last five games (bringing their overall record to 6-3), and suddenly find themselves sitting in third place in the AFC West.
What's more troubling, though, is not that the Broncos are in danger of having their streak of five-straight division titles come to an end. It's that with the way Denver has played lately, there is a real possibility that they may miss the postseason altogether in 2016. With that being the case, it's officially time for the Broncos to hit the panic button. Here's why.
It's no secret that the roots of the Broncos' issues are on the offensive side of the ball. Whether it is warranted or not, most fingers point at their quarterback situation as the cause of their troubles. With the retirement of Peyton Manning and the loss of Brock Osweiler during free agency, Denver turned to second-year pro Trevor Siemian — a former seventh-round draft pick — as the starting quarterback who would lead them during their title defense in 2016.
While his inexperience has shown at times, and he has gone through his fair share of growing pains, Siemian hasn't been the Broncos' problem. Yes, he could be better, and he has a long way to go before he is an unquestioned franchise quarterback. But in our eyes, the Broncos are actually better off with Siemian than they would have been had they signed Osweiler to a $15 million per year contract (for what it's worth, Siemian's numbers through his first eight NFL starts are almost identical to those of Osweiler).
If you ask us, the Broncos' offensive issues can be traced to two factors.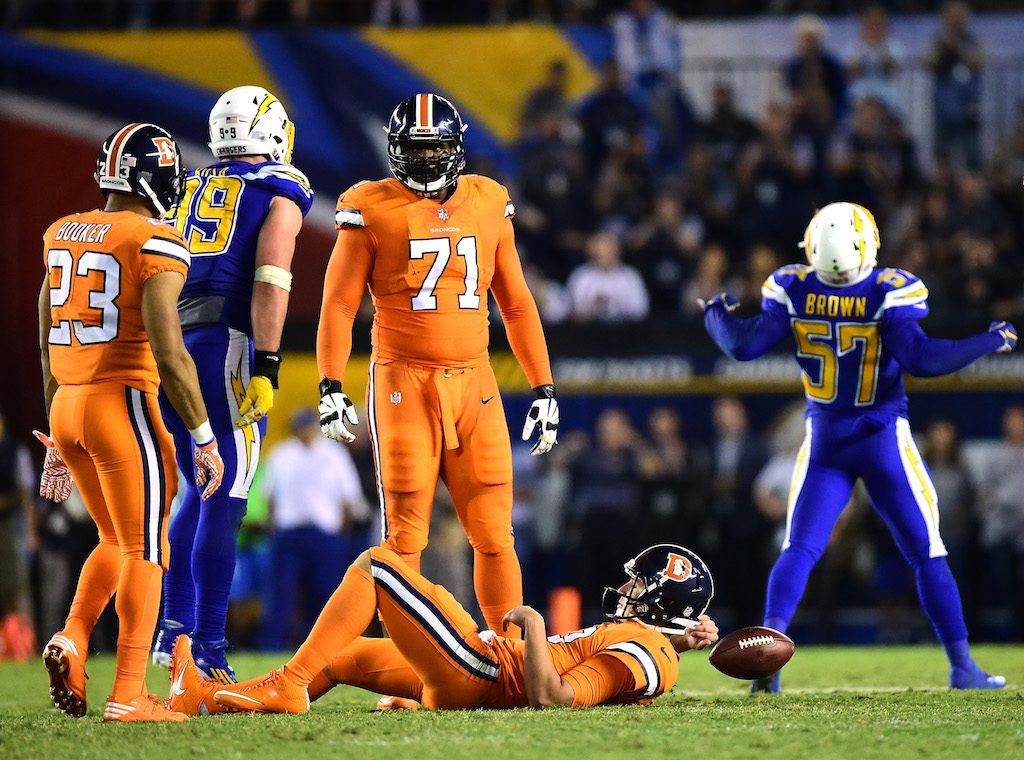 The first issue is their offensive line; it all starts up front, right? For as outstanding as John Elway has been during his reign as the team's general manager, one position group he has never totally addressed is the offensive line. Here is a quick rundown on Denver's current starting offensive line and how they've graded out this season according to Pro Football Focus:
Russell Okung, left tackle: 52.6 (No. 48 overall offensive tackle)
Max Garcia, left guard: 73.3 (No. 41 overall offensive guard)
Matt Paradis, center: 88.0 (No. 1 overall center)
Michael Schofield, right guard: 75.9 (No. 29 overall offensive guard)
Donald Stephenson, right tackle: 30.8 (No. 73 overall offensive tackle)
When you see how poorly the Broncos' offensive line has played in 2016, it's easy to understand why their offense ranks 27th in the league in yards per rush attempt (3.8), 20th in the league in sacks allowed (20), 28th in the league in total offense (323.3), and 28th in the league in third down conversion rate (35.1%).
Now that the trade deadline has passed, this is the offensive line that Denver must go with for the rest of the 2016 season. To be brutally honest, that should be a scary thought for anybody who has ties to the Broncos.
The other factor causing the Broncos to struggle in 2016 is coaching. For starters, head coach Gary Kubiak and offensive coordinator Rick Dennison have taken conservative play calling to a whole new level. The predictability of their offensive play calling, combined with poor execution on the field, has resulted in the Broncos going three and out on 28.44% of their possessions in 2016, which ranks 31st in the league. On top of that, Denver also ranks 28th in the NFL in time of possession per game (27:55). For those who don't already know this, repeated three-and-outs and spending too much time on the field can prove to be too much for even the best defenses in NFL history to overcome.
If that weren't enough, we can't even count how many times the Broncos have attempted passes on third down that are nowhere close to being deep enough to convert a first down — something that falls squarely on the shoulders of the team's play callers.
If the Broncos are going to have any chance at defending their Super Bowl title in 2016, there are several things that must change in a hurry. Kubiak needs to do a little soul-searching and come to the realization that his team simply does not have the personnel to run the offensive scheme that he is familiar with (and opposing teams have clearly figured out a way to attack them); their players (specifically their offensive line) must start executing more consistently; and lastly, they need their defense to return to full strength. If that doesn't happen, their stranglehold on the AFC West will become nonexistent and they will likely become the latest NFL team to miss the postseason after winning the Super Bowl the year before.
Statistics courtesy of Pro-Football-Reference and ESPN.