Often-Mocked Lonzo Ball Has Been Worth Every Penny to the Chicago Bulls Due to 1 Major Development
Once upon a time, there were two No. 2 overall NBA draft picks. Both entered the league with strange, unconventional-looking jump shots. Both players were mocked incessantly as brick after brick clanged against NBA rims. One of those players, Michael Kidd-Gilchrist, faded into obscurity. The other is a rising star in the league because Chicago Bulls point guard Lonzo Ball fixed his faulty shot mechanics and is making defenses pay for ignoring him.
The turnaround for Ball began last season while he was with the New Orleans Pelicans. Not only was his 3-point shot continuing to improve, but the former UCLA star was making free throws at a rate much more befitting the big baller he was proclaimed to be. With the Bulls, Ball is knocking down shots at a better-than-ever rate for a team that leads the Eastern Conference.
Lonzo Ball's jump shot when he got to the NBA was awful
Taken second overall by the Los Angeles Lakers in 2017, Lonzo Ball now admits his jump shot didn't work when he joined the NBA. He had developed a habit of bringing the ball across his body, releasing his right-handed shot from the left side of his body. His wrist flick was almost sideways.
His free throw form was the same. And the results were dreadful. As a rookie, Ball recorded a shooting slash line of 36.0/30.5/45.1. Any NBA player making less than half his free throws is a liability. For a point guard with the ball in his hands so often? It's a recipe to be riding a folding chair late in close games.
Some things improved in his second season. Ball made 40.6 percent overall and 32.9% from 3-point range. But his foul shooting just got fouler, to the tune of 41.7%.
Traded to the Pelicans in the Anthony Davis megadeal, Ball started to find some consistency with the deep ball in 2019–20, hitting 37.5%. That improved to 37.8% last season, both better than league average.
His first year in New Orleans saw an incremental improvement at the free-throw stripe. But Ball still made an unacceptable 56.6%. Last season, things turned dramatically at the line.
Ball is now a legitimate shooter
The improvement as a free-throw shooter took an extra year for Lonzo Ball, but he knocked down 78.1% of his attempts last season.
After signing a four-year, $85 million deal with Chicago, Ball has been better than the Bulls could have dreamed. The 6-foot-6 point guard is averaging 12.6 points per game, down from 14.6 last season. But he's taking nearly two fewer shots per game. His defense is top-notch, and the ball is getting to scorers Zach LaVine and DeMar DeRozan with regularity.
Most importantly, Ball has canned 44.7% of his long-range tries, and his free throw percentage is a gaudy (by his early standards) 83.3%.
One of the greatest shooters in NBA history has noticed. Former teammate JJ Redick gushed about Ball's improved touch during an episode of his The Old Man and the Three podcast:
"Lonzo Ball has turned himself into one of the best shooters in the league. When he's not thinking and just shooting, he's as good as anyone in the league shooting the ball."
Redick, who spent most of last season playing with Ball in New Orleans, should know. He's a career 41.5% shooter from deep, good for 17th on the all-time list.
What changed?
Lonzo Ball re-invented his shooting stroke in a way Kidd-Gilchrist never could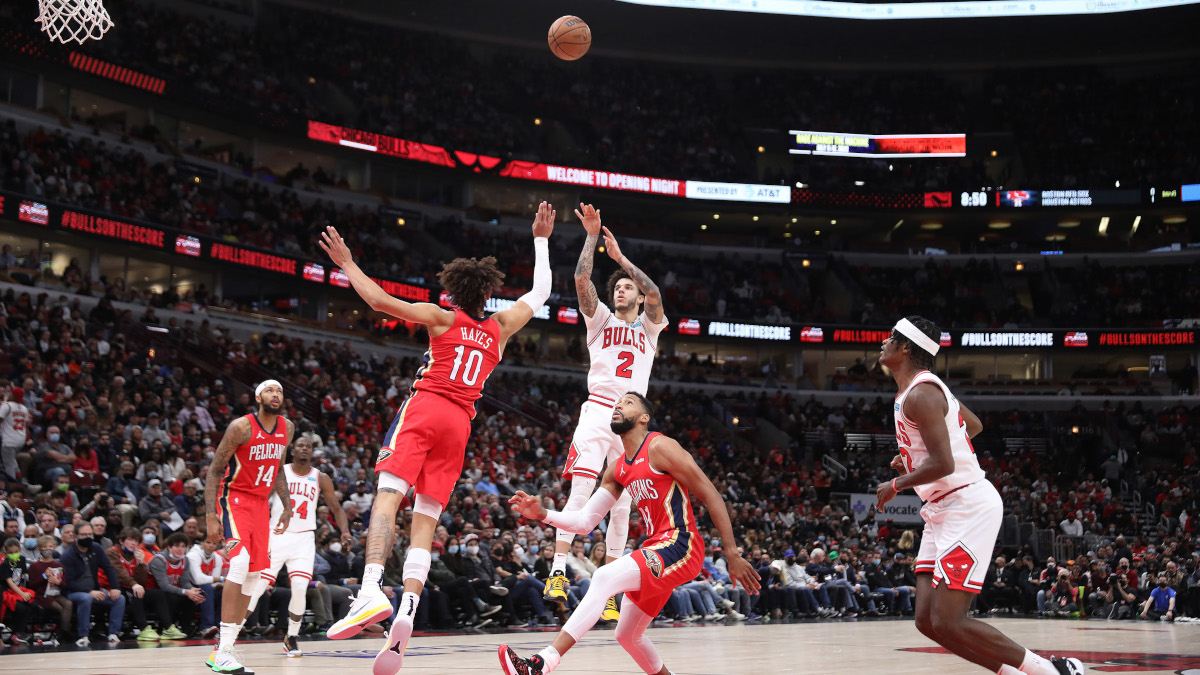 Entering the NBA, Lonzo Ball and Kidd-Gilchrist had outstanding defensive potential. While each got flagged for poor shooting technique, that was something their organizations believed could be corrected.
The Lakers, who famously didn't employ a shooting coach during Ball's time in LA, didn't fix what ailed Ball's jumper. But he found what he needed in New Orleans. The old cross-body delivery was gone in favor of a fluid, quick release that could be on an instructional video.
In Charlotte, Kidd-Gilchrist never found the touch. He last played with the Dallas Mavericks in 2019–20 and was cut by the New York Knicks before last season. While he hasn't retired, the NBA appears to have moved on from a now 28-year-old with a broken jumper.
Meanwhile, in Chicago, Ball's star is on the rise. The Bulls are one of the surprises in the Eastern Conference and share the top spot in the East with the also-surprising Washington Wizards.
Critics questioned whether the Ball-LaVine-DeRozan combination would work in Chicago. The early results show it's not just working; it's thriving. Lonzo Ball's continued improvement as a shooter is a key to that. The guy no defense needed to cover is now a floor-spacing weapon. The bust talk that followed him early in his career is silent. He did the work and now is reaping the rewards.
Statistics courtesy of Basketball Reference. Contract information courtesy of Spotrac.