Ohio State Coach Ryan Day Has an Interesting Connection With Colin Kaepernick
He hasn't been a head coach for very long, but Ryan Day has already had a lot of success as head coach of the Ohio State Buckeyes. Day helped the Buckeyes become one of the top teams in all of college football last season, continuing the tradition of success that coaches like Urban Meyer, Jim Tressel, and Woody Hayes brought to the program. Day did coach at several places before going to Ohio State, though. Because of that, he actually has an interesting connection with former San Francisco 49ers quarterback Colin Kaepernick.
Ryan Day had a lot of success in his first year leading the Ohio State Buckeyes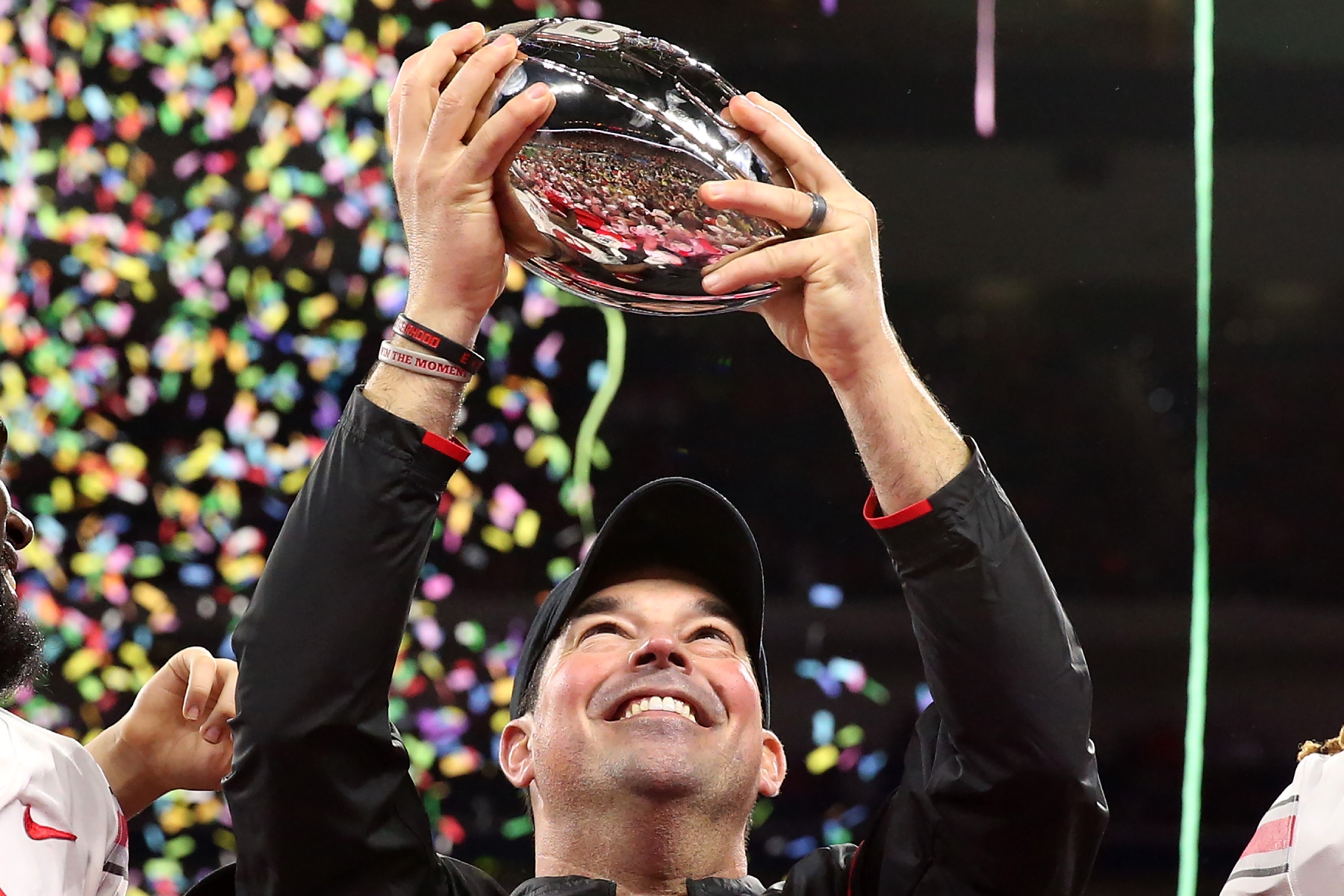 RELATED: Former Ohio State Football Coach Jim Tressel Is Still Finding Success in the Buckeye State
Day came to Ohio State as the co-offensive coordinator/quarterbacks coach in 2017. He was then an offensive coordinator/quarterbacks coach in 2018, but he was also the acting head coach in three games that season. The Buckeyes went 3-0 under Day and averaged 56.3 points per game in those games. They won 77-31 over Oregon State, 52-3 over Rutgers, and 40-28 over TCU.
Urban Meyer then announced his retirement in December 2018, and Ohio State named Day as its next head coach.
In Day's first season as head coach of the Buckeyes, they went 13-0 in the regular season and reached the College Football Playoff. The Buckeyes were one of the best offensive teams in the country too. They ultimately averaged 46.9 points per game, and their defense was also dominant, only allowing 13.7 points per game. The Buckeyes also had two Heisman Trophy finalists in Justin Fields and Chase Young.
Ohio State was certainly one of the best teams in the country in 2019. The Buckeyes are also expected to be one of the best teams this upcoming season.
Colin Kaepernick had a successful NFL career
RELATED: Colin Kaepernick's Girlfriend Nessa Reacts to His New Deal
The 49ers selected Kaepernick in the second round of the 2011 NFL draft. After he threw only five total passes in his rookie season, Kaepernick threw for 1,814 yards, 10 touchdowns, and only three interceptions in 13 games and seven starts in 2012. He also led the 49ers to the Super Bowl that season.
The 49ers lost to the Baltimore Ravens in the Super Bowl, but Kaepernick played well in the game. He threw for 302 yards and a touchdown and ran for 62 yards and a touchdown.
Kaepernick took the 49ers back to the NFC Championship Game in the next season. In 2014, though, despite throwing for a career-high 3,369 yards and running for a career-high 639 yards, Kaepernick and the 49ers missed the playoffs. The 49ers then missed the playoffs in the next two seasons.
During the 2016 season, Kaepernick began kneeling during the national anthem. Despite starting a national debate, he still played well. He threw for 2,241 yards, 16 touchdowns, and four interceptions in 11 starts and 12 total games. However, he has not played since that season, and it is widely believed that it is because of his protests.
Ryan Day coached Colin Kaepernick on the San Francisco 49ers
RELATED: Colin Kaepernick and His Girlfriend Nessa Began Fighting Racial Inequality Way Before He Took a Knee
Day coached at several places before going to Ohio State. According to his bio on Ohio State's site, Day was a tight ends coach at New Hampshire in 2002 before becoming a grad assistant at Boston College and Florida from 2003 through 2005. 
He also coached wide receivers at Boston College from 2007 through 2011 and had two separate stints at Temple, where he coached wide receivers, and was an offensive coordinator. He then went back to Boston College and was the offensive coordinator/quarterbacks coach before becoming the quarterbacks coach for the Philadelphia Eagles in 2015.
In 2016, though, he was the quarterbacks coach for the 49ers with Kaepernick. Once he joined Ohio State the next season, Day discussed what it was like with Kaepernick and the anthem protest.
"When you stepped outside the doors it was a big deal, but when we stepped inside it really wasn't," Day said in 2017, according to Cleveland.com. "Early on there was a little bit of distraction going on but then the team kind of rallied around him a little bit. Then it really wasn't a distraction as much as people made it. We just kind of went to work every day."
Day was also asked about what type of quarterback he thought Kaepernick could still be.
"I think in the right system, his ability to run and pass, obviously you can still see it from last year, is right. He just has to be in the right system," Day said.
Day proved that Kaepernick can succeed in the right system as Kaepernick had a 16-to-4 touchdown-to-interception ratio under Day in 2016. Kaepernick also ran for a career-high 6.8 yards per attempt. Maybe, Kaepernick can eventually get in the right system again and continue to prove Day right.
Stats courtesy of Sports Reference and Pro Football Reference