Ohio State DT Haskell Garrett Was Shot in the Face Just Months Before Leading the Buckeyes To the National Championship Game
A big reason why the Ohio State Buckeyes made the College Football Playoff during the 2020 season was because of the play of Haskell Garrett. The senior defensive tackle was extremely valuable to the Buckeyes' defense throughout 2020. However, just months before leading the Buckeyes to a CFP berth and a win in the semifinals over Clemson, Garrett suffered a gunshot wound to his face.
Haskell Garrett has had a nice career with the Ohio State Buckeyes
RELATED: Ryan Day Was a Record-Setting Quarterback for Chip Kelly Before Becoming Ohio State's Head Coach
Coming into college, Garrett was a four-star and a top 10 defensive tackle prospect, according to his bio on Ohio State's site. He then began playing for the Buckeyes during the 2017 season and has since had a nice career at OSU.
Garrett appeared in eight games in his first season with the Buckeyes before playing in all 14 as a sophomore in 2018.
He then played in 11 games for Ohio State during their incredible 2019 season. Garrett even helped lead them to the College Football Playoff that year before they ultimately lost to Clemson.
Heading into his senior season, though, many fans thought that 2020 would be the year he had the chance to become a star.
Then, just weeks before the start of the season, some wondered if he would ever even play again.
Haskell Garrett got shot in the face before the 2020 season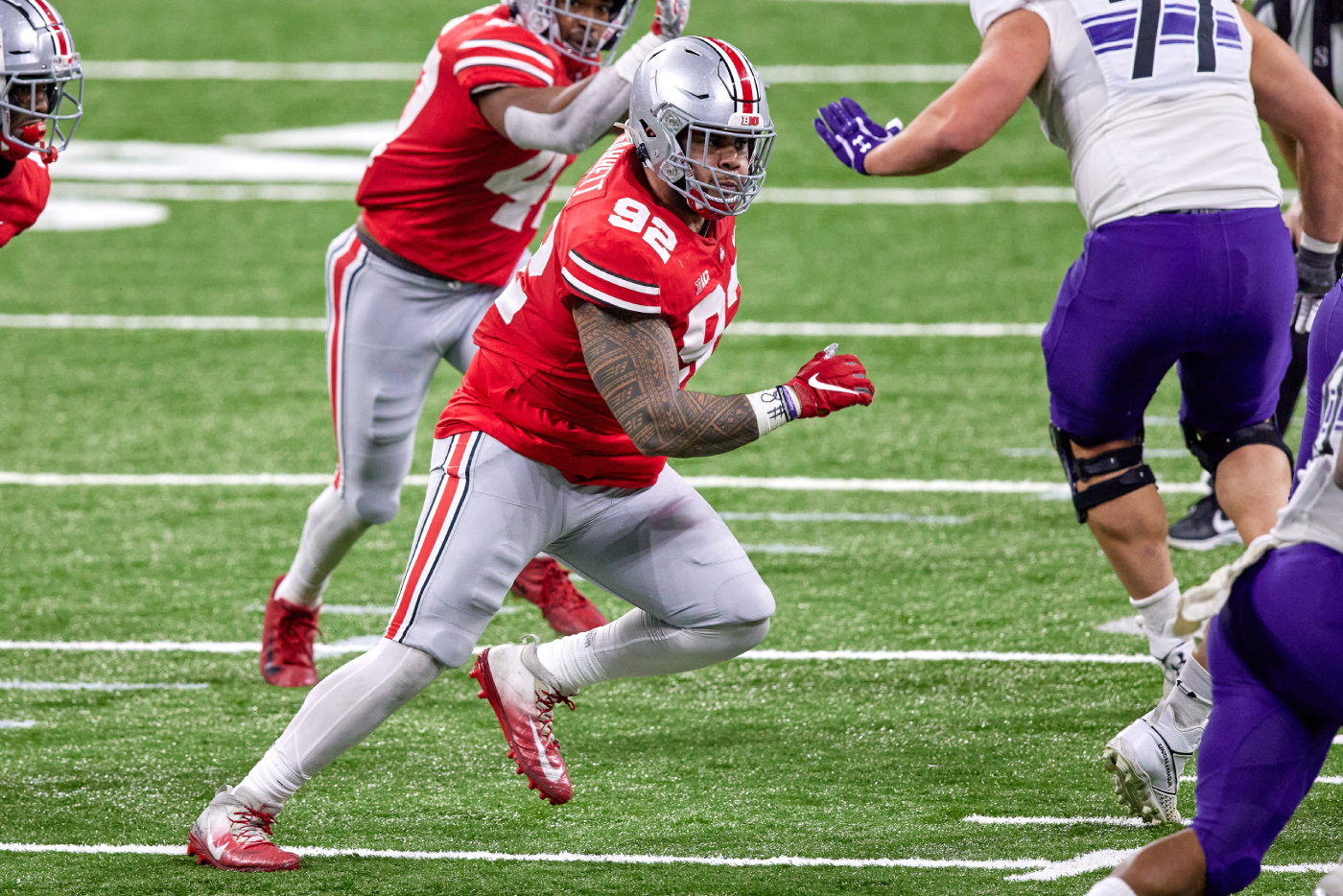 RELATED: Dwayne Haskins Once Admitted That He 'Couldn't Stand' Joe Burrow While at Ohio State
Cleveland.com reports that, according to a Columbus Police Department report, Garrett said that in August, he had encountered a man and woman "arguing and being aggressive." He said that he then told the man to stop arguing with her. The man then pulled out a gun and fired, Garrett said, per Cleveland.com. He ultimately sustained a gunshot wound to his face. The bullet went through one cheek and out the other.
Garrett then had to have multiple surgeries, which included a bone graft in his mouth, according to Cleveland.com. He also lost five teeth. That didn't stop him from contributing to his team, though. Garrett was back in his defensive line coach's office by the end of the same week that the incident occurred.
"Post-surgery I couldn't do anything physically, but I could do stuff mentally and just sit there and talk with coach [Larry Johnson] and go over game plans," Garrett said, according to Cleveland.com. "Just be as prepared as possible when I came back — be ready to do anything and everything to help the team."
Garrett (miraculously) returned to practice. He was then playing for Ohio State in actual game action just seven weeks later. Garrett ultimately played in each of Ohio State's games through the CFP semifinal against Clemson.
"I hugged Haskell Garrett in the locker room after the game and said, 'This is a miracle. It's a miracle,'" Ohio State defensive coordinator Kerry Coombs said after Ohio State's season-opening win over Nebraska, according to Cleveland.com. Garrett recorded a sack in the game. "The kid was shot in the face. And he just never gave up. He kept coming in."
Despite almost losing his football career, and even his life, Garrett ultimately had a breakout year for the Buckeyes in 2020 and helped lead them back to the College Football Playoff.
He helped lead Ohio State back to the College Football Playoff
RELATED: Why Does Ohio State Put Stickers on Its Football Helmets?
Garrett had the best season of his career with the Buckeyes in 2020. In only six games, he recorded 17 total tackles, one interception, and two sacks. He even earned First-Team All-American honors from CBS Sports, according to Ohio State's site.
Garrett ultimately became a force on that Ohio State defensive line in 2020. He even helped lead them to a 49-28 win over the Clemson Tigers in the CFP semifinals, avenging Ohio State's lone loss from the 2019 season. The win also clinched a berth into the national championship game for the Buckeyes.
Earning All-American honors and helping his team get to the national championship is a pretty miraculous feat considering what he went through just months beforehand.
The Ohio State Buckeyes have a ton of talent at pretty much every position. However, it's hard to find a player with as much determination as Haskell Garrett.
Stats courtesy of Ohio State's site