How OKC Can Rebuild Around Russell Westbrook
When news broke that former MVP Kevin Durant had decided to sign with the Golden State Warriors, our initial reaction was disbelief. Sure, we knew there was always the possibility that he could take his talents elsewhere; we just never actually expected it to happen. Yet, once the initial shock of this NBA landscape-altering decision wore off, our focus immediately shifted to an even more pressing question: What was going to happen to Russell Westbrook?
After spending his entire career as half of one of the most dynamic duos in the National Basketball Association, Westbrook was now officially the lone superstar left in Oklahoma City. As if that wasn't a hard enough pill for Thunder fans to swallow, there was also the fact that the All-Star point guard was set to become an unrestricted free agent after the 2016–17 season. Can you imagine how devastating it would be to lose a top-five player in back-to-back seasons? It would be catastrophic. But this was now the reality in Oklahoma City.
Faced with this terrifying possibility, the Oklahoma City Thunder responded with the only course of action that made sense. No, they didn't look to ship their superstar away for future assets, they decided to make him a "priority" by signing him to a renegotiated three-year deal worth $85.7 million.
As excited as Thunder fans should be that Westbrook opted to stay in OKC, it's important to understand that this new contract doesn't necessarily guarantee a long-term commitment on his part. Westbrook is under contract for the next two seasons (where he'll make $26.5 million and $28.5 million respectively) and has a player option for the third year (2018–19) that's worth $30.6 million. Therefore, it's pretty safe to assume that he'll become a free agent in 2018. Does that mean he's going to leave then? Not necessarily — not if the Thunder can rebuild a contender around No. 0.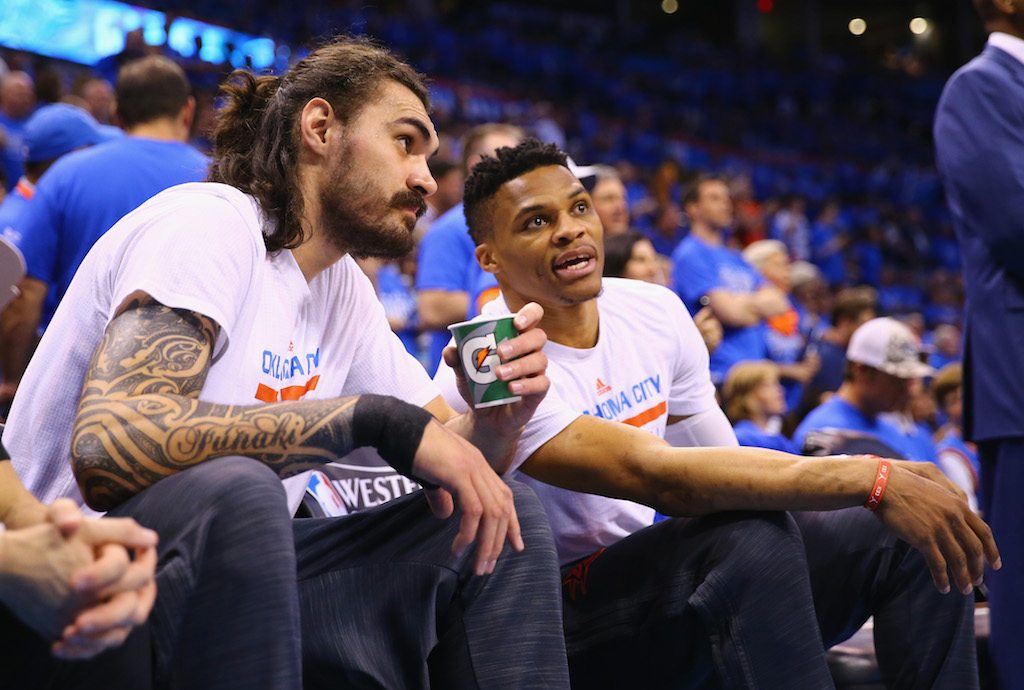 Given the current state of the Oklahoma City Thunder, specifically with Durant's departure, we have a difficult time imagining them contending for a title in 2016–17. That being said, not only does this club have some quality young players on the roster, it also did an excellent job this offseason acquiring pieces that could help the franchise moving forward.
If we learned anything from this latest postseason, besides that teams are plenty capable of coming back from a 3-1 deficit, it's that the Thunder have the potential to wreak havoc with their length. Second-year center Steven Adams emerged as a stalwart in the paint; shooting guard Andre Roberson showed he could provide quality minutes; and rookie point guard Cameron Payne has the look of someone who's poised to make strides in his second season. If you're excited about these young players — we absolutely are — then you should be even more elated with the newest additions to the squad.
In what was considered to be a slam-dunk move on draft night, the Thunder worked out a trade with the Orlando Magic that brought young guard Victor Oladipo into the fold, as well as No. 11 pick Domantas Sabonis. While these moves were made with the intention of enticing KD to re-sign with the Thunder, trust us, they'll be equally beneficial in the quest to keep Russ in Oklahoma City.
If all of these different pieces are able to gel on the court this upcoming season, then Westbrook will be much more inclined to hitch his future to the Oklahoma City Thunder. Of course, if this organization is truly serious about rebuilding around Westbrook, then it needs to provide him with something that's even more crucial to one's success in the NBA: another superstar teammate.
Now that Westbrook is the lone superstar in Oklahoma City, his statistics are expected to be off the charts in 2016–17. Because of this, oddsmakers see him as a legitimate candidate for MVP. That being said, while individual numbers are nice, they don't always equate to winning. We have a feeling that Westbrook will only be able to win so many games as a solo artist. Therefore, to ensure Westbrook stays put, the Thunder will have to keep an eye on 2017 — when some big-name players hit the open market.
In looking at the list of free agents in 2017, one name should stand out among the rest for the Oklahoma City Thunder: Blake Griffin. The Los Angeles Clippers forward is from Oklahoma, played college ball for the Sooners, and would make an excellent addition to the young core already in place. Signing a player of this caliber is the key to keeping Westbrook in OKC.
Durant's decision to bolt for the Bay Area could've signaled the beginning of the end of the Oklahoma City Thunder. Yet, instead of letting this choice break them, the organization responded by shifting its focus toward the remaining superstar, Westbrook. For the time being, this is now his team. If the Thunder would like to keep it they way, then they better not waste any time. There's still plenty of work to be done, and the clock is ticking.
Statistics and information courtesy of Basketball Reference, ESPN, and Yahoo Sports.