The Oklahoma City Thunder Have Completed Step 1 of Their Rebuild: Construct the NBA's Best Young Backcourt
At this point, the national news surrounding the Oklahoma City Thunder still revolves around a stable of picks even Scrooge McDuck would be excited to dive into.
But without dealing away any of those prized draft selections, OKC has quietly built the best young backcourt in the NBA.
Shai Gilgeous-Alexander and rookie Josh Giddey have already begun to form a championship-level duo — it's just that no one has noticed yet.
Oklahoma City is still early in its rebuild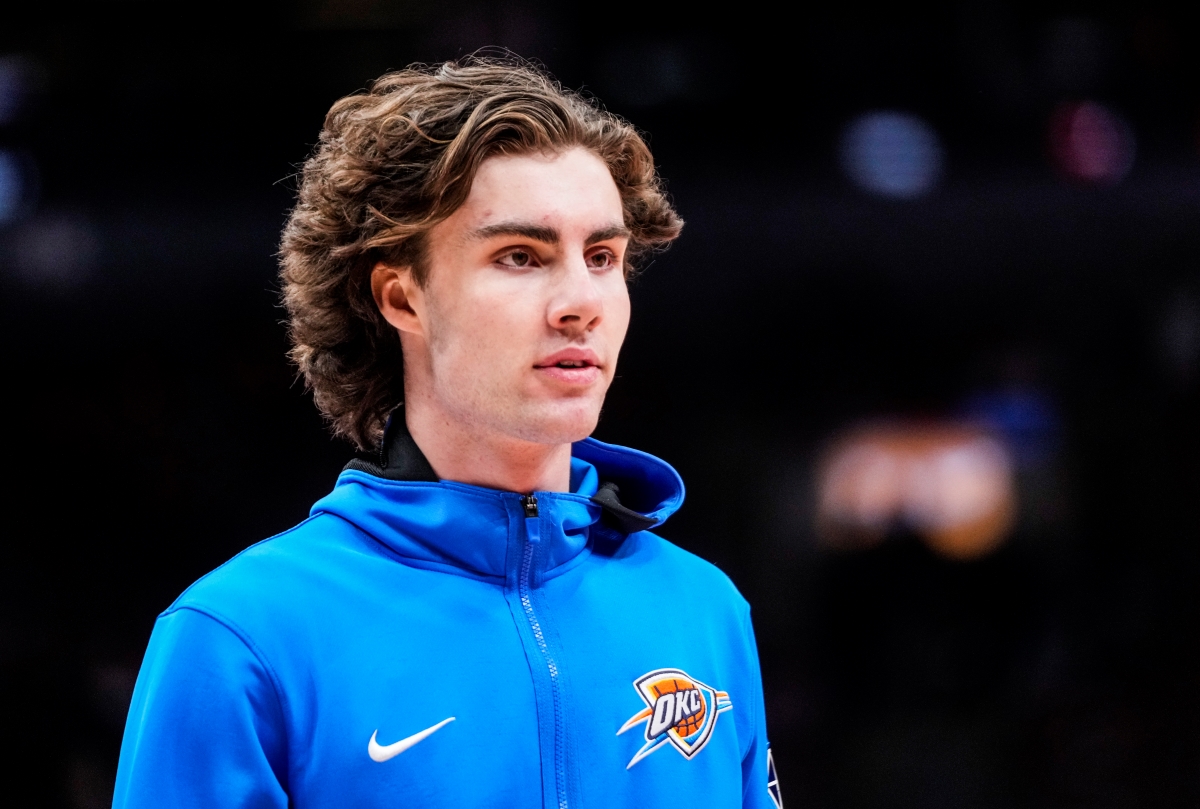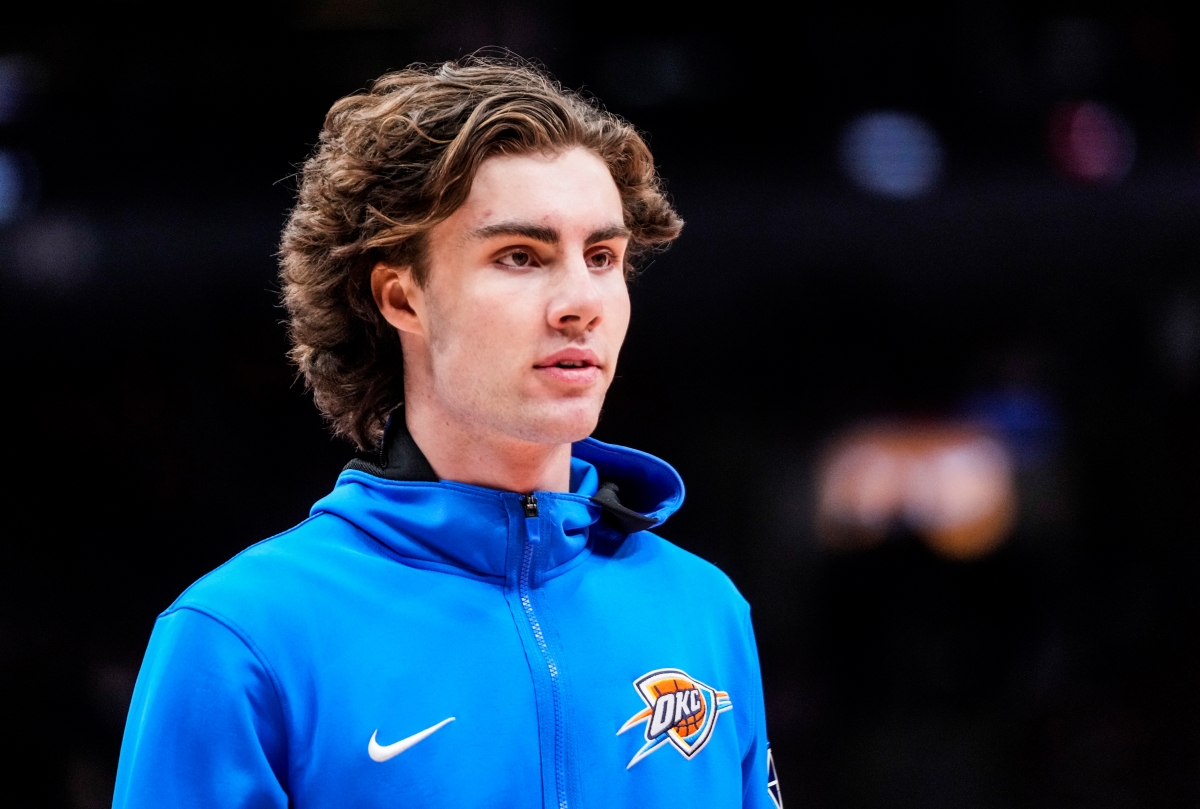 When a franchise tanks — and the Thunder have really tanked — it's a multi-year path back to the top. OKC has just started walking down that path.
Between fleecing the Los Angeles Clippers in a Paul George trade and taking on oversized contracts in return for picks, Oklahoma City has set itself up for one of the largest tank/rebuild jobs in league history.
This is like The Process. But a more logical version with higher potential.
Via Fanspo, OKC has (some of these are pick swaps. But still):
Three first-round picks in 2022
Five first-round picks in 2023
Four first-round picks in 2024
Three first-round picks in 2025
Three first-round picks in 2026
Thirteen second-round picks in that span
Every time that ludicrous amount of picks and pick-swaps comes up in conversation, it remains mindblowing.
Naturally, the Thunder aren't great on the court at the moment. The team is 16-34 as of Feb. 3, which is fourth-worst in the NBA. Oklahoma City is trying to build a winning culture without a 100% rooting interest in actually winning games.
That leads to tons of minutes and shots for young, inexperienced players. Hence the team's poor record. But that's all part of the plan.
The part of the plan that's been somewhat surprisingly fast-tracked, however, has been the development of the franchise's backcourt of the future.
OKC has already completed step one of building a competitive Thunder roster
Gilgeous-Alexander is a seasoned veteran and proven commodity at age 23. (That's not an exaggeration on the Thunder's roster).
The prized acquisition of the PG trade has gotten better and better every year. He remains underrated, but SGA is posting 22.7 points, 4.7 rebounds, 5.5 assists, and 1.1 steals per game in 2021-22.
His outside shot is still coming along — he's shooting less than 28% from three on 5.6 attempts — but he's shown flashes of expanding his range this season. He's the Thunder's leader and best player.
Giddey, meanwhile, has been one of the year's most pleasant surprises, especially within his rookie class.
The Australian was the sixth overall pick in the 2021 draft. Not much was expected of the 19-year-old, but he's been a consistent triple-double threat already and has quickly become OKC's most well-rounded player.
Giddey is scoring 11.7 points per game and adding 7.6 rebounds, 6.2 assists, and a steal every night. He's the Thunder's leading rebounder and distributor.
The latest NBA.com Kia Rookie Ladder has Giddey fourth behind Cade Cunningham, Evan Mobley, and Scottie Barnes. Three of those players are talked about quite a bit, one not so much.
But the pair of Josh and SGA are as unique as they are talented. Gilgeous-Alexander is 6-foot-6 with a 6-11 wingspan, while Giddey is 6-foot-9. Both are more suited to play point guard. Neither is a good outside shooter. Yet, somehow, they seem to be the ideal couple.
First, going 6-6 and 6-9 in the backcourt almost always gives the Thunder a size advantage, regardless of player archetype (scorer, playmaker, defender, etc.). Second, having a 6-6 point guard or a 6-9 one is a huge benefit; having both is a luxury no other team in the league can boast.
Third, both are unselfish playmakers. SGA has been the team's best scorer, and he certainly has the old-man, stop-and-start, crafty game to put points on the board. Giddey is similar as a scorer but not yet as advanced.
Both, though, are high-level facilitators.
Any of those three qualities in a single player would be a good starting point for a rebuild, especially at the very early stages like OKC is in the throes of. But the Thunder have two with all three of those qualities.
The term "unicorn" has been used to describe certain players over the last decade. Oklahoma City has a unicorn backcourt.
There's still a long way to go, but Giddey and SGA have the franchise on the right path
OKC general manager Sam Presti has already provided the Thunder roster with two franchise building blocks. Wins will come as Giddey and SGA continue to grow as players and as a backcourt.
The wild part of all this goes back to how many draft picks the franchise still has at its disposal. That opens up a world of possibilities for the future. Does Presti package a bunch of them to make a run at a superstar if one becomes available? He would certainly win a bidding war with any other team in the league.
Or he could sit tight and see where the picks fall and continue to draft high-upside players. He could fill out the roster that way and see where that takes his team. He could then trade those players to outbid anyone else for an available superstar.
A fun idea would be packaging all those first-round picks to move up and grab the No. 1 overall selection every year for the next five years. Then Presti could take any prospect he wanted.
The Thunder need a go-to scorer. They need frontcourt players. There are still plenty of holes to be filled.
But the fact that the franchise already has its backcourt of the future — and the most unique one in the NBA at that — is an ideal start.
All statistics courtesy of NBA.com.
RELATED: An Underrated Superstar Should Finally Get the Respect He Deserves After Embarrassing the Los Angeles Lakers With His Own Big 3