Oklahoma HC Lincoln Riley Drops Vintage Nick Saban Response Regarding LSU Job After Loss to Oklahoma State
The college football coaching carousel is beginning to spin more and more rapidly as the season ends for some programs. One hot name around the spectrum has been Oklahoma Sooners head coach Lincoln Riley. Time and time again, Riley has been linked to the LSU head coaching job, and it makes sense why.
But, after the Sooners Big 12 title hopes got dashed in a heartbreaking loss to Oklahoma State, Riley stepped up to the mic and gave a Nick Saban answer on those rumors. However, is Riley playing this coy? Or is he really not interested in the job?
Lincoln Riley downplays LSU rumors after frustrating loss to the Cowboys ends their Big 12 title hopes
If Riley leaves, he wanted nothing more than to win the Big 12. Unfortunately, a loss to Oklahoma State ends the Sooners hopes and they will sit around and wait to see which bowl game they are playing in.
After the loss, Riley stepped up and gave a visibly frustrated answer when asked about the LSU rumors (h/t Ross Dellenger of SI).
"I'm not going to be the next head coach at LSU."

Lincoln Riley on LSU rumors
Now, let's keep in mind that Riley wouldn't outright say if he was — in fact — going to land the job. The season just ended, and the Sooners still have a high-stakes bowl game to prepare for.
On the other hand, Riley looked frustrated during the press conference, especially after having to address these talks repeatedly as of late.
It is also very possible that LSU picks up steam now that their regular season has concluded. There are a lot of pieces to this, but the fact that Riley expressed frustration again is one interesting tidbit.
Lincoln Riley to LSU could become a reality even if the Oklahoma head coach insists otherwise
The LSU job came open after it was reported that Ed Orgeron would not return in 2022. Suddenly, the Tigers headed to search for a new head coach and rumors swirled around like they always do.
Riley's name popped up, and rightfully so. In his time in Norman, he has compiled an impressive 55-10 record and sent the Sooners to the College Football Playoff three out of his five seasons at the helm.
Oklahoma has repeatedly been in the running for the Big 12 title, and even more with the imminent move to the SEC, the Sooners program is on the rise. Riley finds ways to win games and he has always been looked at as a realistic candidate for the Tigers gig.
Yes, Oklahoma is a powerhouse, but LSU is LSU. The Tigers won a National Championship with Joe Burrow just a few seasons ago, and the Bayou attracts recruits left and right. Riley to LSU makes sense all around, and the Tigers will be aggressive to find their next head coach.
Nick Saban uttered similar words before taking the Alabama job over a decade ago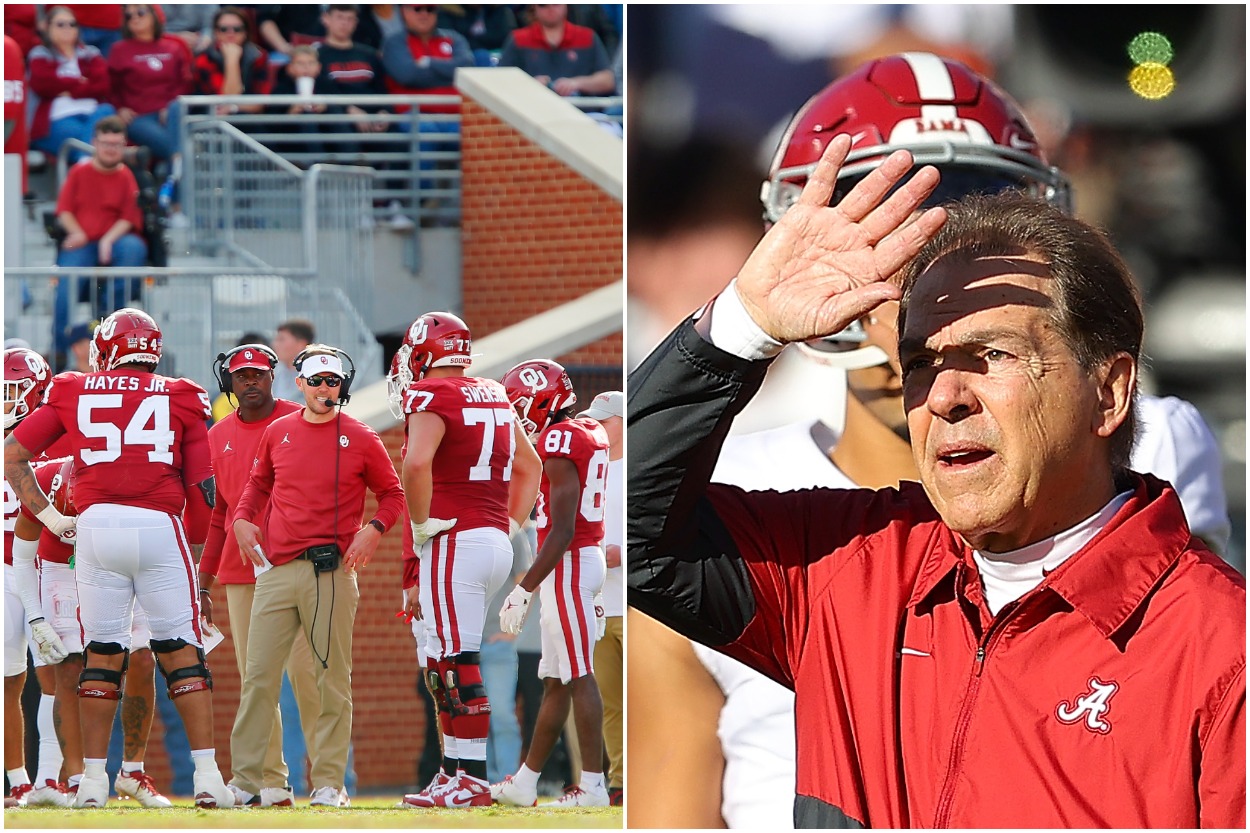 Back in 2006, Saban was manning the sidelines in the NFL as the head coach for the Miami Dolphins. At the time, rumors swirled about him taking the Alabama job, especially after a shaky NFL campaign.
When asked about being the head coach at Alabama, Saban uttered a very straightforward statement (h/t Associated Press via ESPN).
"I guess I have to say it. I'm not going to be the Alabama coach."

Nick Saban in 2006 on Alabama job
Well, in January of 2007, Saban was announced as the new head coach at Alabama. Since then, he has done nothing but win with the Crimson Tide.
Now, did Riley take a page out of the old Saban playbook during his latest press conference?
There is a high chance he knew what he was doing and made his best Saban impression. However, there is a legitimate possibility he remains in Norman, especially with Oklahoma moving to the SEC soon.
Only time will tell, but Riley's Saban-Esque answer could be telling of what is going to take place — or not take place, for that matter.
Buckle up. The college football coaching landscape could change drastically really soon.
Stats Courtesy of Sports Reference
RELATED: Lincoln Riley Fleeing the Oklahoma Sooners for LSU Makes Perfect Sense