Oklahoma QB Jalen Hurts Still has Some Alabama and Nick Saban in Him
Over the first few weeks of the 2019 season, Oklahoma senior quarterback Jalen Hurts has taken the country by storm, leading the Sooners to a strong start out of the gate with three straight convincing wins. Although his days with Alabama are well behind him, there is some keen evidence that his former head coach Nick Saban has had a major impact.
Jalen Hurts' roots at Alabama
Coming out of Channelview High School in Channelview, Texas, Hurts was considered a four-star recruit who was deemed to be among the top dual-threat quarterbacks in the class of 2016. He garnered plenty of interest that included in-state schools such as Texas A&M, but he decided to commit to the University of Alabama.
Hurts was on the active roster for his freshman year that saw him compete for the starting job against then-starter Blake Barnett. However, it didn't take long for him to take over the starting gig as Saban gave him the position in Week 2, making him the first true freshman to start at quarterback for the school in 32 years dating back to Vince Sutton.
He quickly found success on the field, putting together a strong 2016 campaign throwing for 2,780 yards on 62.8 percent completion rate with 23 touchdowns, along with setting the school's single-season record with 954 rushing yards and 13 rushing touchdowns.
Hurts was able to lead the Crimson Tide to a perfect 12-0 mark but fell short in the National Championship game 35-31 to the Clemson Tigers. Despite that, he earned SEC Offensive Player of the Year and SEC Freshman of the Year honors.
He experienced a great deal of success the following year, leading Alabama to a 13-1 record but was benched at halftime in the National Championship against the Georgia Bulldogs in favor of freshman Tua Tagovailoa. The Crimson Tide were led by Tagovailoa to a win in overtime 26-23 over the Bulldogs, which sparked questions concerning Hurts' future.
Beginning of the end for Jalen Hurts in Alabama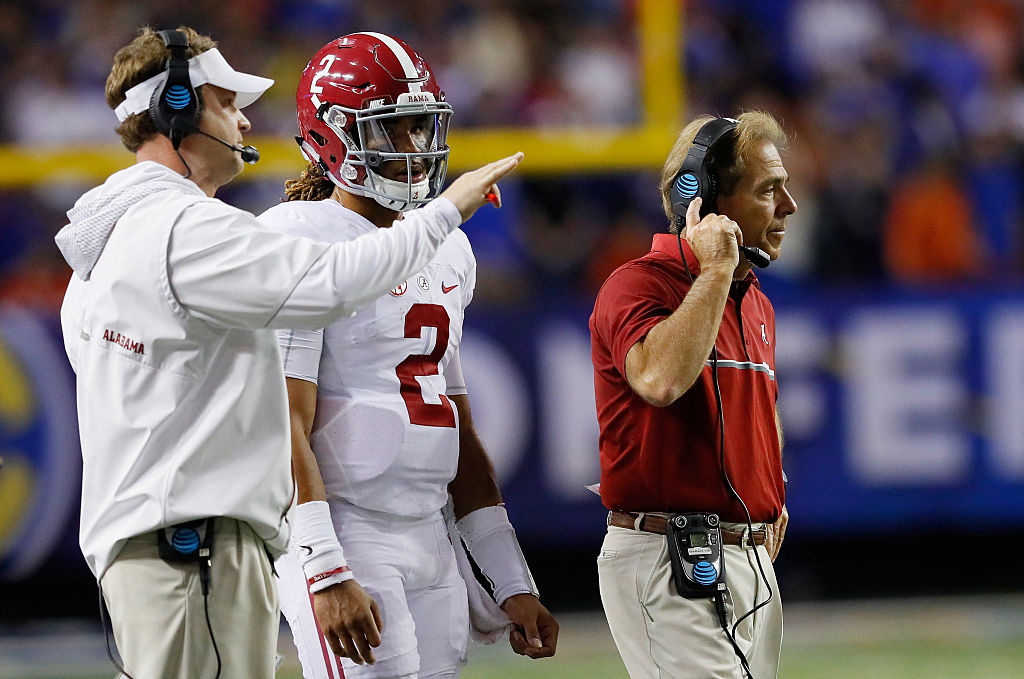 The performance in the National Championship game from Tagovailoa gave him the momentum needed to grab the starting job from the get-go in the 2018 season. Although Hurts was the backup, he did get some significant playing time in that role as Alabama often rolled comfortably past against many of their opponents.
One of those key moments came in the SEC Championship game against Georgia, as his number was called after Tagovailoa suffered a right ankle injury in the fourth quarter. Hurts stepped up leading the Crimson Tide to a comeback win by recording a pair of touchdowns. Despite that, Tagovailoa was reinserted into the starting spot where Alabama fell short in the National Championship game against Clemson.
This set the stage for Hurts to make the career-changing decision to transfer from Alabama to the University of Oklahoma for his senior year.
Jalen Hurts shines again, but this time at Oklahoma
It has been nothing but short of an impressive showing at Oklahoma for Hurts as he has once again taken the nation by storm by making the Sooners a National Championship contender. He is off to a phenomenal start behind his dual-threat ability as he has 890 passing yards on 80.3 percent completion rate with nine touchdowns along with 373 rushing yards and four touchdowns through three games.
What has become evident throughout this process has been his even-keel mindset that is extremely reminiscent of how Saban approaches the game. In fact, Hurts used one of Saban's coined phrases calling all the outside noise around Oklahoma's hot start "rat poison." (h/t The Spun)
"I don't listen to that rat poison," Hurts said of the outside praise. "We want to focus on what we need to focus on, improve on the things we need to improve on and build as a team
Saban has clearly had a major impact on Hurts, adopting that honed-in focus only for the next game. This has been a key aspect of setting the tone for Alabama's culture over the last decade. Hurts has fully embraced that mentality that could be the foundation of a highly successful season that could be capped off a pair of trophies: the National Championship and the Heisman.