Oklahoma State Star Chuba Hubbard Retracts Intent to Boycott Team Over Mike Gundy's Political Shirt
Oklahoma State fans received a serious scare involving star running back Chuba Hubbard's status for 2020.
Hubbard isn't hurt and hasn't tested positive for the coronavirus. The dangerous running back, one who drew comparisons to Colts rookie Jonathan Taylor, instead vowed to stay away from the team indefinitely.
The catalyst for Hubbard's decision? Controversial Oklahoma State head coach Mike Gundy wore a political t-shirt that offended Hubbard.
Chuba Hubbard is one of college football's best running backs
RELATED: Soon-To-Be Star of 'The Bachelor' Matt James Played College Football; Was He Any Good?
A 6-foot-1, 207-pound running back from Edmonton, Canada, Chuba Hubbard rushed for 740 yards and seven touchdowns on six yards per carry as a redshirt freshman in 2018.
Hubbard entered last season with high expectations. He quickly outright shattered them.
Hubbard totaled 2,094 yards and 21 touchdowns in 13 games. The 2,094 yards were 18th-most by any player in one season.
Counting bowl games, there have only been 35 instances of a player rushing for over 2,000 yards in a season.
Hubbard finished eighth in the Heisman Trophy voting.
Hubbard could be an early pick in the 2020 NFL draft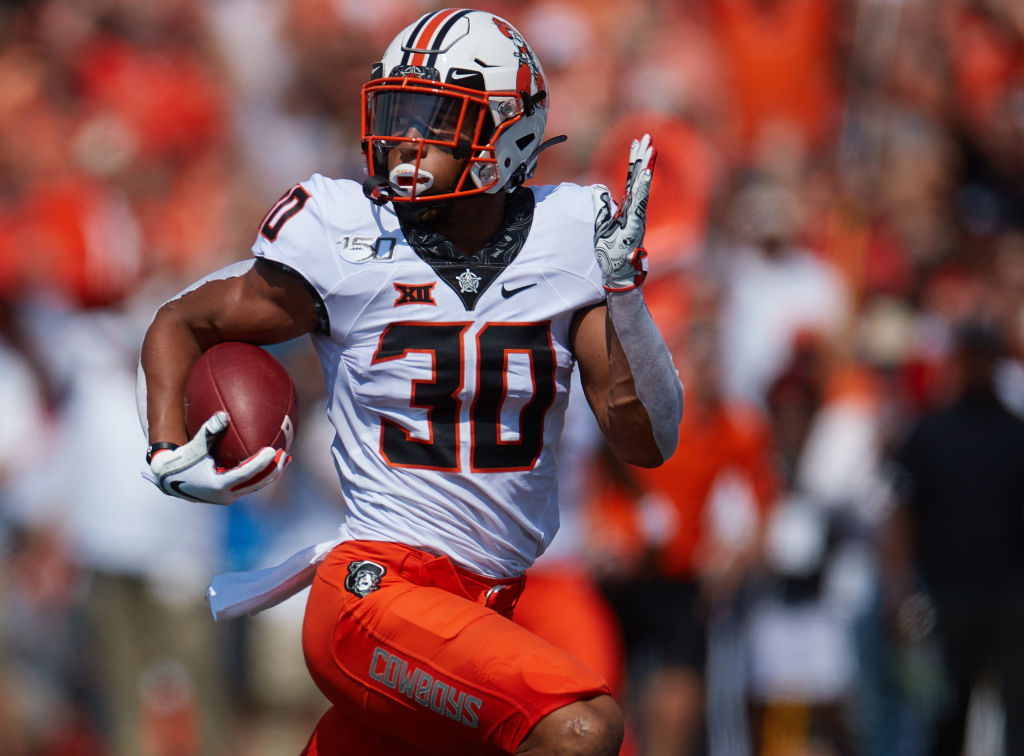 RELATED: The Next DeAndre Hopkins May Never Get His Chance to Become an NFL Star
Many media members and draft analysts believed Hubbard would enter the 2020 NFL draft. Redshirt sophomores are eligible to forego their final two years of eligibility.
Bleacher Report's Matt Miller projected Hubbard would go in the second round. Hubbard ultimately elected to return to Stillwater, Okla., for his redshirt junior season.
Even with a brilliant 2020 season, Hubbard may not be a first-round pick next year. Clemson's Travis Etienne is the consensus top back, though he needs to work on his ball security.
Alabama's Najee Harris and Mississippi State's Kylin Hill, barring injuries, should be selected within the first two rounds with Hubbard.
Chuba Hubbard took issue with a shirt Mike Gundy wore
RELATED: DeAndre Hopkins Refuses to Say He Went to Clemson Because of the School's Ties to Slavery
Many college student-athletes have recently spoken out for what they believe in and what is on their mind.
Chuba Hubbard is the latest — and he did so against Oklahoma State head coach Mike Gundy.
A Twitter picture emerged of Gundy wearing a shirt that read 'OAN,' which stands for the One America News Network.
OAN is a right-wing media source. Gundy said in April he enjoyed OAN's "refreshing" coverage and said the network is unbiased.
Hubbard tweeted he would not "stand for this."
"This is completely insensitive to everything going on in society, and it's unacceptable. I will not be doing anything with Oklahoma State until things CHANGE."
At least one other Oklahoma State player is in Hubbard's corner. Linebacker Amen Ogbongbemiga tweeted he stands with the star running back.
Gundy and Hubbard later appeared in a video together. Hubbard apologized for taking the situation to Twitter instead of addressing it internally.

Florida State football players recently threatened to boycott workouts after Mike Norvell allegedly lied about speaking to them regarding social protests and current events.
Norvell said he misspoke in an interview with The Athletic. Players then accepted Norvell's apology and returned to working out.
Mike Gundy addressed the situation after it happened and Chuba Hubbard learned an important lesson.

Still, college coaches should be worried about a rising trend in players taking situations public instead of handling them privately.