Old Man Tom Brady Is Almost Guaranteed to Set Yet Another Age Record in 2021
As he nears his 44th birthday, Tampa Bay Buccaneers quarterback Tom Brady's age almost sounds like the setup to a joke.
Actually, it does create some interesting punchlines and references. The seven-time champion is so old that San Francisco 49ers rookie quarterback Trey Lance was born weeks after the New England Patriots drafted Brady in 2000. And if you think that's bad, just wait until you see the age gap between the former MVP and some of the quarterbacks he'll tentatively face during the 2021 NFL season.
Brady and the 2021 rookie quarterbacks should set a new NFL record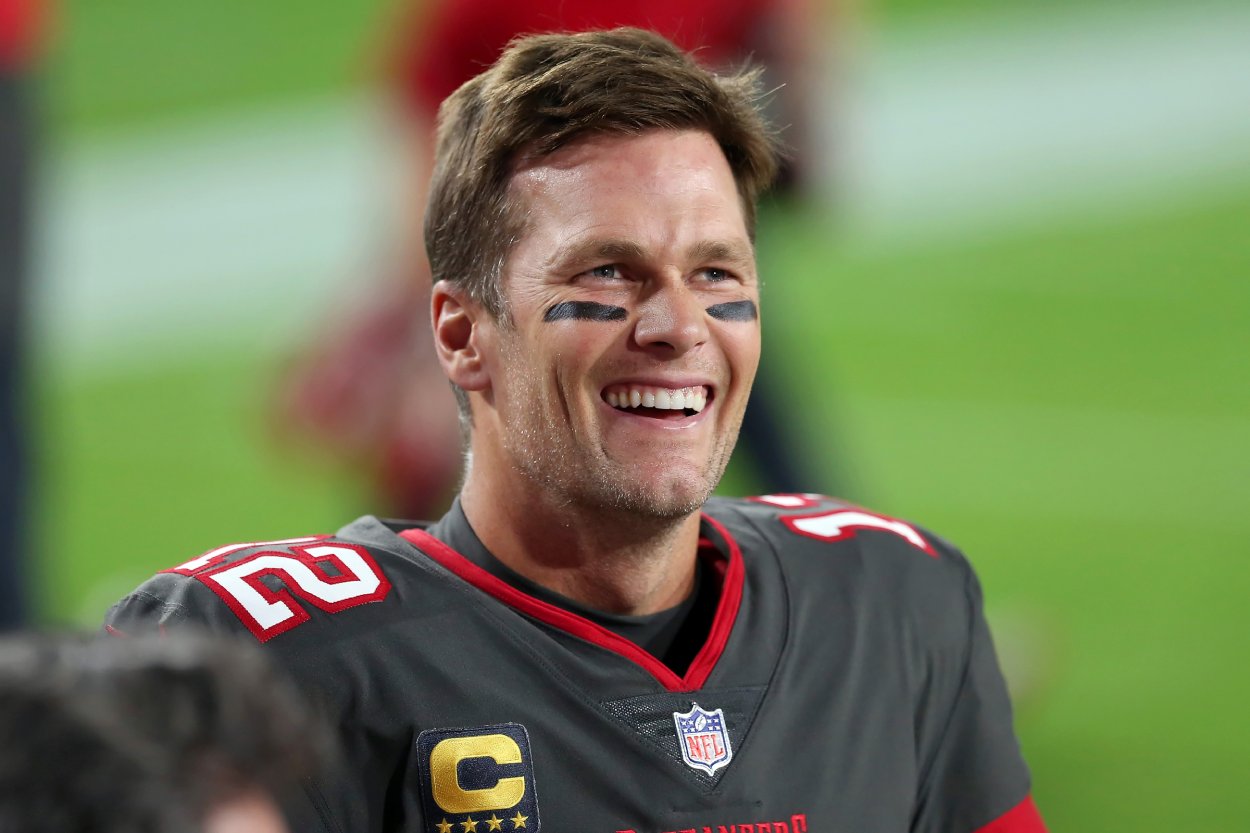 The days of Brady squaring up with Peyton Manning at least once a year are long gone.
Instead, the seven-time champion is still hanging around and facing the NFL's next generation of young quarterbacks. As NBC Sports recently pointed out, the age gap between Brady and his competition is starting to get ridiculous.
Brady turns 44 on August 3, and he is already one of the oldest starting quarterbacks in NFL history. That could make for some fun times on October 3 when he makes his long-awaited return to New England. There will be a 21-year age difference between him and Mac Jones, who turns 23 on September 5, if Jones starts for the Patriots that night.
Eagles quarterback Jalen Hurts (who will be 23 during the 2021 season), Bears rookie Justin Fields (23), and Jets quarterback Zach Wilson (21) are also among the extremely young signal-callers who could start against Brady in 2021. All aside from Hurts, a second-year player and the favorite to start at quarterback, are rookies.
Hurts and Wilson, who was born on Brady's 22nd birthday, are each expected to be their team's primary starting quarterbacks. Fields is currently Andy Dalton's backup on the Bears.
Brady and Justin Herbert set the record in 2020
As Brady is one of the oldest starting quarterbacks in league history, it shouldn't surprise anyone that he currently holds the age gap record.
Brady and the Buccaneers hosted Justin Herbert, then 22 years old, and the Los Angeles Chargers on Oct. 4, 2020. Herbert completed 20 of his 25 pass attempts for 290 yards, three touchdowns, and an interception in the Chargers' 38-31 loss. Brady shredded the Chargers' defense for 369 yards, five touchdowns, and an interception that day, over two months after turning 43.
Barring a Super Bowl matchup, that might be the first and only time Brady and Herbert play one another in a meaningful game. Then again, how often have people assumed something about Brady because of his age and wound up wrong?
Brady still isn't the oldest starting quarterback in NFL history
Brady may hold the age gap record, but he won't be the oldest starting quarterback in NFL history for quite some time.
Barring an injury, Brady will pass Steve DeBerg as the oldest starting traditional quarterback in NFL history during the 2022 season. DeBerg started for the Atlanta Falcons at 44 years and 279 days old on Oct. 25, 1998.
Brady turns 45 in August 2022, so his first start of that season will give him the all-time record. Only time will tell if he passes George Blanda (no pun intended) as the oldest player to throw a pass. Blanda, a longtime quarterback who spent his last NFL seasons as a kicker, threw his final NFL pass in December 1975 at 48 years old.
If Brady is still starting games at 48, he might be playing NFL games against quarterbacks who are currently in high school. Enough said on that front.
Like Sportscasting on Facebook. Follow us on Twitter @sportscasting19.
RELATED: Chris Simms Is Either a Master Troll or a Genius With Where He Ranked Tom Brady Among Active Quarterbacks