Old Man Tom Brady's Late-Career Resurgence Has NHL Legend Wayne Gretzky Feeling Nostalgic: 'I Don't See Any End in Sight'
Hockey legend Wayne Gretzky, like millions around the world, found himself emotionally invested in Tom Brady's first game against Bill Belichick and the New England Patriots.
Now, there are clear differences between an average football fan watching Sunday Night Football and arguably the greatest hockey player ever to take the ice. The chances are that he has a more comfortable couch and larger TV.
Still, it appears that everyone is willing to agree that what Brady is doing at age 44 is unparalleled. Gretzky, who at age 60 is long removed from playing an NHL game, is all here for it.
Wayne Gretzky felt nostalgic watching the lead-in to Tom Brady's first game against Bill Belichick
The build-up to Brady's return to Foxborough, Mass., bordered on comical until the final minutes before kickoff. NBC and the league at large treated a Week 4 showdown with the presentation of a Super Bowl, save a halftime show with censored lines and graphic dance moves.
Not that Gretzky intended to complain about any of it. In a recent interview with NBC Sports' Peter King, the four-time Stanley Cup champion discussed the sight of Brady prepare to face Belichick, his head coach of 20 seasons and partner on six Super Bowl-winning teams.
As for the argument that Brady and Belichick didn't like one another, Gretzky countered that he and former Edmonton Oilers coach Glenn Sather "weren't best friends when I played."
"But the one thing about great coaches—they push us to be great. From the outside, it seems like Bill did that with Tom. I know this: Glenn pushed me harder than any coach ever pushed me in my life. He made me better. Great coaches drive us to be better. When you're done, I think that's what you'd hope your coach was for you."

Wayne Gretzky
King reported that Belichick and Brady spent roughly 15 minutes together in the Buccaneers' locker room following Tampa Bay's 19-17 victory. The two previously exchanged a brief hug on the field after the game ended.
"Great coaches drive us to be better," Gretzky said. "When you're done, I think that's what you'd hope your coach was for you."
Gretzky doesn't believe Brady will retire any time soon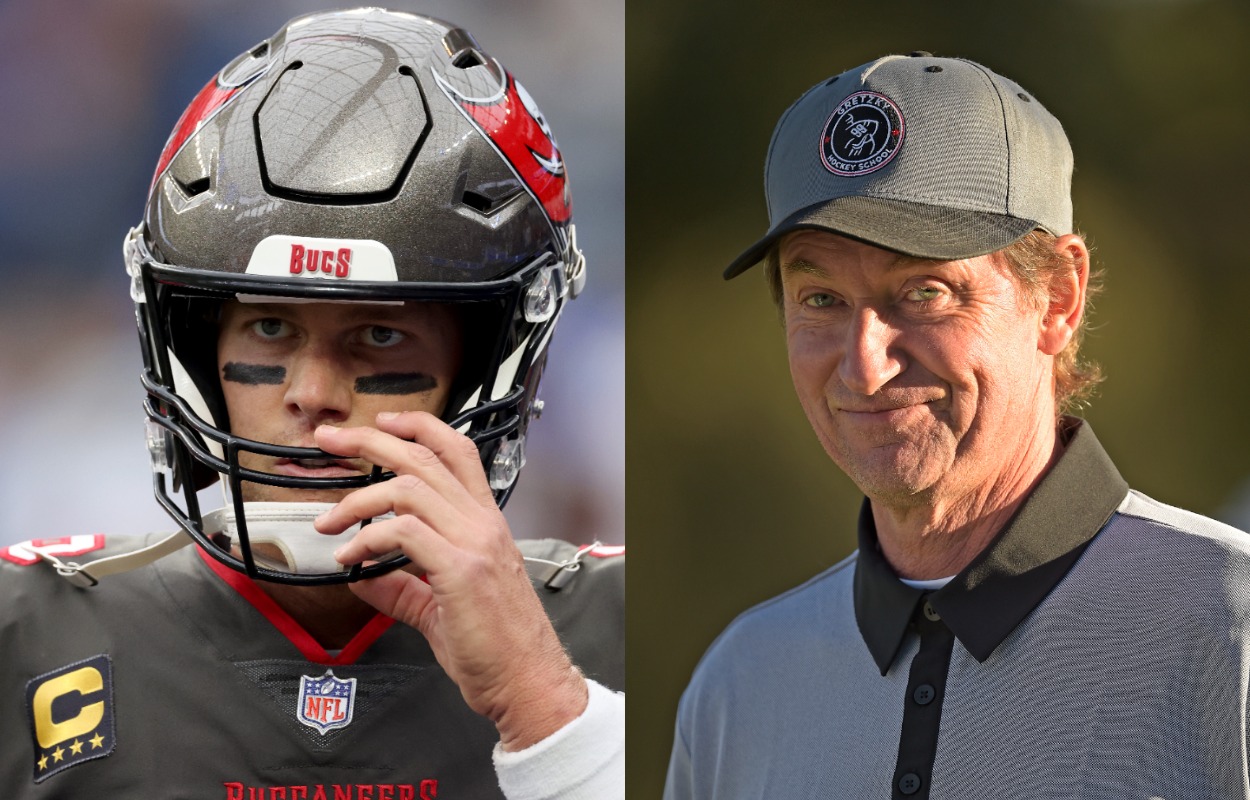 In unfortunate news for the rest of the NFL, Brady is still going strong at 44 years old. At least, it's unfortunate news if the three-time NFL MVP rebounds from a rough game against the Patriots in Week 4.
Gretzky, for his part, falls into the latter category. The hockey great said he personally expects the Buccaneers' star quarterback to continue torching defenses with ease.
"I don't see any end in sight," Gretzky said. "I'm not so sure he's just playing one more or two more years."
Barring an injury, Brady will become the oldest starting quarterback in NFL history in his first start of the 2022 season.
Will Brady and Belichick ever play one another again?
Gretzky might be onto something in thinking that Brady will play beyond the end of the 2022 season. The seven-time champion has publicly floated the idea of playing until he's 50 years old.
Brady is under contract through the end of the 2022 season. However, something tells us he will be on an active NFL roster when the 2023 campaign begins.
Whether or not he'll still be playing for the Buccaneers, however, is another question. Tampa Bay selected Florida quarterback Kyle Trask in the 2021 NFL Draft's second round and could eventually groom him to replace Brady.
Barring a preseason or Super Bowl showdown, the Buccaneers might not play the Patriots until 2023 at the earliest. If Brady really wants to play for as long as he can, though, maybe we'll see him return to New England that year in a Denver Broncos uniform. Desperate times calls for desperate measures, after all.
Like Sportscasting on Facebook. Follow us on Twitter @sportscasting19.
RELATED: Mac Jones Just Confirmed Bill Belichick Made the Right Call to Move on From Tom Brady